New Infrared Varicam LT Footage + Download and Grade More Varicam LT Footage
The Varicam LT has been around for a few months now and heavily getting traction in the broadcast and TV drama world. The predecessor Varicam 35, has been used to shoot Season 4 of the award-winning Netflix drama "Orange is the New Black" and Amazon's "Salem Rogers: Model of the Year 1998", the latter two shot by esteemed DP Theo Van De Sande, who explains why he chose the Varicam 35 in our post here. The cool thing about the new Varicam LT, announced back in February this year, is that it is a one-piece design geared more towards a single shooters who prefers the shoot from the shoulder. Despite sharing the same Super 35 4K sensor and unique dual-native ISO feature, the LT has a few more tricks up its sleeve – one of them being the removable IR cut filter, which opens up some really interesting creative possibilities for DP's, who often have to resort to DIY modifying cameras to shoot infrared video or hire specialist equipment.
Luckily, the guys over at 26 Inch Productions recently shot some stunning IR footage with the Panasonic Varicam LT which you can check out below.
Panasonic Varicam LT Features and Highlights
4K Super35 CMOS Sensor
Native Canon EF mount (PL mount extra option – easily user swappable)
2K/Full HD 240fps Slow-Motion (uses sensor crop)
4K/60p and Full HD ProRes 4444 & 422HQ
4K/60p Raw to Convergent Design Odyssey7Q+
Built-in ND filters: 0.6/1.2/1.8
User Removable IR Cut filter
Single ExpressP2 card Slot for Main 4K/2K/HD recording
SDXC Card slot for Proxy Long GOP recording
Dual Native ISO – 800/5000
Optional OLED viewfinder ($5,400 at B&H)
3 x SDI Out (dedicated one for Viewfinder)
Support for 3rd Party Viewfinders like Zacuto Gratical and BMD URSA Viewfinder
2 x XLR inputs – 4 x Channel Audio 24bit/48kHz LPCM
PreRec / Interval rec / One Shot Rec
V-Gammut – exceeds BT.2020 HDR colour space
14+ Stops Dynamic Range with V-Log
V-Look and BC-Look Presets – similar to WideDR on Canon C300 (mix between V-Log and Rec.709 for faster turnaround)
Weight: 2.7 kg / under 6 lbs.
For those who want to learn more about the Varicam LT, I highly recommend the 50+ review by Ben Meredith .
Also, for those eager to get their hands on some Varicam LT footage and grade it on their own, the good folks at Florida based production company Oxen Made, have been kind enough to upload something like 20GB worth of test footage via the link here.
Panasonic VariCam LT – Test Footage from OXEN MADE on Vimeo.
Shot on Panasonic VariCam LT
Zeiss Compact Zoom T2.9 28-80mm
PrimeCircle XM Lenses 24mm, 35mm, 50mm, 85mm
Edited in Premiere Pro
Graded in DaVinci Resolve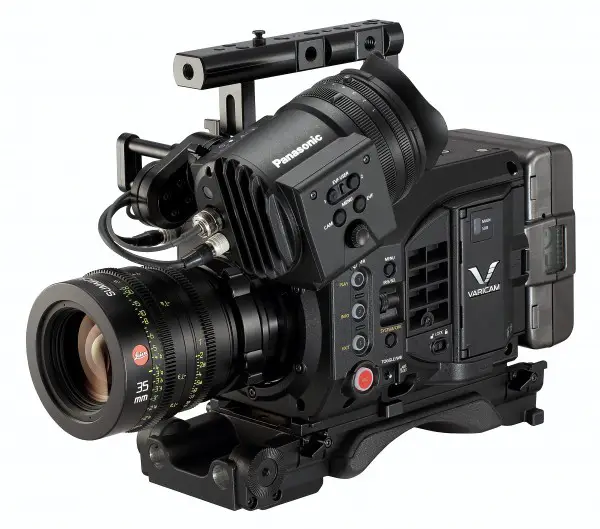 Here is what they had to say about their experience with the Varicam LT.
Recently we rented the new VariCam LT for use on a two day shoot and with the few hours we had before having to return it made it out to shoot a few test clips. The project we were using it for was all in a studio and was limited in how we could push it.

The focus of the shots we captured was simply to see how the camera handled high contrast images i.e bright skies, dark foregrounds etc. We also tested out some of it's high frame rate functionality which is unlocked when switching to either a cropped 2K or 1080 mode. You can shoot 4K 60fps however for our test we wanted to see how it's 240fps looked. Another goal was to see how it handled skin tone in a variety of situations and to see how well the two native ISO's held up and what they looked like should footage need to be cut together from both.

Overall we loved the camera. It's larger than comparable cameras but that didn't bother me. Having shot on the majority of other popular camera systems i.e Alexa, RED, Canon, Sony and Blackmagic I can say that in our opinion this comes the closest to matching the Alexa in terms of skin tone rendering straight out of camera. There's no argument that the Alexa is the champion of skin tones but if shooting RAW isn't an issue than this thing rocks. **RAW output via the 3G-SDI port will be enabled via firmware later this summer, so it will have that ability soon. Just not internally.

These clips we cut in Premiere and than ran through Resolve. With all the clips I simply applied the standard ARRI LogC to Rec 709 LUT as a baseline. All of the ISO tests have only that LUT applied to show no bias. Some of the clips up front however have been graded and pushed or pulled as needed.

We shot some random clips around our office when we first took it out of the box and upon first glance I couldn't believe how clean ISO5000 was, at least compared to what I'm used to from most other cameras sans the Sony A7s.

My only two gripes about the camera were that Panasonic is still clinging on to it's proprietary P2 card format. The cards are fast and reliable but I would have really liked to have seen them abandon that in favor of something more common like CFast. Second is the fact that in order to change things like codec, timebase or frame rate the camera has to be booted off and back on again in order for the changes to take effect. Not a deal breaker but definitely cumbersome.

Please feel free to leave comments or ask questions. There was a lot I learned from our short time with the camera and am happy to go further into detail about something specific. Below is a link so people can download and test the footage themselves. It's approx 20GB and it's a ZIP file. Uncompress and then the appropriate file structure will be available to you to import into your NLE of choice.
You can order the Varicam LT from authorised dealers such as B&H and Adorama in the US, or Visual Impact UK if you are in the UK.
[via Cinescopophilia]
Claim your copy of DAVINCI RESOLVE 14 - SIMPLIFIED COURSE with 50% off! Get Instant Access!