All indie filmmakers put a great deal of effort in order to achieve the so-called "film look" in their work.
However, what does "film look" mean by definition and how do we get it?
In short, a film look is a process in which video images are augmented to appear as if they have been shot on film. We are so used to seeing cinematic images in our favorite films. Some characteristics of the elusive film look are rich image texture, increased dynamic range, 24 frames per second cadence, and silky shallow depth of field.  
There are a number of key variables that are essential to get the most filmic look when shooting digital. Those are shallow depth of field, resolution, frame rate, shutter speed, dynamic range, bit depth and color sub-sampling, compression etc. While any of these features will help out on their own, it's really only when they are all used together correctly that you can achieve a certain film look.
In 2014 we have cameras that easily can emulate that look like the brand new Panasonic GH4 for instance. However, we need to tweak the camera a little bit to achieve the best results. Here is a great video tutorial by Aron J Anderson on how to get rid of the video look while shooting with GH4.
GH4 and GH3 Getting rid of the VIDEO look from Aron J Anderson on Vimeo.
The things we learn from this video can be applied to many other situations. In general, specifically while color grading, you can do a lot to make your video look more filmic. Ideally you'll want to decide on a look before hand and then bring your footage into some grading software and start to tweak your settings accordingly.
A big misconception, is over-doing the color grading on your material to make it more cinematic. Applying a heavily stylized look to every shot in the film, making it look more like a music video than a feature is generally accepted as not so pleasing by most.

A good starting point when coloring is to make your footage look as natural as possible. Once you've gotten your white balance and exposure to the right spot, you're already most of the way there. Most films are actually not that stylized. They usually have very accurate colors and aren't covered in a wash that makes them feel unnatural.
With that said, feel free to add warmth or cool down your footage as needed to suit the mood of the film, just don't go overboard.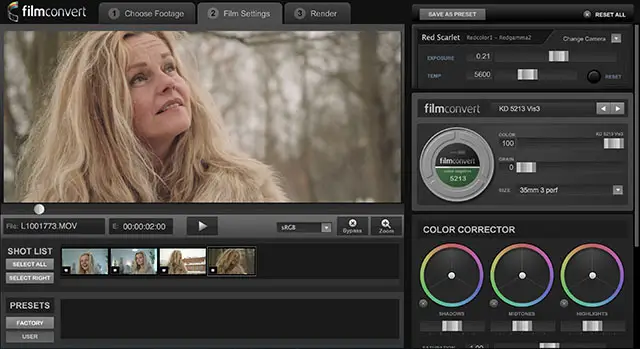 Another great way to achieve film look is through software film emulation. This is a technique that literally allows you to apply the look of a specific film stock to your footage, adjusting the colors and grain to match that of your chosen film stock. Like color correction, you don't want to go overboard with this technique, but when used tastefully it can make a world of difference.
A great software film emulator is FilmConvert. We did a post about their newly released BMCC 4K Data Pack last week, and the company are working on getting a GH4 specific film emulation pack soon. 
In case you've missed it here is great video produced by James Miller who shows us how to get the best dynamic range from the GH4 in-camera settings.
Panasonic GH4 – i.Resolution i.Dynamics Master Pedestal Level & 16-235 Luma – TEST from James Miller on Vimeo.
What best techniques and practices have you applied in your practice as filmmaker to achieve a certain film look? We'd love to hear your experience in the comments below.
[via NOAMKROLL.com]
[via philipbloom.net]
Claim your copy of DAVINCI RESOLVE - SIMPLIFIED COURSE with 50% off! Get Instant Access!