Blackmagic Design are no strangers to doing things differently and offering rock bottom prices.
Looking at their full product line-up, their I/O cards, switchers, converters and as of the last couple of years – cameras, they offer an incredible price-to-performance ratio.
If you remember in July, Blackmagic Design announced a Summer promotion which had the Pocket Cinema Camera selling at 50% OFF for only $495 until tomorrow – 31st August, however that promotion ended quickly as retailers quickly depleted their stock due to the frenzy of demand by shooters. It was a (an unbelievably dirt cheap) foot in the door to Blackmagic cameras for just about anyone.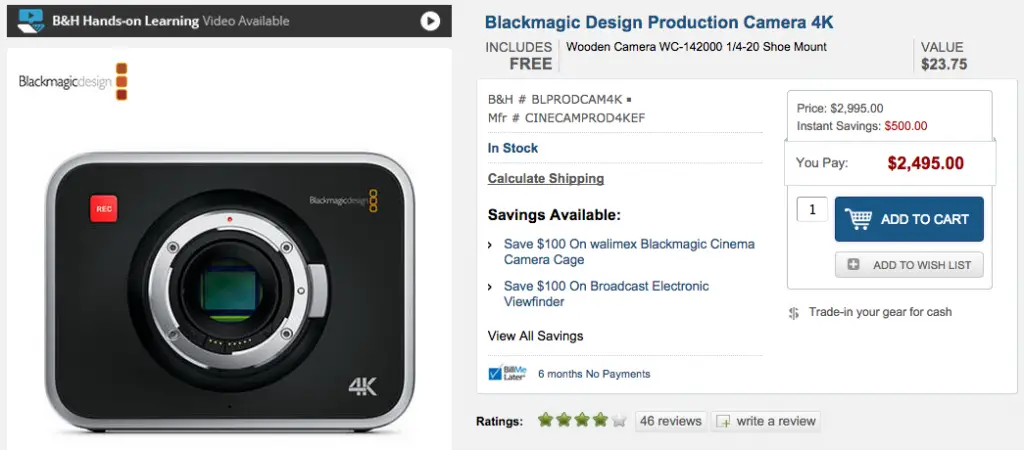 Apparently BMD have another surprise for us in store, and that is – the Blackmagic Production 4K Camera is now selling for $2,500 in the US. This is a $500 discount off the already discounted £2,999 price that it was selling for. Just a reminder – the BMPC upon it's release was retailing at at $3,995. That is almost 40% off of the original MSRP! And you get DaVinci Resolve with it for free – which usually costs around $1,000.
Just a reminder of the specs on the Blackmagic 4K Production Camera:
Super35 Sensor (21.12mm x 11.88mm)
12 Stops Dynamic range
Global Shutter
4K UHD 3840 x 2160p at 23.98, 24, 25, 29.97, 30fps
Full HD 1920 x 1080p at 23.98, 24, 25, 29.97, 30,
Full HD 1920 x 1080i at 50, 59.94 (interlaced)
Same form factor as original BMCC 2.5K
4K & 1080p ProRes (422 HQ, 422, LT, Proxy)
4K Lossless Compressed CinemaDNG Raw 12-bit
1 x 6G-SDI 10-bit 4:2:2

As far as we know, there is no official word from BMD on the sale and so far it appears to be only a US Labor Day special at some retailers until September 5th.
So if you're in the market for your first Blackmagic 4K camera, now is as good time as any as this won't last. Many speculate that there may be new cameras announced by Blackmagic Design as these promotions (BMPC and BMPCC before) are happening before major industry events such as IBC and Photokina, which Blackmagic Design are attending.
However, in an interview with Planet5D Bob Caniglia, Senior Regional Manager (Eastern North America) for Blackmagic Design shared this on the recent BMPCC 50% off promo:
"The Pocket Cinema Camera promotion grew from a need to move some parts and some cameras out quickly. We were overwhelmed by the response — which was nice. But we were pretty clear that it was not one of these long drawn out plans and then we'll announce a new camera — it was really not about that. The fact is, we do have a couple of new cameras coming out – the URSA and the Studio — and they need to be built and shipped now. We needed the room. Nothing too sinister. That's really it."
It's quite evident that BMD are rushing to get the already late URSA 4K out the door to early adopters as soon as possible. Building cameras requires substantial resources and an instant cash flow boost from promotionally priced items such as the recently (short-lived) discounted BMPCC and the now temporary discounted Production Camera, will help out get those new cameras in numbers quicker.
I doubt we'd see a new camera from BMD at IBC/Photokina 2014, if anything, maybe another firmware update, but looks like they already have their hands full with the URSAs and Studio cameras.
NAB 2015 will probably be the place for new gadgets from BMD. But, then again, it's Blackmagic Design, and with then you never know what's lurking around the corner.
Disclaimer: As an Amazon Associate partner and participant in B&H and Adorama Affiliate programmes, we earn a small comission from each purchase made through the affiliate links listed above at no additional cost to you.
Claim your copy of DAVINCI RESOLVE - SIMPLIFIED COURSE with 50% off! Get Instant Access!