Besides the 4K cameras, monitors, workstations, streaming platforms, codecs, transfer protocols and all other 4K tools we are familiar with already, 4K acquisition is trending as part of the smartphone technology as well.
After the so-called "flagship killer" OnePlus One 4k Smartphone, Samsung Galaxy Note 3, Sony Xperia Z3 and  the recently released Lumix-DMC-CM1 4K, now the 1080p iPhone 5S turns into another smart device capable of shooting 4K internally and still can easily fit in your side pocket.
The "upgrade" in not part of any program initiated by Apple, but is due to an application called  Vizzywig 4K that can be downloaded from the App Store for a mere $999. Undoubtedly, the app is a little bit overpriced, to say at least, but it gives filmmakers unlimited options and access to 4K as any other smart phone with similar capabilities on the market, even more. According to Vizzywig creator Michael Zaletel Vizzywig 4K is really not for everybody. It's targeted at video professionals who might want to be able to shoot a quick video and get it sent off immediately to a client.
Here is a quick test for consideration:


The app is designed specifically for iOS 7 on the iPhone 5S, which has a default recording video resolution limited to 1080p only.  It turns your iPhone 5S into a 4K motion video camera, 4K editor and 4K distribution platform. Rather than capturing video, VZ4K captures full 4K resolution photos at the rate of 24 photos per second along with synched audio. You can than easily edit, add 4K transitions, titles, scrolling credits and even background music and finally can upload straight to YouTube in full 4K.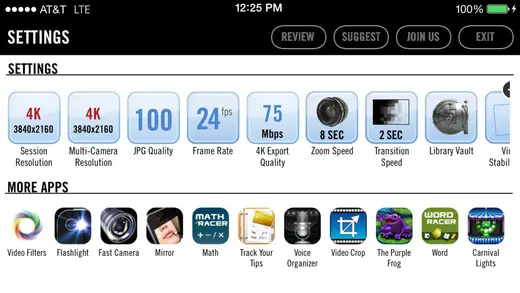 The functionality that the app puts in filmmakers hands is impressive indeed, however, at a $1,000 not many will take the plunge, as it is too overpriced. It's baffling why it costs so much, and when you add the cost of owning an iPhone 5S, the total cost comes close to $1,700 – you get get a GH4 for that money. But then you can't call anyone from your GH4 so that's that then.
For example, this is what Philip Bloom shares on Instagram about the newly released Vizzywig 4K app:
The 4K video on the iPhone 5s is very cool and the results are impressive as they are essentially photos and the bit rate is super high. I have been BETA testing it for a few months but I had no idea it would have this price tag on the App Store. Jaw dropping. I can't figure who with this price tag, It's aimed at. Sure the 4k on my android phones I have had are poor compared to it but this just feels really strange. Especially with no external expansion available on apple phones means this is also very impractical.
It has been confirmed  that the quality of the 4K video captured through Vizzywig 4K is significantly better compared to the 4K captured by android phones. However, the app could hardly turn iPhone 5S into better recording 4K device compared to the dedicated 4k cameras on the market due to the smaller sensor size, lack of additional dedicated settings, accessories and ergonomics. Further, if you are Iphone 5S owner and you would like to try the application, make sure you have enough space to store the data of roughly 72MB per second!
A dedicated email address will allow customers to contact the founder behind the app directly for help in case you need it.
If you want to give it a try, here's a direct link to Vizzywig 4K on the AppStore.
[via petapixel.com]
Claim your copy of DAVINCI RESOLVE - SIMPLIFIED COURSE with 50% off! Get Instant Access!