Despite rumours of a new Canon Cinema EOS lens at IBC 2014, Canon kept it quiet. Until now. Canon are bringing out the big guns literally with their new Canon CN20x 50 IAS H E1/P1.
That's right, your math is correct, the new Canon Cine Zoom has a range of 50mm – 1,000mm at T5.0 at the widest and T8.9 at the longest range.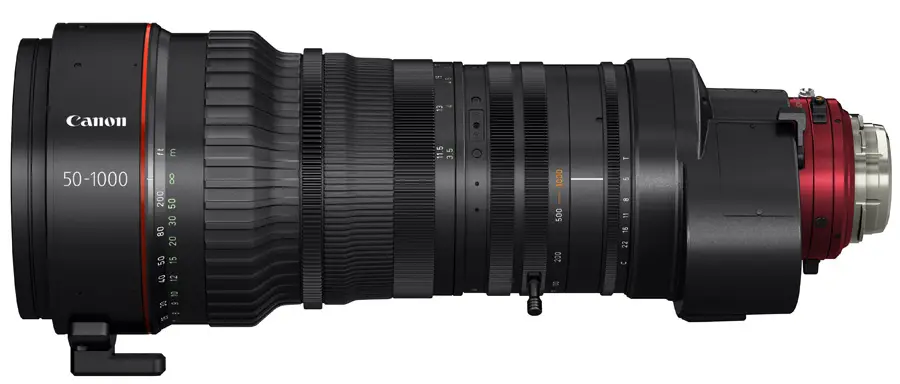 While many shooters are eagerly awaiting their CN7x 17 Cine Zoom lens (also optimised for 4K acquisition for their Super 35mm 4K cameras such as the Canon C500, Sony F5/F55, ARRI Alexa and Amira) Canon unveiled their newest addition to the Cinema EOS zoom range with unprecedented zoom range and features.
The CN20x 50 is the first Cine Zoom to feature a built-in 1.5x extender boosting the focal length to the staggering 75mm – 1,500mm enabling you to capture those "Michael Mann"-style extreme telephoto close-ups from pretty far away.
The CN20x 50 IAS H E1/P1 is designed for Super 35mm 4K cameras with wide-range of applications in high-end broadcast and cinema capture. The 4K Ultra zoom will come in two mounts – Canon EF and industry standard PL mount, which makes a lot more sense than EF as it is much more sturdy and present on professional high-end digital cameras such as the ARRI Alexa and AMIRA.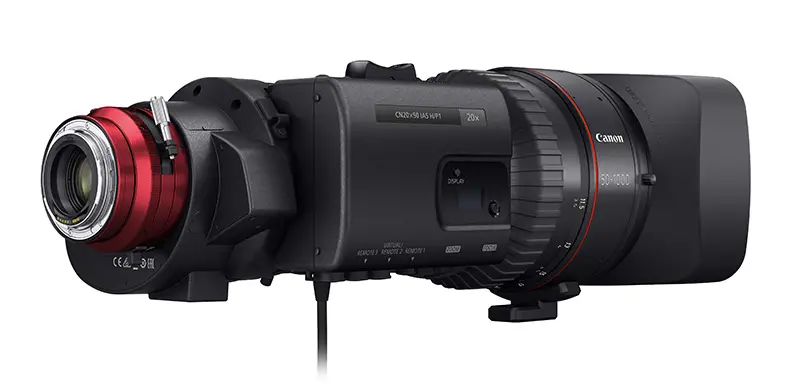 The CN20 weighs around 6.6 kgs, which is impressive given the ungodly zoom range. I would have expected this lens to weight at least 14-15 kgs, but Canon have really outdone themselves, not only by keeping the design and form factor as small as possible for a massive zoom like this, but also optimising the lens for 4K acquisition by Super 35mm sensor cameras. Here's what Canon say about their latest Cine zoom in their own words:
Combining decades of experience in the design of market-leading broadcast lenses with technology derived from high-performance Cine Zooms, the CN20x 50 IAS H E1/P1 responds to the growing popularity of large sensor video cameras in broadcast production. With an outstanding focal length of 50-1000mm, expandable to 75-1500mm via a built-in 1.5x extender, the lens is tailor-made for camera operators in both traditional broadcast and movie environments.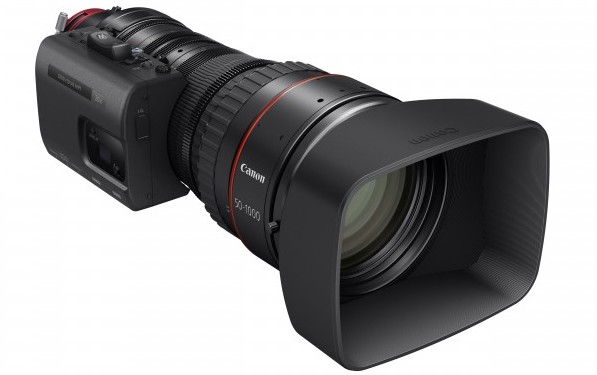 The CN20x 50 IAS H E1/P1 also supports Lens Data Communication between lens and camera and will be available in both EF-mount and PL-mount variants. The EF-mount version utilises Canon's own system, while the PL-mount variant supports Cooke's /i Technology standard as well as 12-pin serial communication.

Key Features and Highlights:
4K optical performance; designed for Super35mm cameras
Ultra-telephoto 20x zoom 50-1000mm focal length
Built-in 1.5x extender for extreme telephoto shooting up to 1500mm
Removable servo drive unit
Rugged build quality for demanding environments; weatherproof and shockproof
Carriable and lightweight (around 6.6kg)
Compatible with typical broadcast and movie accessories
EF- (/E1 variant) and PL- (/P1 variant) mounts
Extensive lens communication options (12-pin, EF, Cooke /i) support a range of production styles
GENERAL SPECIFICATIONS
Mount
EF (/E1 variant);
PL (/P1 variant)
Focal Length
50 – 1000mm (75-1500mm w/ 1.5xEXT)
Zoom Ratio
20x
Image Size
Super35mm
Maximum Relative Aperture
T5.0 at 50-560mm
T8.9 at 1000mm
T7.5 at 75-840mm
T13.35 at 1500mm (1.5x)
Iris Blades
11
Angular Field of View
1.78:1 – 24.6×13.8mm
27.6°x 15.7° – 1.4°x 0.8°
(1.5x) 18.6°x 10.5° – 0.9°x 0.5°1.9:1 – 26.2×13.8mm
29.4°x 15.7° – 1.5°x 0.8°
(1.5x)- 19.8°x 10.5° – 1.0°x 0.5°
MOD from Image Sensor
3.5m / 11.5'
Object Dimensions at MOD
1.78:1- 24.6×13.8mm
139.3 x 78.1cm at 50mm / 7.3 x 4.1cm at 1000mm
(1.5x)92.9 x 52.1cm at 75mm / 4.9 x 2.7cm at 1500mm1.9:1- 26.2×13.8mm
148.3 x 78.1cm at 50mm – 7.8 x 4.1cm at 1000mm
(1.5x)98.9 x 52.1cm at 75mm – 5.2 x 2.7cm at 1500mm
Front Diameter
φ136mm
Approx. Size (W x H x L)
175 x 170.6 x 413.2mm (EF mount)
175×170.6×405.2mm (PL Mount)
Approx Weight
6.6kg
Pitch of Focus/Zoom/Iris Gear
Focus:0.8/0.5   Zoom:0.5   Iris:0.5
There is no confirmed pricing yet, but it won't be cheap. Prices are rumoured to be in the range of $75,000+ / £45,000+ and availability is estimated sometime in 2015. To learn more about this incredible lens head over to Canon Europe.

Disclaimer: As an Amazon Associate partner and participant in B&H and Adorama Affiliate programmes, we earn a small comission from each purchase made through the affiliate links listed above at no additional cost to you.
Claim your copy of DAVINCI RESOLVE - SIMPLIFIED COURSE with 50% off! Get Instant Access!