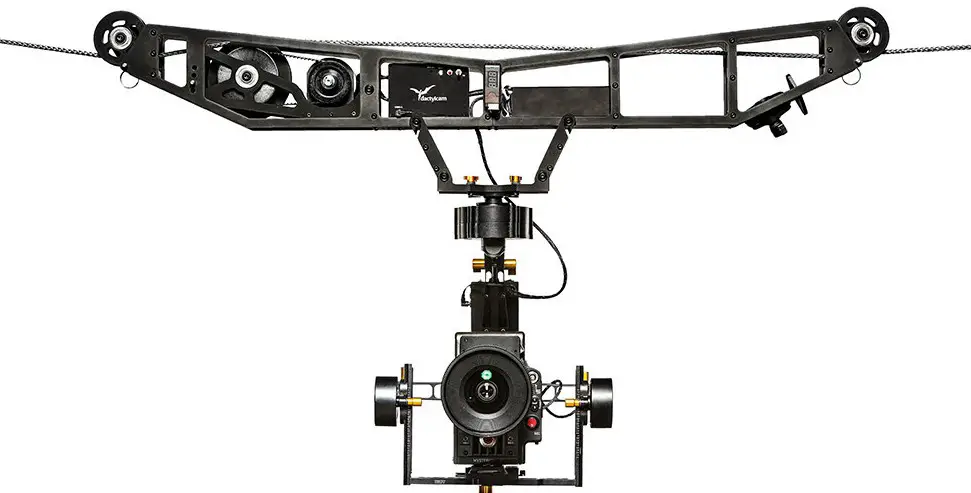 While many documentary and narrative-style shooters have grown to love the fluid mobility of gimbal systems and drones as of late, cable cam systems have been a staple in action sequences and large event coverage for years.
They can be faster and smoother than a steadicam, more cost-efficient and maneuverable than a helicopter, and easily accomplishes one of the most desirable traits in a mechanical shot: a sense of flight. As the technology improves and becomes more affordable, younger companies are bound to break into the market.
Enter DEFY.
DEFY DACTYLCAM : Official Announcement from DEFY on Vimeo.
DEFY released their first gimbal system to the public in July of last year, and currently have three on the market in competition with Freefly's MōVI series and DJI's Ronin. The beauty of the Dactylcam is that while the system is specifically made for DEFY's gimbals, it's designed to work with third party gimbal systems as well.

The company's promotional material lists the system as a veritable beast of speed and strength, topping out at 40MPH over a 1200' stretch with a maximum payload of 50LBS – more than enough to safely fly most digital cinema cameras on the market today. It features self-leveling and dampening, greatly lessening the chances of your system stalling (or better yet, careening off the wire like a 4K suicide bomber).
Despite it's heavy-duty build, DEFY touts that attachment of the gimbal simply comes down to a quick application for four thumbscrews. This means if you're shooting with a single camera, jumping from a walking gimbal shot to a soaring Dactylcam doesn't have to be the downfall of your AD.
DEFY DACTYLCAM : What You've Been Waiting For from DEFY on Vimeo.
While this system in itself is nothing groundbreaking, it's a fantastic addition to the ever-growing bag of tricks for today's cinematographers. It takes existing technologies and builds on them in a functional manner for a slew of industry applications. This addition to DEFY's catalog should help the company build a firmer footing in an industry constantly saturated with new companies pushing new products.
The retail price on the Dactylcam kit without a gimbal is $7,950 and $11,950 with the DEFY G12 included (gimbal payload rated at 12lbs). Available directly from DEFY.
A post by Harry Aaron III.
Claim your copy of DAVINCI RESOLVE 16 - SIMPLIFIED COURSE with 50% off! Get Instant Access!