Watching a movie at home can be dreadful experience. And I am not talking about watching the latest Michael Bay abomination or anything remotely resembling a motion picture directed by Brett Ratner.
I am talking about preserving the cinematic experience into your own home by watching a film whether broadcast or from a DVD/Blu-ray in the intended frame rate by the filmmakers, which is 24fps. For me this is the only frame rate a film can be enjoyed. Not 48fps, not 60i/5oi, but true 24fps. Most modern HDTV and UHD TV's have a Cinema mode feature, just as on my 4 year old Sony Bravia. There is a neat orange button on the top left corner of the remote and simply pressing it – the magic frame rate appears.
Very often I'd see my wife watching a move on Film4 or on Blu-ray on the default "smooth motion" setting which makes the images appear too fluid as they were shot on a cheap video camera, and it makes me cringe every single time. This effect is such because of an evil thing called Motion Interpolation.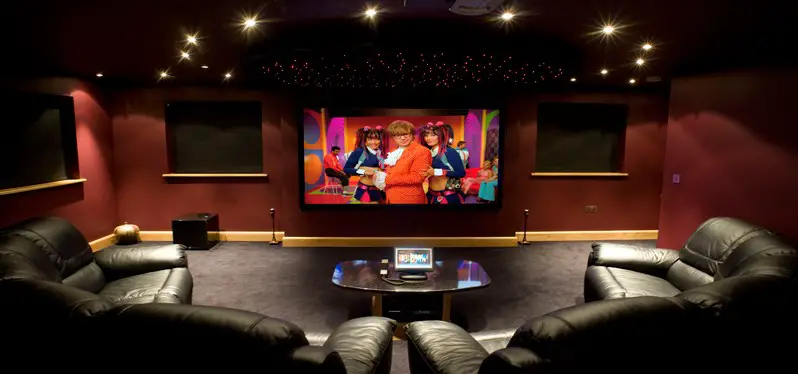 According to the almighty web source for everything – Wikipedia, motion interpolation is defined as:
a form of video processing in which intermediate animation frames are generated between existing ones by means of interpolation, in an attempt to make animation more fluid and to compensate for display motion blur.
TV manufacturers today chase the illusion of smooth motion like its panacea for their thinning bottom line fooling uninformed consumers into blindly believing that seeing everything on their TV in a stupidly crazy 120hz or even 200/240hz refresh rate will make them feel warm and fuzzy and solve all their problems. No, quite the contrary, unless you're playing massively graphics intensive 1st Person Shooter video games on your TV or watching sports, I can't see any point of having any for of Motion Smoothing feature. Period.
Some claim that most people don't even notice smooth motion, but I do and I certainly hope there are many others, who prefer to watch a blu-ray or a film on TV in the correct frame rate. Yes, 24fps is the only way to fully appreciate motion in a feature film in my book.
Watching a film shot in 24 frames per second on a TV with smooth motion is like listening to "The Dark Side of The Moon" on a decrepit tape deck with blown speakers. And the biggest problem is that Smooth Motion settings are set as default on new TV's and most consumer either don't know how to change them or don't bother as they've bought into the "kool-aid" mentality that's been spoon-fed to them from TV makers' ad campaigns boasting exuberant claims that motion blur (the very thing that smooth motion is trying to bury) is something of a nuance.
That's why cinematographer Reed Morano ("Frozen River") is asking you to sing a petition to make TV manufacturers stop making "smooth motion" and all its marketing iterations as the default settings on the TV's they make and sell. Read an excerpt from the petition below:
Motion Interpolation was an effect that was created to reduce motion blur on HDTVs but a very unfortunate side effect of using this function is that is takes something shot at 24 fps or shot on film and makes it look like it was shot on video at 60i.  In short, it takes the cinematic look out of any image and makes it look like soap opera shot on a cheap video camera.

It is unbelievable that this is a default setting on all HDTVs because essentially what it is doing, is taking the artistic intention away from filmmakers.

As artists, these new HDTVs are preventing our vision from being seen the way we shot it and it's also affecting the viewer's experience with the story because they are often put off by the odd "home video" look.  It's actually very distracting watching a classic like "Five Easy Pieces" and having it look like a sitcom shot on video.
To read and sign the full petition head over here.
[via Filmmaker Magazine]
Claim your copy of DAVINCI RESOLVE - SIMPLIFIED COURSE with 50% off! Get Instant Access!