The 3-axis handheld gimbal stabilizers inevitably changed the way we shoot video. They gave us more creative freedom to make more innovative decisions on set, to plan even more complex camera movements, thus achieving better results and increasing the production value of our work. Many of the most popular gimbals continue to gain more and more popularity with both video professionals and hobbyists alike. Meanwhile, there are plenty of new gimbals entering the market.
The advanced handheld 3-axis digital stabilizer gStabi H14 is one of those. The gimbal has very powerful brushless motors with high-resolution encoders which are useful to stabilize a large payload at any gimbal frame angle. Due to its light weight 2.4kg(5.2lbs), the gimbal is super easy to be carried by any multirotor system without any issues. Moreover, it supports a multitude of professional cameras and lenses such as FS700, F55, C300, RED Epic, etc. The gStabi Tuner application for iOS & Android is designed to adjust and change the settings of the gimbal easily via a Wi-Fi connection. You can even use your iPad as a remote control to pan, tilt and roll the gimbal naturally.
gStabi H14 – The professional digital camera gimbal from Gremsy from Gremsy Technology on Vimeo.
Here are some of the key features of gStabi H14:
gMotion Controller, designed and made by Gremsy, based on a 32 bit ARM high-speed microprocessor providing fast response and accurate calculation.
Firmware upgradable
GPS attitude (horizon) correction.
Single operator configuration with Follow Mode or Joystick operation.
Dual-operator configuration with remote controls (SBUS, PWM or SPEKTRUM).
4 modes of operation: Lock mode, Follow mode, Briefcase and Inverted
Friendly and intuitive GUI working on multiple platforms: WINDOWS, MACOSX, iOS, Android.
Payload up to 14lbs.
Simple 5 minute setup & Balance
Motion control on an iPad apps allows natural pan, tilt and roll.
Cameras supported: DSLRs, Blackmagic Cameras, FS700,  F55, C300, Red Epic
Here is a quick test and behind the scenes video that reveals the true capabilities of  gStabi H14 gimbal.
QUICK TEST – gStabi H14 with Sony FS700 from Gremsy Technology on Vimeo.
And, some aerial footage captured with a Red Epic.
helicopter sample from Visual Poet Studios on Vimeo.
I can only say it's a bit of shame we can't view the above aerial footage in its native resolution. Whatever the case might be, it's great to have an alternative to the other popular gimbals in this "heavy-weight" capacity segment such as the Movi 10 and DJ Ronin, for instance, that are also designed to fly heavier cameras such as the Red Epic, FS 700, F55 etc.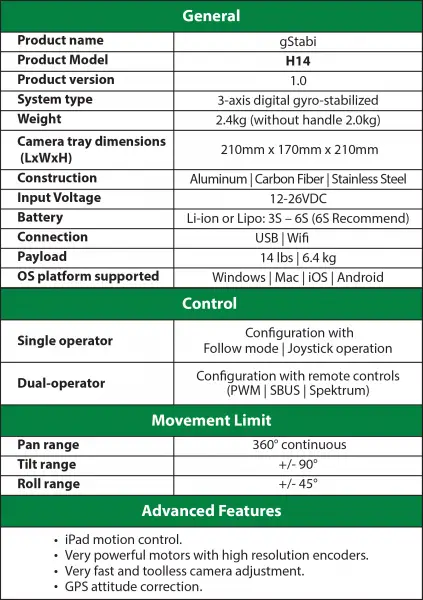 With a retail price of $3,995 and all the features it provides, the gStabi H14 is a feasible substitute, especially when it comes down to a handheld stabiliser gimbal with a such payload capacity in this particular price range.
Claim your copy of DAVINCI RESOLVE - SIMPLIFIED COURSE with 50% off! Get Instant Access!