Times are changing and changing fast. Gone are the days of MiniDV, trying to convert interlaced camera footage into progressive and those bulky 35mm adapters have fallen into oblivion…
But it seems those times weren't that long ago. It took a while for HD to takeover SD, but despite the slow transition, the benefits of increased resolution have been evident as the majority of content nowadays for all platforms be it broadcast, cinema, and the Web is captured in HD or higher resolutions.
Quite often especially for cinema exhibition, feature films and commercials are shot in 2K/4K+ and then projected in 2K or again in 4K. The large cinema screen makes a huge difference, but when you scale that screen down to one that you'd most likely put in your living room in the form of a LCD or LED/OLED TV the distance-to-perceived benefit of higher resolution diminishes. Check out our article on the Human eye and 4K resolution we did a few months back.
Some say the transition from HD to 4K will be even quicker. And despite the fact that broadcast channels are predominantly still broadcasting in SD, it is just a matter of time before we start seeing more and more broadcast 4K content on our TV sets.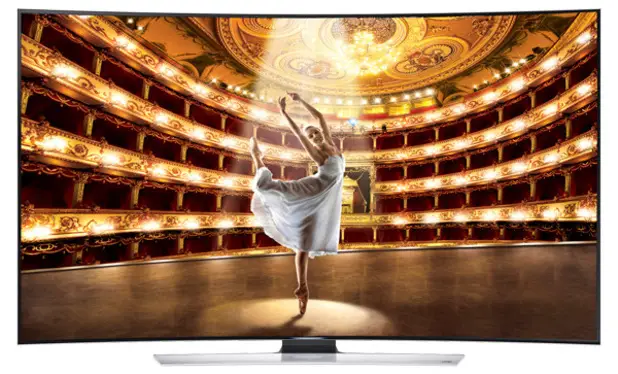 Consumer electronics has always been the driving force behind technological advancements, as you might remember 10 years ago HD TV's started popping up at ridiculous prices regardless of the fact that HD content was very scarce. In 2014, we're sort of in the same spot this time with 4K.
Just this past week, Black Friday sales helped boost the sales of 4K TV's with over 500% RedShark News reports from a report by DisplaySearch. The Consumer Electronics industry is definitely seeing an upwards trend in consumer taste, who on their part are salivating over attractive discounts on budget 4K and UltraHD TV sets from low-budget manufacturers.
However, the fact remains that 4K or UltraHD (or simply 4 times Full HD 1080p) content still remains a scarcity, but there are a handful of ways to get 4K on your TV into your home.
There's a few ways to enjoy some crystal clear and sharp 4K  content on a 4K monitor, TV or projector. While some "4K" TV's are mostly UltraHD (3840 x 2160) some do support the DCI compliant 4096 x 2160 resolution, giving you the extra bit of real estate on the sides over simply quadrupling 1080p over a larger screen. The folks at B&H have sorted out some options for you:
4K Blu-ray is coming soon…
For this option you'd need (at this point at least) a Sony 4K UltraHD TV and a Sony 4K Ultra HD Media Player. The player comes with 10 feature films in 4K, and Sony's Video Unlimited 4K service offers more than 70 full-length 4K films and TV shows, with selections like Breaking Bad, Taxi Driver, and others. More than 100 titles are expected to be available by the end of this year. Upscaled HD content to UltraHD is also not too shabby, I recently say the 4K remastered 1080p Blu-ray of Taxi Driver on a UltraHD TV and it definitely looked a lot better than on my old 40 inch Bravia. Come Christmas 2015, we'll start seeing 4K blu-ray titles hitting the shelves.
Watch some free Sony 4K content (with caveats)
You can check out the free 4K demo videos at Sony Video Unlimited, as well as more than 50 indie films, sports clips, and live music programs. However, this also requires a Sony 4K UHD TV and the Ultra HD Media Player.

Netflix is going with UltraHD Streaming
Netflix is currently testing a 4K clip titled "El Fuente" available through their instant streaming library at several different frame-per-second rates . A further roll-out a lot more 4K content for streaming within the next year is expected. You can also stream Breaking Bad remastered for 4K and some episodes of "House of Cards". The company's 4K catalog is expanding, and we're sure to see more 4K streaming options very soon.
Shoot it yourself and put that GH4 to good use
That one goes without saying – see your native 4K footage from a Blackmagic Production Camera 4K, GoPro HERO4 or a GH4 on a larger 4K TV and see the difference between watching 4K on a 27 inch computer monitor compared to a 50+ inch Ultra HD or 4K TV.
Get a REDRay 4K Media Player

It took them a while to bring it to market, but you can get one for about 1,500 USD (that is if you can find one, the link to the RED Store seems to be kaput, but there are some in the 2nd hand market).  You can use a REDRay media player to send a native 4K or up-converted HDTV signal to a UHD TV. The player is also compatible with 3D media, and RED offers online content distribution through their Odemax.com network.
4K apps (yes, 4K apps for footage shot on a smartphone) not sure how smart that is, but it exists…
You can watch footage shot with an Acer Liquid S2 or Samsung Galaxy Note 3 smartphone. The Note features a 13-megapixel rear-facing camera capable of filming video in 4K at 30 fps.
Over here in Europe, a channel called Eutestat 10A, is the first dedicated 4K UHD channel.
Despite a the mobs of nay-sayers, I believe 4K is going to be the next standard for both acquisition as well as exhibition. It's just a matter of time, not if. Whether you should get on the 4K train and buy a 4K TV now, it's up to you – the prices are certainly on your side, and cameras capable of really nice 4K images are cheap too…
Claim your copy of DAVINCI RESOLVE 16 - SIMPLIFIED COURSE with 50% off! Get Instant Access!