It is not uncommon for filmmakers nowadays to own multiple cameras for their video work. Multiple cameras, not necessarily from the same manufacturer usually means different battery systems, and for those who want to avoid powering all their gear with V-mount or Anton Bauer high-capacity batteries, although a standard in the industry, can be quite pricey and bulky to carry around all day especially when one needs to power smaller cameras like the Sony A7s or the Panasonic GH4.
And with so many shooters already having tons of Canon batteries from their Canon 7D, 5D Mark II's or Canon 5D Mk III, many would prefer to power most of their accessories and different cameras with the same style batteries.
Canon LP-E6 batteries are an example of one of the most common battery types used to power just about everything from DSLR's, to monitors, electronic viewfinders, or camera top LED lights. And it makes sense, as those LP-E6 batteries are not expensive and easily found just about anywhere. Wouldn't it be great if there were battery solutions that would let us use our Canon 5D batteries to power it all?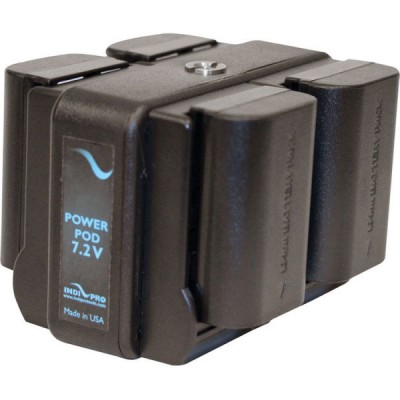 This is where the folks from IndiPro come in with their new affordable Power Pod adapters for LP-E6 and Sony L series batteries. Available in 14.4V and 7.2V options with Dual or Quad slots, the Power pods from IndiPro can run your camera for 4-5 hours depending on the state of your batteries and accessories attached.
The 7.2V Quad Power Pod sells for $115 at B&H and features hot swappable battery slots (as long as there are at least 2 batteries on one side minimum, the other two can be swapped while the camera is running) and features 2 x 2.5 DC outputs so you can power accessories as well as your camera for example. 1/4 20″ threads on the top and bottom make it easy for the adapters to be attached to any rig.
Check out more from Cheesycam's NAB 2015 interview with IndiPro below: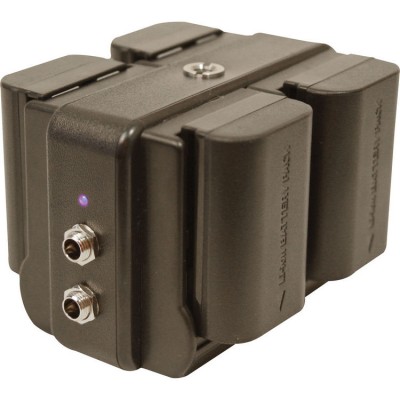 Features
Extended Power to 14.4V Devices
1/4″-20 Threads for Clamps / Shoe Mounts
Two Canon LP-E6 Battery Slots
2.5mm DC Output Jack
Variety of Output Cables Supported (regulated/Non-regulated)
LED Indicator
Lightweight PVC Enclosure
The Power Pods can be adapted to various cameras such as the Sony A7s, GH4, Blackmagic Pocket Cinema camera or even the bigger and more juice thirsty Production 4K camera with the appropriate cables available from IndiPro. Sony A7s shooters can check out the links at the bottom of the article for the cable required.
The company also provides supports for the Panasonic GH4 with which can be powered via either Sony NP-F (L series) batteries with their IndiPro Grid Battery System currently on sale at a discounted price of $99 at B&H. The Canon LP-E6 version is also available for $89 and can be purchased here.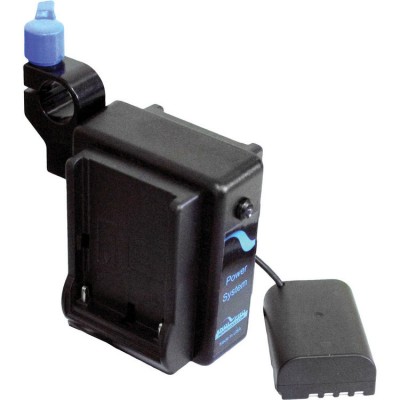 IndiPro Grid for GH4 Features
9.2 Volt Regulated Power Converter
Powers from 2 x L Series Type Batteries
Single 15mm Rod Clamp
Uses Dummy Battery Case
20″ Long Cable
Blue LED Power Light
The IndiPRO Grid Battery System For Panasonic GH4 from IndiPRO Tools powers your GH4 camera using two available Sony L or Canon LP-E6 series type batteries. The unit requires two batteries to supply enough power for the camera, and regulates the power to 9.2 volts. The unit provides regulated power, ensuring your camera is fed the correct voltage. The unit features a built-in 15mm rod clamp that allows you to attach the unit to your camera's support rods. The clamp is a single rod clamp, providing you flexibility in how you mount the unit. Attach two batteries to the unit, and insert the dummy battery in your GH4 camera. An integrated blue LED lights up when you have sufficient power to run your camera. The 20″ long cable allows you flexibility in mounting the battery system to your rod support system.
IndiPro also make an XLR to 3.5mm audio converter box for the BMPCC shooters and others who want to use XLR mics with their BMPCC. This unit currently sells for $79. Here's more info from IndiPro:
The Mini Box was specifically made for the Black Magic Pocket Camera.  The Mini Box converts XLR male plugs to a right angle 3.5mm stereo plug.  Includes a 15mm rod clamp. Made in the USA The IndiPRO Tools Mini Box XLR to 3.5mm converts two XLR inputs to a 3.5mm stereo audio output to provide balanced XLR audio to various cameras. It features a built-in, 15mm rod clamp for mounting on a camera rig, and it was designed with the Blackmagic Pocket Camera in mind.
B&H Links:
Power Grid System Dual Canon LP-E6 BMPCC  – $95
Power Grid for Blackmagic Production Camera 4K (2x Canon LP-E6) – $120
Power Grid for Blackmagic Production Camera 4K (2x Sony L-Series) – $120
69SA7 2.5 mm to Sony a7s Dummy Battery Cable (24″, Regulated) – $49
IndiPRO Grid Battery System For Panasonic GH4 (Sony L Type) – $99
IndiPRO Grid Battery System For Panasonic GH4 (Canon LP-E6 Type) – $89
[via Cheesycam]
Claim your copy of DAVINCI RESOLVE - SIMPLIFIED COURSE with 50% off! Get Instant Access!