One of the common aspects of the filmmaking process is continually finding practical solutions to enhance and improve your production workflow on a regular basis. There are many obstacles and difficulties we as filmmakers face every day on set where the necessity to persistently look for monitoring devices with better resolution has turned into an integrated part of our agenda.
In search of innovation, the team behind Camlet Mount created a prototype of support system that merges the gap between the high-res mobile devices and the latest mirrorless cameras and DSLRs providing a mount that allows you to connect your camera to your tablet or smartphone. Thus taking advantage of the capabilities of both devices.
It's quite simple really, just attach your phone or tablet with the Camlet Mount to your camera and use it as a high-res multi-touch monitor and control the settings of your camera more quickly and efficiently.
Introducing The Camlet Mount… from Camlet Mount on Vimeo.
Camlet Mount comes with two different sizes of holders, which adjust to fit different phones and tablets of a screen size up to around 7″-8″ and fits on the top your DSLR or mirrorless camera with a standard hot shoe. The holders are designed to be easily interchangeable so one can swap from a phone on one shoot to a tablet on the next in a matter of seconds.
Furthermore, the Camlet Mount folds down easily onto the camera, retaining its regular use. The ability to monitor your high-resolution video feed on a bigger display is crucial not only for pulling focus more precisely and accurately but also significantly reduces eye strain that occurs when using the smaller native screen of your camera.
Camlet Mount is also extremely flexible mount as with its a three-point pivot design provides many unique repositioning configurations along with a reliable and secure physical connection between your tablet or smartphone and the camera itself.
There are numerous device combinations possible with the system. Whether you are going to attach the mount directly on the top of your Panasonic GH4 or your Sony A7s, or on a stabilising grip or gooseneck for your GoPro, either way the Calmet Mount is a super efficient way to reduce the additional costs for a separate monitor and utilise the potential of your smart device at the same time.
In order to establish a connection between your camera and smart device, you have to use some of the available third-party applications depending on the specifications of your devices. Depending on your  particular combination of camera, device, and app and the way you are going to tether both devices, the following guide will give you some useful ideas to start.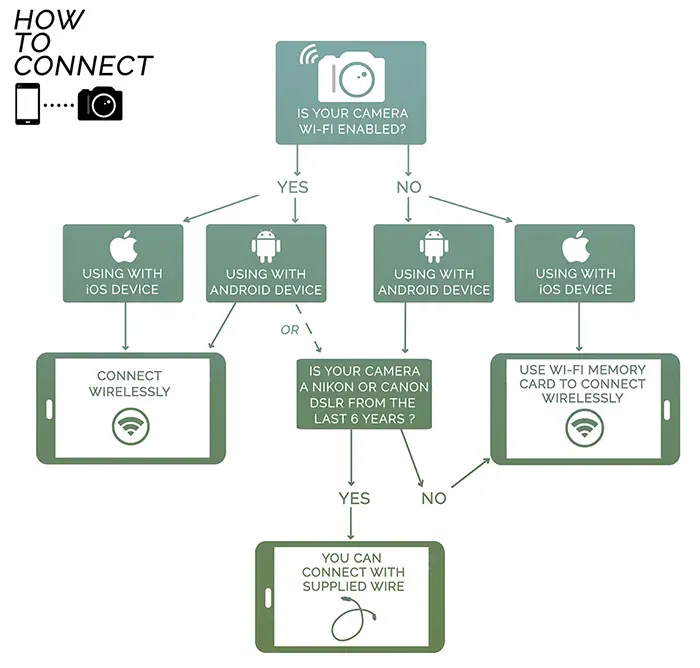 If you have some of the older Nikon or Canon DSLRs you should connect your camera and you Andorid device through a cable such as the one included with you Camlet Mount kit. On the other hand, Apple iOS devices don't provide the option of wired connection so if you are an Apple user you have to use the Wi-fi capabilities of  your device as there is no wired connection with iOS devices at the moment.
On the Camlet Mount website, you'll find a list of apps for Android and iOS available that you can choose from according to your device specifications and personal needs.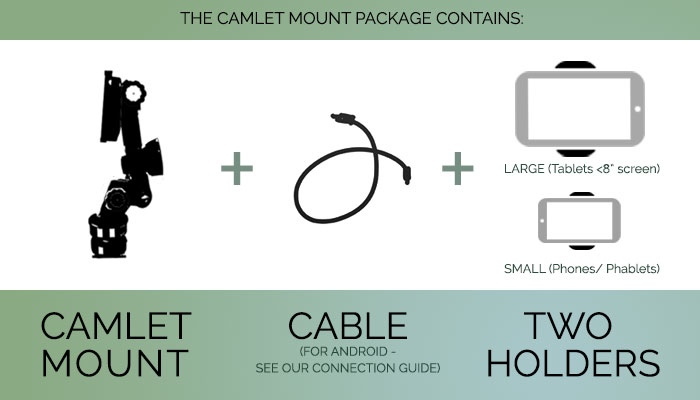 There are also a couple of useful optional extras planned that will come in the near future such as additional charging add-ons and another XL holder. The Camlet Mount expected to ship in November 2015 in limited quantities.
For more information on the mount head on over to The Calmet mount Kickstarter campaing page or their official website.
[via: ProVideo Coalition, source: Camlet Mount]
Claim your copy of DAVINCI RESOLVE 16 - SIMPLIFIED COURSE with 50% off! Get Instant Access!