Generally, camera dolly systems are still the most popular way of getting those beautiful horizontal smooth shots still widely used in the various film, broadcast and commercial productions. They also provide the ability to replicate the same camera movement for multiple takes, especially when the camera is mounted on a dolly on track. However, most of the popular variations of the platform are too bulky, hard to travel with and out of reach for most indie filmmakers.
Recently, Edelkrone came up with an interesting compact solution that can easily fit in your pocket, yet providing the same exceptional results. In essence, PocketSkater 2 is a mini dolly system that you can put in your backpack and use to capture some professionally looking fluent shots that can effortlessly raise the bar of your production.
All you need is an even flat surface to get the best possible results. The new product from Edelkrone has three wheels which can fold out and extend easily. Furthermore, the angle of the curve is set instantly by adjusting the two front wheels.
No matter if you are looking to move the camera parallel to a subject or draw circles around it, the PocketSkater2 will be able to provide the desired results. The angle of legs and wheels can be adjusted independently, giving you many angle and curve options.
The device can carry most of the popular compact cameras such as the GH4, A7s, Samsung NX1, BMCC, BMPC, BMPCC, Canon DSRLs and everything in between weighing up to 5.5 pounds (2.5kg). The PocketSkater 2 comes with a dedicated FlexTilt Head providing angle, hight and rotation adjustments which eliminate the necessity of utilising a separate tripod head. You can even mount your smart phone using the dedicated "Compact Mode".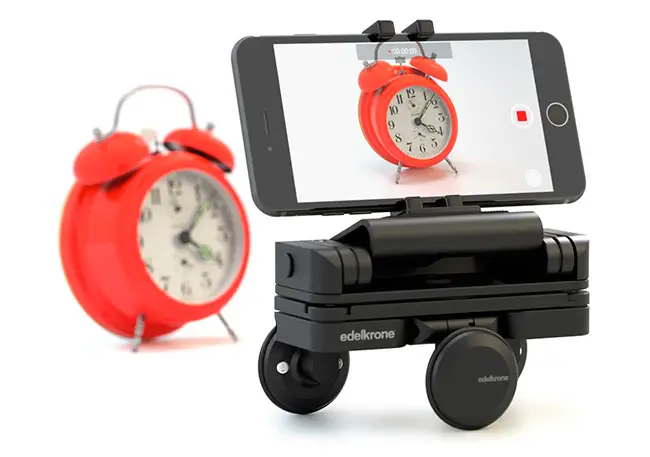 The PocketSkater 2  is perfect for setting up a 360-degree circular shot around an object. The mini dolly's centre of gravity can also be shifted to ensure that the unit remains stable throughout every shoot. The patent pending system is built of highly grade aluminium weighing only 1 pound providing ultra-portable and compact form.
If you're looking for a simple, small and super-efficient solution to give you motion on a small-scale, or simply want to get some stunning product shots for your clients the PocketSkater 2 got you covered. Currently, the mini-dolly is retailing for $289.
For more information on the PocketSkater 2, head on over to Edelkrone's website.
[via:PetaPixel, source: Edelkrone]
Claim your copy of DAVINCI RESOLVE 16 - SIMPLIFIED COURSE with 50% off! Get Instant Access!