UK Mobile operator EE is set to challenge GoPro's dominance in the action camera world by announcing their own and first action camera called the 4GEE. The new mobile device is a fully functional action cam with a twist – it can stream up to 10 minutes of live (720p) video over 4G without a the need for a smartphone or computer.
With the fast paced advancements in wearable technology that we've already seen in the past year, it looks like the rest of 2015 and 2016 will be big for wearable devices from smart watches to live-stream cameras.
Features and Specs
Processor
Qualcomm MSM8926-2 1.2 Quad Core
Memory
Built-in storage: 2.5GB / Supports up to 64GB MicroSDXC (external)
Wireless Connectivity
4G: Band 3 (1800MHz), 7 (2600MHz), 20 (800MHz)
3G: 900/2100
Wi-Fi: 802.11 b/g/n
RF: 2.4GHz
Optics
Still image
13MP (4:3), 10MP (16:9), 3MP (4:3), 2.4MP (16:9) with GPS tag
Burst mode: 13MP full size 8 fps
Video recording
1080p HD video recording (30 fps)
720p HD video recording (30 or 60 fps)
Live streaming
720p HD live streaming (30 fps)
Battery
2,260mAH Polymer Lithium-ion rechargeable
3 hours video recording
Included accessories
Waterproof case
Lightweight case
Viewfinder watch
Accessory adaptor
Charging adaptor
USB cable / USB-PoGo cable for watch
While it doesn't feature any form of 4K recording, the camera does max out at 1080p recording, it is waterproof up to 60 meters according to the manufacturer, and it's certainly an interesting gadget allowing for seamless live-streaming over 4G via the Skeegle proprietary app developed by EE. This means that users can invite friends, family and contacts into a private network, rather than sharing their content publicly. The camera has the capacity to take 13 megapixels stills as well and comes with a Viewfinder Watch that assist with the setup and control of the camera from your wrist.
In the age of the interconnected family and friends, where just about everyone has either a smart phone or a tablet capable of receiving the streamed signal, I can see this being a gadget more for enthusiasts rather than professionals shooters. However, EE does also see their 4G live-stream action camera used in crime prevention schemes such as used on London buses, as well as by firefighters or ambulances who can beam information back to base as it's happening.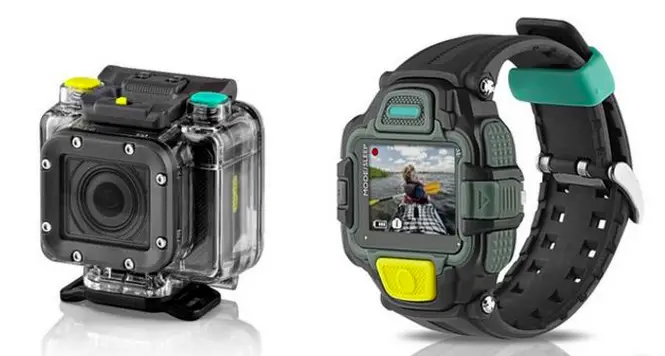 I see this new camera as more a competitor to the budget and more enthusiast friendly GoPro Hero and Hero+ LCD as opposed to the GoPro Hero4 Black, which would be the go-to choice for most looking to get the best possible images out of a GoPro style action camera.
The 4GEE Action cam goes on sale today at plans starting at £299 on pay-as-you go contracts with 2GB data, and as low as £50 with long term contracts.
For more details head over to EE.
Disclaimer: As an Amazon Associate partner and participant in B&H and Adorama Affiliate programmes, we earn a small comission from each purchase made through the affiliate links listed above at no additional cost to you.
Claim your copy of DAVINCI RESOLVE - SIMPLIFIED COURSE with 50% off! Get Instant Access!