For some time now, there is a serious debate going on in the filmmaking community whether the recently-released DaVinci Resolve 12 Studio (along with the free DaVinci Resolve 12) is already good enough to be predominantly utilised as the ultimate all-in-one post-production solution that can handle entire projects from start to delivery. Whatever the case, the software remains one of the most established colour grading platforms available today with a leading position in the world of post-production solutions providing a powerful feature set that becomes more effective and efficient with every new iteration of the system.
The hybrid software is a no-brainer to say the least, especially given the endless possibilities it provides for the price.  It's mind-blowing how easily you can match footage from various cameras on a single timeline in Resolve 12 in a matter of minutes. You simply need to be experienced enough knowing really well the ins and outs of the platform itself.
Casey Faris has another great tutorial for us showcasing how we can easily match footage from different sources in DaVinci Resolve 12 by utilising LUTs. This workflow is also another example how we can use look-up tables to significantly speed up our workflow in situations where some basic colour correction is required.
Of course, there is a bunch of different ways to match footage in Resolve but this, in particular, seems to be a really straightforward and an easy to follow process. Probably it won't work on every occasion, yet it's a great starting point. In this particular case, Feris uses footage from a GoPro camera, a Canon DSLR and a Panasonic GH4. It's good to have a bunch of additional LUTs available on your system on such occasions as you never know what type of camera footage you may stumble upon.
For instance, the GoPro footage in the above video was shot in Protune mode, that's why Casey utilises the GC_Protune to 709 LUT that you can download at no additional cost here. He shot the clip on the GH4 using the Cinelike D mode so for this footage, in particular, he applied the GC Titan Cinelike D to Rec 709 LUT that is also available for download from the same online source.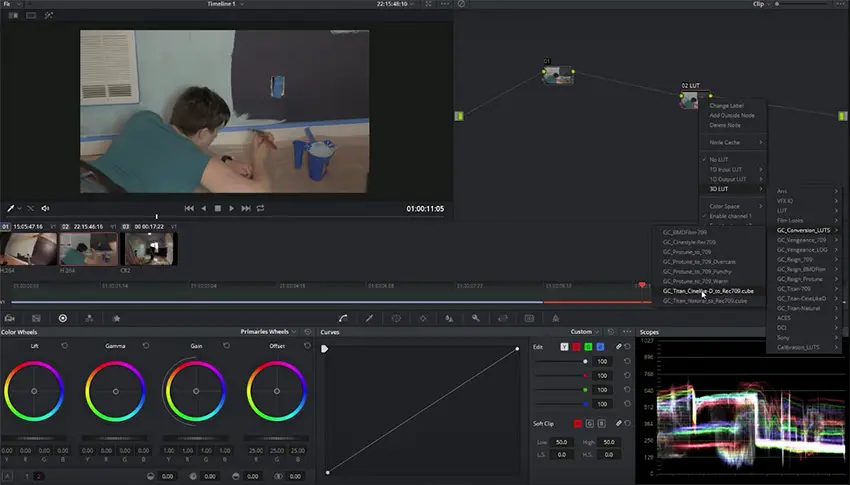 Generally, Casey adds a Node to the main footage and then applies a certain LUT for each clip accordingly. As for the timelapse captured on a Canon DSLR, he simply tweaks the settings inside Resolve 12 to match the footage with the other two cameras. Thus, he was able to move on further with fine tuning and fiddling with the footage.
For even better results and more precise control over the process, it's also recommended to utilise the available monitoring tools in DaVinci Resolve such as the Vectorscope, RGB Parade, Waveform and Histogram. We've already covered this in another tutorial about using scopes available in DaVinci Resolve. As for the look-up tables, there are already a handful of online resources that offer free Custom 3D LUTs for various situations.
It would be interesting to share your personal workflow on matching footage in DaVinci Resolve. Feel free to add your comments on the topic below.
[source: Casey Faris]
Claim your copy of DAVINCI RESOLVE - SIMPLIFIED COURSE with 50% off! Get Instant Access!