Only a month ago we covered the announcement of the world's largest 2TB SSD by Samsung, and now they have an enterprise 16 TB SSD prototype! Considering the fact that the technology advances with leaps and bounds so that it's already hard to catch up with, I'm pretty convinced that the 32TB ( if not 64TB SSDs) are just around the corner, rather than being just a futuristic engineering concept. In any case, it's a really surprising announcement, especially that the current conventional drives max out at 8TB. As for the facts, the brand new PM1633a utilises extremely advanced NAND flash chips rather than spinning platters that make possible storage of so much data into a relatively small 2.5-inch SSD package.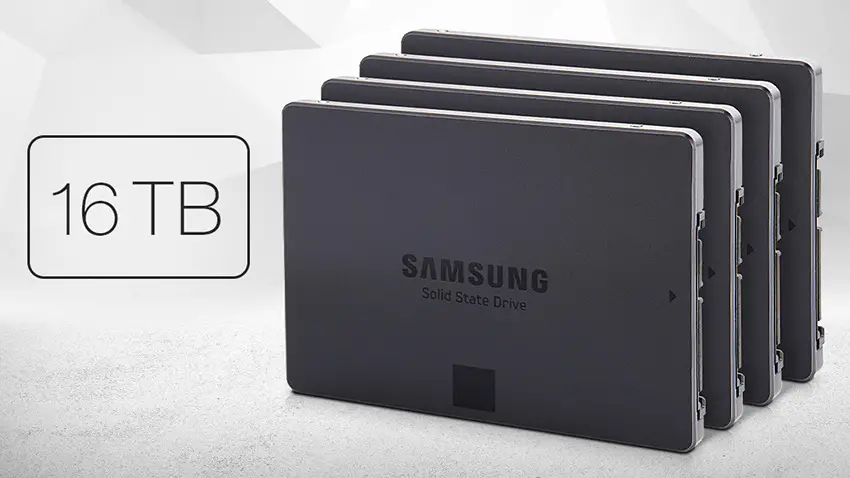 The essence of the know-how behind the Samsung's 16TB SSD is the company's new 256Gbit (32GB) NAND flash die. Now I'm not going to delve too much into technical details, not only because it might get too boring, but also for the fact that as filmmakers when it comes to storage we simply want the largest capacity at the maximum speed available we can get for a fraction of the cost without worrying too much about the technology itself.
All in All, 3D NAND can be explained as having not just one layer of memory cells on a single plane, but having dozens of these, all standing up next to each other, thus making possible the unreal capacity of this SSD.
At the Flash Memory Summit that took place in California, Samsung showed off a server with 48 of the brand new SSDs, with a total storage capacity of the whopping 768 TB. I should admit that math has never been my strong suit, but only try to calculate how much 4K RAW footage you will be able to store on such a system.
The problem for the moment is still the price, though. It's suggested that this type of SSD currently will retail for more than $5,000. Of course, I can't see myself buying one of these for my editing workstation any time soon, yet given the speed the technology moves forward and the constantly dropping prices, I wouldn't be much surprised if we have the chance to put our hands on one of these sooner rather than later.
Whatever the case, it's great that the capabilities of the modern technology are expanding so fast, it's even a little bit scary if you asked me. Right now the largest Samsung SSDs you can get are the Samsung 2TB 850 Evo 2.5″ SATA III Solid State Drive and Samsung 2TB 850 PRO Series SATA 2.5″ SSD.
[via: Arstechnica / Gizmodo]
Claim your copy of DAVINCI RESOLVE - SIMPLIFIED COURSE with 50% off! Get Instant Access!