Last year at IBC in Amsterdam, Sony unveiled the now super seller PXW-FS7, which featured 10bit 4K internal recording and high speed Full HD recording at unbelievable frame rates at a price point that sent shockwaves and despair throughout the industry and prompted befuddled looks in many of the competition's board rooms. The sub $10K 4K fortress has been heavily guarded by the strong performance of the Sony FS7, which has been universally embraced by a legion of owner/operators, rental houses and production companies alike and surpassed even the most optimistic sales estimates by its own maker in the process.
And just like they stole the show last year, Sony are looking to give us an encore performance at IBC 2015 in less than a week by teasing "a groundbreaking new FS Camcorder" and asking "What More Could You Achieve" in a promotional tweet from earlier today, a snap of which you can see below.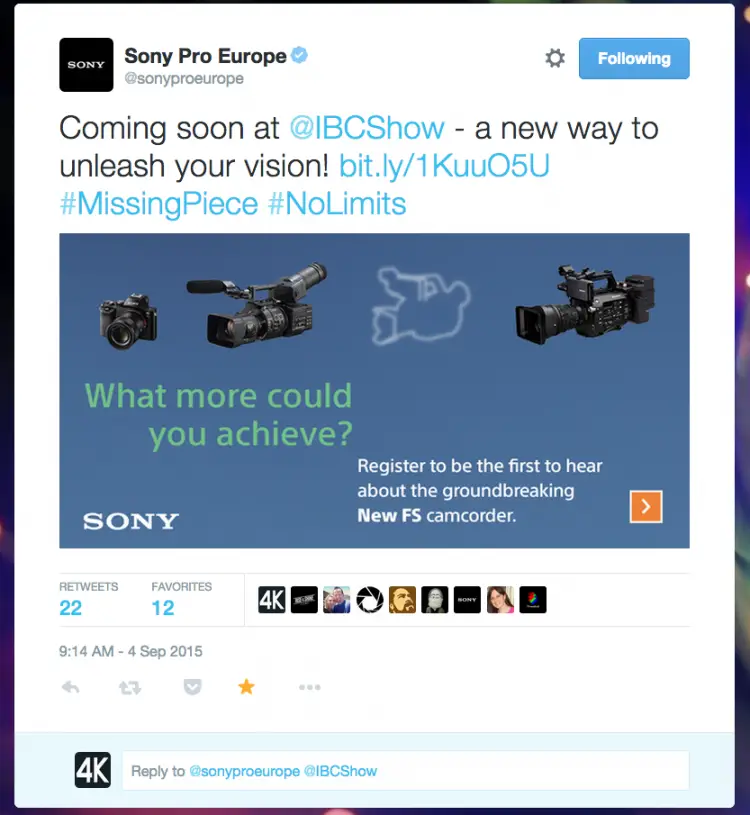 Once you sign up, you get a message, which tells you the good people at Sony will send you all the details you need to know in the 11th, next Friday, which is also the official start of IBC 2015.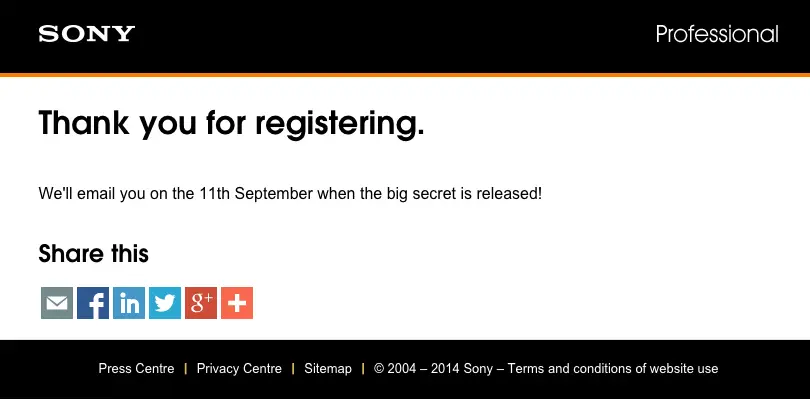 According to the banner above, the new FS camera is to sit between the NEX-FS700 (which is already selling for $3,995) and the FS7, which means it will be priced somewhere in between $5,000 and $8,000. With the NEX-FS100 entry level Super 35mm camcorder already discontinued, the game is on for Sony to take charge and occupy yet another prime spot – that of the entry level 4K camcorder.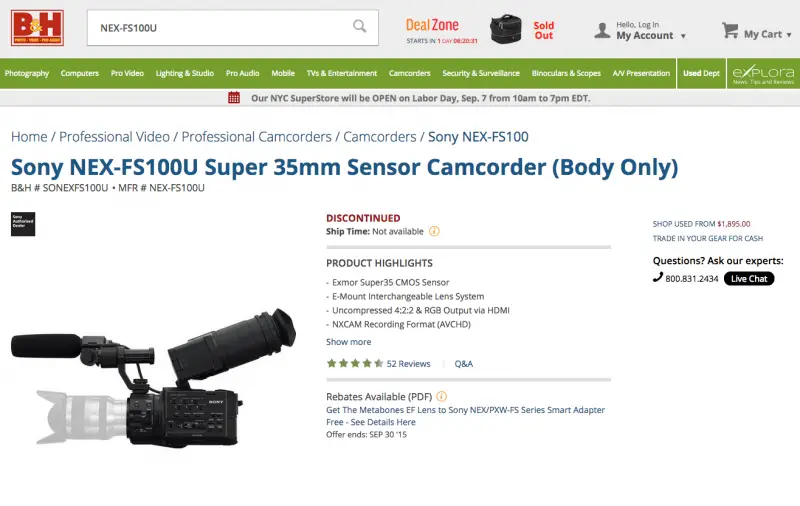 Now, let me preface this by saying – I don't know any specifics, just want to share with you my predictions as to what we may see announced next Friday in Amsterdam. Take my predictions below with a grain of salt, as they are pure speculation (and a wish list).
What the new Sony FS Camcorder might have (predictions/wish list):
New Full-Frame/S35 sensor
High Sensitivity/Low-light (close to the A7s FF sensor)
4K (UHD) XAVC-S internal 8bit 420 100Mb/s up to 30p
1080p MPEG2 8 bit 422
1080p/120fps slow motion internal continuos
Burst 240fps in sub 1080p resolution
HDMI only
Records on SDXC cards or SSD
Smaller body similar to FS7, but radically different from the FS100/700
XLR inputs
Viewfinder from the FS7
Priced around $5K
In essence the above is a Sony A7s in a camcorder body. This is what a lot of video professionals and enthusiasts have banging on about and Sony has not only the technology to do it, but also the audacity to disrupt the market again and compete with itself. Canon C100 Mark II – watch out.
We'll have to wait another week and see how many of the above I got right.
Claim your copy of DAVINCI RESOLVE 16 - SIMPLIFIED COURSE with 50% off! Get Instant Access!