We dig cool Kickstarter/Indiegogo crowdfunding projects for filmmaking gear over here at 4K Shooters. Despite the fact that there is a significant number of accessories, including cages out there for the Panasonic GH4 and similar size cameras like the Blackmagic Pocket Cinema camera and the Sony A7s, filmmakers keep finding innovative ways to improve the gear they work with on a daily basis by coming up with their own accessories and field solutions.
Recently we got word of an awesome new modular cage for the Panasonic GH3 and GH4 called the True Grip.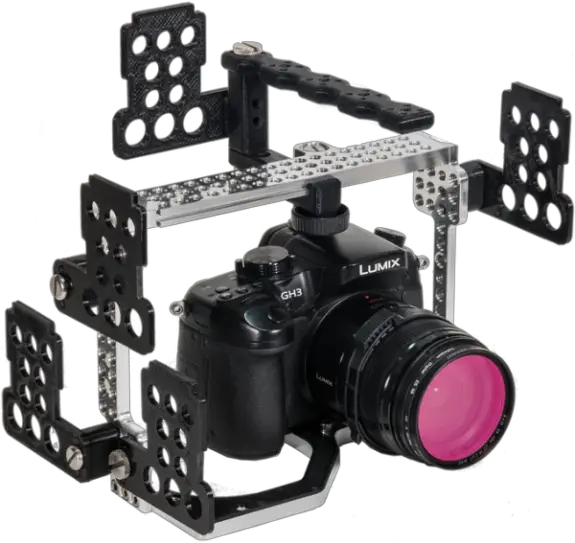 Created by Brooklyn based filmmaker Sam Sielen, the TRUE GRIP is a beast of a cage – fully modular, un-obstructing the most important aspects of the camera – the SD card slot, the battery compartment and most of all – the camera side grip – something that pretty much all other cages ignore.
As a long time PNC Honu 2.0 GH4 cage owner (which I have recently adapted to my new Sony RX10 II) that's the one thing I wish that cage gave me – access to the very comfortable side grip of the GH4. See Sam's pitch about his new True Grip cage below:
Sam spent a few years of refinements and modifications to several generations of camera cages he developed himself and used extensively in the field in numerous environments and conditions spanning different continents. After going through a few 3D printed versions of parts for the True Grip cage, the final version of the True Grip and all of it's components will be CNC'd from high grade aluminium with a black anodised finish.  In designing each component, we sought high strength-to-weight ratios, keeping the cage incredibly light, yet strong and very capable.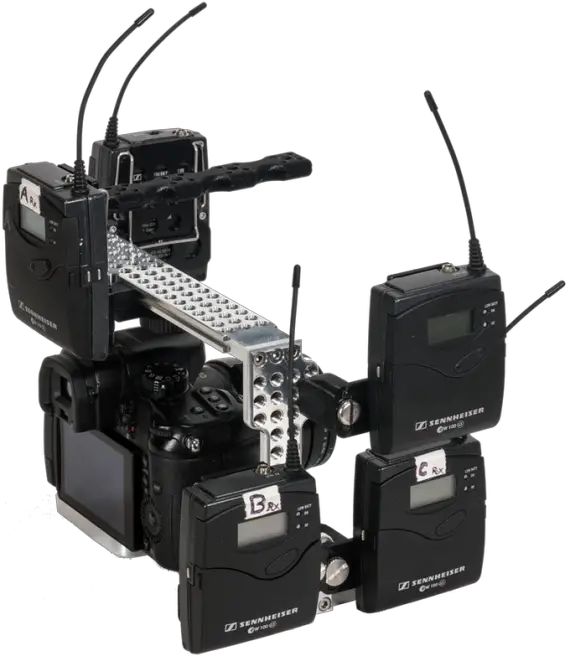 An important note here about the quality of this cage is the fact that according to Sam, it will conform to industry standards, this is important as a lot of cheaper low-end cages out there have some issues with standardised spacing and gauges. The hole spacing uses the industry standard 9mm center-to-center allowing compatibility with a range of other accessories.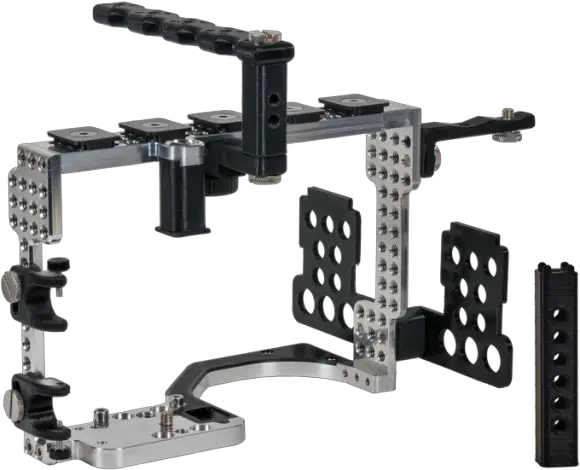 The attachments such as the wireless audio receiver mount and shogun mic mount have integrated anti-twist pins designed to work anywhere there are two 1/4″ holes 9mm CTC – so compatible with a large range of manufacturers.  A few additional 3/8″ holes will be added that aren't seen in some of the prototypes here. Rosettes on the relocatable grip kit use the standard ARRI design.
In addition, this cage is modular and upgradable – allowing compatibility with other cameras, by simply swapping the base plate and shoe mount.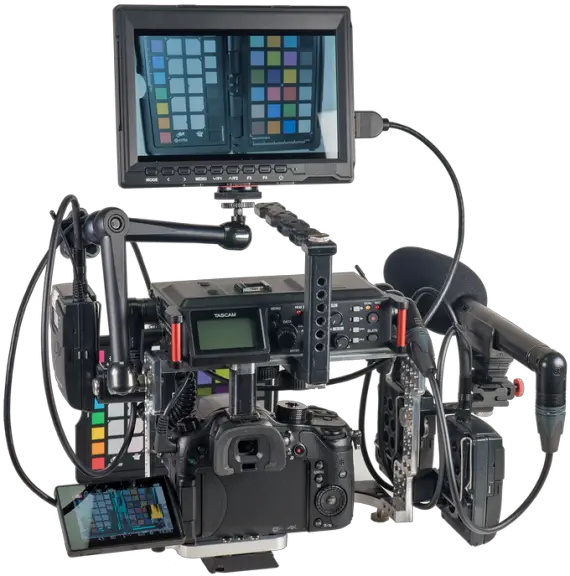 True Grip GH4 Cage Features
* Complete unobscured access to the camera's native grip, controls, buttons, ports, and compartments.
* Super light-weight at just under 1 pound (1/2 kg) in its basic configuration – yet still a full cage, not a half or partial cage.
* Multiple anti-twist features keep the camera secure in the cage – A) two M4 screws that hug the front of the camera, B) non-rotating shoe mount, C) cutouts in base plate for nubs on bottom of camera, D) M4 female hole for optional registration pin under the camera (using optional M4 set/grub screw)
* Incredibly versatile and modular sliding top handle that can be positioned nearly anywhere on the top plate in 3mm increments – positionable in a parallel or perpendicular orientation to the optical axis with integrated anti-twist registration pins surrounding the 1/4″ screw.
Two height options – via a 40mm or 80mm column.
Can even be used without the column for a super low profile handle.
Locked in place by a 1/4″ thumbscrew.
Easily removed and/or re-positioned in seconds.
Five threaded 1/4″x20 holes on the handle itself (used for securing the handle to column as well as securing other items onto the handle).
1/4″x20 holes on handle riser column that are 9mm centre-to-centre – allowing various accessories to be mounted here such as wireless receiver brackets or our shotgun mic mount.
Column can be rotated 90 degrees to place mounting holes on sides, rather than front and back.
High strength-to-weight ratio design.
* Minimal yet highly effective cable locking mechanisms.  One design that can be used for any of the cables – micro-HDMI (GH4), mini-HDMI (GH3), 1/8″ (3.5mm) mic input, and the 1/8″ (3.5mm) headphone output. LCD screen can fully open without hitting cable locks and even still swivel with HDMI cable lock installed.
* Robust, lightweight, and highly configurable wireless receiver mounts – featuring over-sized anti-twist pins and standard 1/4″ x 20 slotted screws.  Available with 3 different spacer options to offset the mount from the cage – 1/8″, 1/2″, and 1″.  Symmetrical design allows mount to be positioned in either direction and to have receiver mounted on the inside or on the outside of the mount.  Can be mounted anywhere there are two 1/4″x20 holes 9mm apart.
* Matching (symmetrical) 1/4″ x 20 holes on the upper portion of the left and right plates allowing sleek and light external monitor and recorder yokes / arms.  We currently have a kit that includes 2 variable-position arms, 4 thumbscrews, and a friction washer/spacer kit.  This will allow compatibility with most 7″ monitors that feature 1/4″ holes on the sides.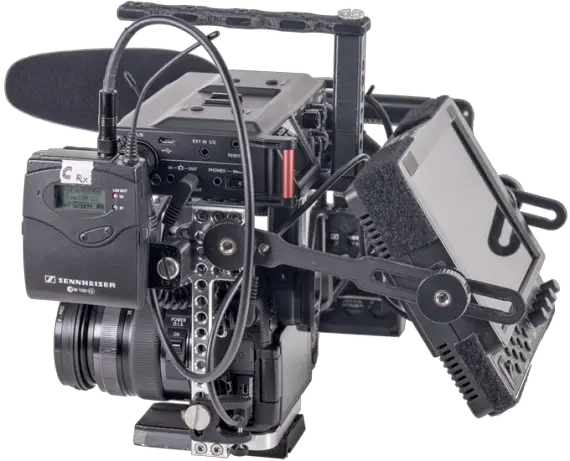 Currently in the R&D stages with planned production post-Kickstarter, are yoke/arm assemblies custom fit for the Atomos Shogun/Ninja Assassin, Odyssey 7Q series, and Video Devices Pix-E series 4K recorders enabling a more robust and reliable solution than magic arms and ball heads.
* Super low profile cold shoe tabs with registration pins (anti-twist) – allowing up to a whopping 7 shoe mounts to be added to the cage with virtually unnoticeable weight-gain.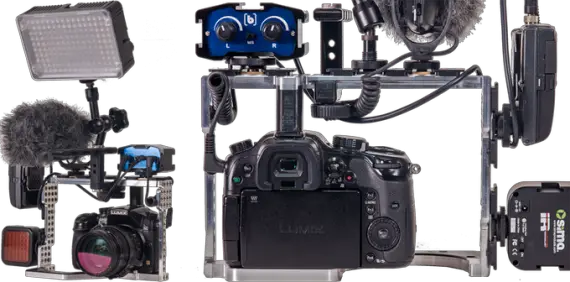 * Designed with Audio in mind! Easily integrate any one of the readily available 2 and 4 channel digital recorders/mixers onto the cage.  The Tascam DR-70D 4 track recorder integrates very easily while still keeping a low centre of gravity and allowing full use of the top handle with the optional extended-length top-handle column.
* Shotgun-mic extension arm – a two-position offset shotgun-mic mount with anti-twist integration. Can be mounted anywhere on the left or right plates, to the top handle, or anywhere there are two 1/4″ holes 9mm apart.
* Full access to the LCD screen and viewfinder.  Viewfinder can still be used with any number of accessories.  LCD screen can still be fully accessed and can still open and swivel completely with no interference from the the cage.
* Modular design, allows future compatibility with other camera such as the Sony A7 series and Samsung NX series, by swapping the baseplate and shoe-mount.
* Relocatable grip option via electronics integration in the base plate.  Grip offers Record Start/Stop, control over aperture/iris, shutter speed, WB, ISO, EC, and options for push-AF, and a customisable Fn key, not to mention housing a second full battery. Relocatable grip kit comes with wire harness for inside baseplate, a 2-piece articulating arm with ARRI standard rosettes – 2 of which slide on the toothed arms allowing adjustable length, the grip interface plate, and the external wire harness from the cage to the grip interface.  You provide your own Panasonic or generic battery grip and simply attach it the the grip interface plate.  All parts of relocatable grip kit will be black anodised aluminium (except for knobs and electronics).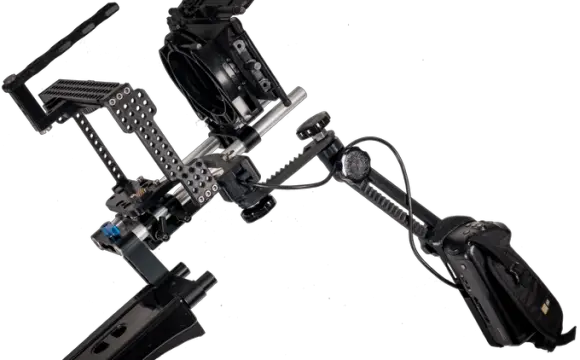 * 1/4″ and 3/8″ tripod mounting holes prevents twisting on a tripod.
* Countersunk M5 holes in the baseplate for future addition of a rod clamp.
* Black Anodized 6000 series aluminum. Edges of side plates will have a 1/8″ (3.175mm) radius/fillet as seen on the right plate in the silver aluminum prototype.
* Stainless steel hardware – M4 fixing bolts, camera fixing bolt, shoe mount bolt, m4 anti-twist screws, cable lock mount screw and pinch screw, receiver mount screw, shotgun mount screws, shoe tab screw, top handle screws, etc.
* Manufactured in the USA.  In New York by Candreva USA – A high-end premium manufacturer of advanced professional cinema gear and equipment. http://www.jccamerasystems.com/
* Designed, machined, and tested by professionals in the television and film industry.  Sam has been the DP, producer, or camera operator for various television, web, and cinema productions, with a focus in the verite and docu-style.  Jim Candreva of Candreva USA, not only producers some of the finest machined cinema gear around, but also is a highly accredited 1st AC, recognised as one of the best in the industry!
* Based on designs used extensively in rigorous conditions ranging from:
filming while traveling at over 40 knots in rough seas in small inflatable boats in the Antarctic
camping in the arctic – used in the freezing rain for over 12 hours straight a day for weeks on end
hot sandy conditions in the dead of night with IR illuminators and battery packs, audio gear, and shoulder straps attached to the cage
used in conjunction with a shoulder mount to film cyclists racing down steep island mountain roads, recording wireless audio feeds of coaches/supporters, while sitting on the back of a motorcycle
– and also in more controlled scenarios such as for sit down interviews, newscasting, sports, chromakeying, and other misc studio productions.
Super Early-bird Basic Kit specials for Kickstarter backers start at $349 with delivery estimated for December 2015. To claim yours and support Sam and his True Grip cage head over to his Kickstarter campaign.
Claim your copy of DAVINCI RESOLVE 16 - SIMPLIFIED COURSE with 50% off! Get Instant Access!