Speed ramping is ubiquitous in modern filmmaking, yet this doesn't mean it should be used on every occasion just as any other filmmaking technique, especially when it comes to short or feature films. Sure, it may look cool in action sports videos, but if it's not motivated and story-relevant, it's not doing you or your film any favors.
Furthermore, speed ramping is a great technique when you want to draw viewer's attention to a certain moment in your story and also can be another powerful editing asset that can add more dynamics to your edit. In the following video slow motion expert and academy instructor Mike Sutton is going to reveal the essentials of this technique and share some tips on how to use it to your advantage.
Joe Simon's Guide To Speed Ramping from Story & Heart on Vimeo.
All in all, speed ramping is great for creating smooth transitions in and out of slow motion, but it also has the power to advance people through story lines in different spaces or times. The best way to achieve excellent results with speed ramping is when you use a camera that can shoot much higher frame rates than the standard 24p. The higher the frame rates, the more dramatic will be the effect. The good news is that there are already a few reasonably prices cameras such as Sony's RX100 IV and Sony RX10 that not only can do a decent job in those terms, but they also deliver superb image quality and a great dynamic range.
Another important setting that you should consider when shooting slow motion is the shutter speed of your camera. As a rule of thumb you should double your shutter speed depending on the given frame rate you choose to shoot at. Keep in mind, though, that this will affect the amount of light that reaches your sensor, so it's another important note of the process to be considered. Shooting daylight exteriors is rarely going to be a problem, however, when filming in a studio or in a place where there are a lot of practical lights, shooting at higher frame rates might be an issue.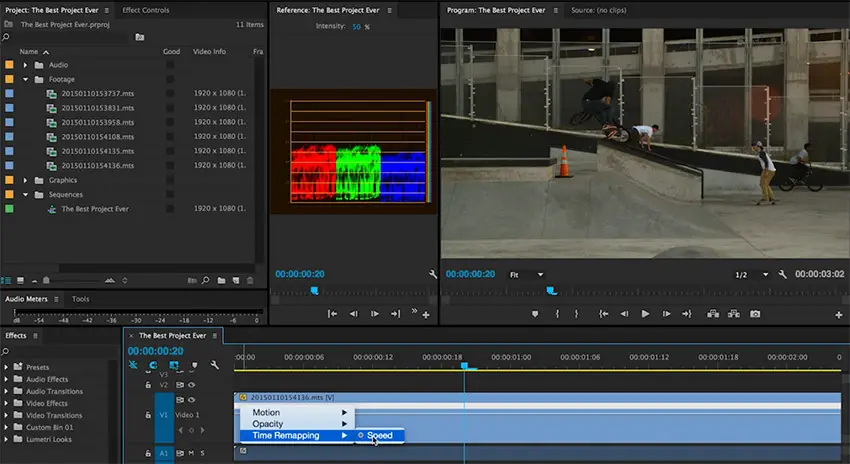 As for the post-production workflow, you can use any NLE that has Time Remapping as a feature. For example, in Premiere Pro CC open the clip that you want to apply the effect to and add it to your timeline. Then click on the fx icon in the top left corner, navigate to Time Remapping and select Speed. From there you can create easily in and out points showing where you want your ramp to begin and end respectively. Choosing the right moment where the action starts is crucial for achieving the best results. You can easily tweak the ramp effect from there.
At last but not least, make sure that you're actually drawing attention to the most important moment of your shot and try to avoid overdoing the effect. Use fewer speed ramps to increase the impact of each and only apply them in the right place at the right time or when you feel that they serve your story and enhance the narrative in the best possible way.
[source: Story and Heart]
Claim your copy of DAVINCI RESOLVE - SIMPLIFIED COURSE with 50% off! Get Instant Access!