Matching footage and skin tones shot on multiple cameras can be challenging, even when all the devices belong to the same brand. We've already covered an insightful S-Log3 comparison test between the Sony A7S II and Sony FS7, where the difference between the two gamma curves both cameras provide was apparent.
But, what about the Canon cameras? Well, in the video test below, Carlos Quintero puts the Canon XC10 and Canon C300 side by side to see how challenging matching footage to one another would be this time. He also shares some interesting lessons he learned during the test. But before we cover them, let's first see the video itself.
5 Lessons Learned – Matching XC10 Skin Tones to C300 from Carlos Quintero on Vimeo.
Even though the test was conducted in a considerably controlled environment, there still were some obvious mismatches between the footage both cameras captured, especially in terms of skin tones. Both devices were shooting in C-Log utilizing the native ISO for each of the cameras which were 500 for the Canon XC10 and 850 for the Canon C300. White balance was set to 5600K. Videographer utilized one Westcott Skylux LED light as a key light and a second Skylux as a fill on the opposite side with reduced light intensity by 1.5 stops.
It's worth noting that Carlos Quintero didn't shoot with both cameras simultaneously as he wanted to keep the native ISOs, which was a bit of a challenge with the Canon XC10 mainly due to the variable aperture of the fixed lens the camera provides. Carlos points out that the C-Log on the XC10 is much flatter than C-Log on the C300 as it probably would better match C-Log 2 gamma curve on the C300 Mark II.
Generally, when you are shooting with multiple cameras such as the XC10 and C300 you have to light your scene in a way that allows you to expose for all cameras as each camera sensor sees the scene in a quite different way which is probably most obvious in the wide shots.
It's also important to note that the glass that you're going to use would be another considerable factor. The difference might have a direct impact on depth of field, especially when you are shooting with cameras that have so much differently sized sensors. Furthermore, this would make impossible matching close up shots from both cameras mainly due to the different amount of blur in the background.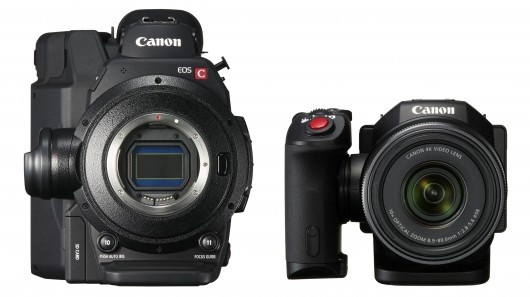 At last but not least, if you want to intercut footage between Canon XC10 and Canon C300, in particular, the best way would be to cut the C300 medium or close up to the XC10 wide shots for optimal results. Overall, this basic recommendation will make it considerably easier for you to match up footage from both cameras in different shooting scenarios, and more importantly, it will help you to achieve consistent skin tones throughout your project.
[source: Carlos Quintero]
B&H Order Links:
Canon XC10 4K Professional Camcorder
Claim your copy of DAVINCI RESOLVE - SIMPLIFIED COURSE with 50% off! Get Instant Access!