Chinese tech giant DJI, largely responsible for bringing ready-to-fly unmanned aerial platforms to the masses, as well as providing cinematographers and video creators around the world with easy to balance and affordable hand held stabilisers like the DJI RONIN, and the lightweight Ronin-M, recently posted a teaser promo on their website showing a glimpse into some rather impressive futuristic drone technology they have been working on.
The latest development from DJI is called the Phantom X Concept and is a ready-to-fly mini quad-copter (or a selfie flying camera) with some impressive features such as obstacle avoidance and intelligent tracking. The promo concept doesn't delve into too many details, but rather hints at what is to come from DJI in the near (or at least not-too-distant) future.
We all loved the 1980s' sci-fi visions of the future — the way drones zipped around, blending in as a natural part of everyday life. What if we told you the predictions made in these sci-fi classics are now reality? With the DJI Phantom X, we turn wide-eyed dreams of future possibilities into fact with multi-angle shooting, AI, obstacle avoidance and free-flight object tracking.

Indeed, the creators of today have always been the dreamers of yesterday. Join the discussion. Reply and #WhatsNext on the future of drones.

Featuring Chloe Bennet, Scott Goodson, Jeff Cable, Dana Brunetti, and Russell Brown.
One of the more futuristic features demonstrated in the promo by actress Chloe Bennet (Agents of S.H.I.E.L.D.) is the hand gesture control resulting in sky painting by two drones. Although this is still a product in a concept stage, the Phantom X has the potential to get some serious traction on the consumer level due to the fact that, according to DJI, you don't need a manual to use it – throw it in the air and it follow you. Simplicity is the key here. Throw it in the air – and control it via your smart watch or phone. That's the beauty here. Everyone can do it.
Whether it will shoot in 4K or not (and it probably will) and whether those drones in the promo are real or CGI-ed (which they probably are), it makes very little difference. DJI are going to bring this technology to market, and will sell boat loads of them if priced right – and most of their products are very competitively priced. The Web 2.0, selfie-obsessed, Millennial generation born into an interconnected world of apps and wireless devices will eat those up in large quantities, make no bones about it. And chances are a lot of this technology will probably be ported over to bigger quad copters and more professional drones.
Even though similar technology has been developed by competitors, such as the Lily Camera – a similar selfie drone tracking RTF camera, which recently completed a successful crowdfunding campaign, and smaller outfits targeting more tech-savvy enthusiasts rather then Millennials, DJI makes some of the easiest consumer oriented drones and stabilisers on the market. They are of high-quality devices, which are easy to operate – two factors vital for success when you market to the average consumer.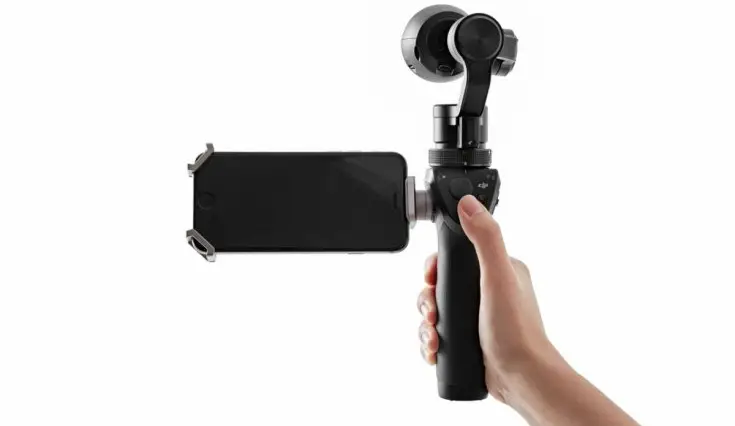 Of course for more professional video use you have your 4K Phantom 3 Professional Quad, the awesome DJI Inspire 1, now available with the X5 Pro camera gimbal, and soon the Xenmuse X5 Raw. The DJI Osmo may be a consumer oriented 4K stabilizer/camera, but I am sure it will end up used on numerous pro shoots as the lines between professional gear and consumer level kit get blurrier and blurrier every day. It's about the story after all isn't it?
Disclaimer: As an Amazon Associate partner and participant in B&H and Adorama Affiliate programmes, we earn a small comission from each purchase made through the affiliate links listed above at no additional cost to you.
Claim your copy of DAVINCI RESOLVE - SIMPLIFIED COURSE with 50% off! Get Instant Access!