Having a reliable video transmitter/receiver system is mandatory on set, not only because it saves you all the clutter related to dealing with lengthy cables and bulky setups. Most importantly, this tool is a great way to save time and be extremely portable, flexible and efficient while shooting on set and moving from location to location.
Of course, you can always use some of the cheapest prosumer solutions available online, yet when it comes to serious professional work you will definitely need more reliable and robust system providing a wide range of coverage and minimum latency for optimal results. Emm from Cheesycam had the chance to play around with this simple to use, yet reasonably priced wireless system from CAME-TV that he reviews in the video below.
CAME-TV 80m Wireless HD Video Transmitter And Receiver Key Features
Wireless HD video transmission for DSLR / DV
Support full-HD 1080p/ 60Hz video display with very low latency
Transmission Frequency – 5 GHz
Standard Protocol – HDMI 1.3, HDCP 1.2
Full-hardware for plug & play, no software needed
Up to 80m/ 260ft. effective range line of sight
Support external Li-battery supply for mobile convenience
Support Hot-shoe installation with 1/4 screw nut
Support audio input from external microphone
Hi-quality LCD screen display signal & battery status of product
As Mr. Cheesycam points out, latency is a crucial factor when it comes to choosing a reliable wireless system. Even 1-second latency sometimes may cause issues and became an inefficient solution for some projects. Typically, with the higher models, you will get better range and extremely low latency, yet the trade-off still will be the higher price you need to pay for these premium products. CAME-TV's wireless transmitter/reliever kit, on the other hand, offers reasonable quality in a small and neat package capable of delivering some excellent results.
Furthermore, the system can transmit a 1080p video feed signal up to 60fps providing coverage up to 260 feet. If your camera outputs audio through its HDMI port you will also be able to transmit a reference audio to your remote control monitor while shooting on set. Another interesting feature worth noting is the fact that the receiver can be attached directly to your monitor. The transmitter provides a hot shoe mounting option and can be attached directly on top of your DSLR or mirrorless camera.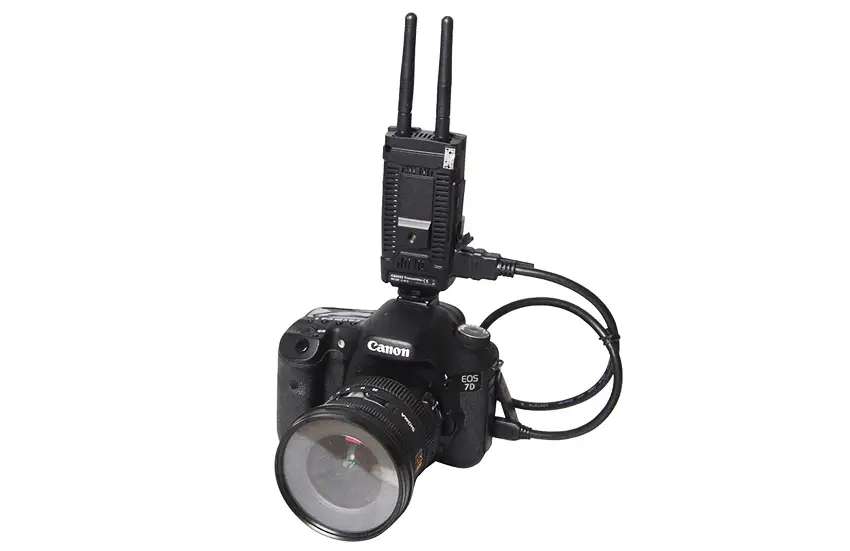 On top of that, you can use the battery of the receiver as an alternative solution that can power you monitor as well, plus the system doesn't require any additional powering units beside the Canon LP-E6 standard battery for the transmitter and Sony style NPF-570/770 L-series batteries for the receiver respectively. After testing Emm measured that the latency was around 80ms in this particular case which is a difference of just two frames. This is definitely a doable and acceptable rate for most shooting scenarios and situations.
Overall, the CAME-TV HDMI transmitter/reliever is a clean and simple, easy to operate plug & play solution that works great and simply does the job, especially considering the price. The setup will set you back $988.
If you want to learn more about the product and dig into the technical specifications head on over to CAME-TV's official website.
[via: Cheesycam, source: CAME-TV]
Claim your copy of DAVINCI RESOLVE 16 - SIMPLIFIED COURSE with 50% off! Get Instant Access!