A few days ago I had the chance to go to Sony in Pinewood Studios here in the UK and get my hands on some of their latest cameras including the super new Sony FS5. The camera has just started shipping both in the UK and US, and I was quite eager to get my hands on one. Unfortunately, I couldn't record any footage with it, but on the reference monitor it looked fantastic. In this post, I'll share some of my early hands-on first impressions.
Note: this isn't a full review, that is coming up soon when I get the camera for a week or so (hopefully).
The first thing that struck me was it's size. The Sony FS5 fits neatly in my hand and it feels about 30-35% smaller in volume than a barebones PXW-FS7, akin more to an overgrown Sony A7sII with built in ND filters and proper XLR audio inputs.
Body only, minus the side hand grip and LCD screen, the body is just around 850 grams, that's about 2 pounds. Slap on a tiny pancake prime lens in front like the inexpensive, but awesome Sony 16mm f2.8 E mount lens, and you are ready to fly it on a drone or a hand held gimbal stabiliser like the DJI Ronin M.
I really like what the engineers and product designers at Sony have done with the FS5. Even though it's tiny compared to most other camcorders in its class, the Sony FS5 feels rugged, not plastic. The design is modular – and you can get the camera from a fully built position to just a body only in under a minute without any tools; it's all tool-less. The 3.5 inch LCD screen can be mounted to a total of 9 positions – 3 on the top handle, and 6 on the top of the body of the camera.
Interestingly enough the camera has Log Assist View, which helps you get a more contrasty image for monitoring purposes in the LCD screen when shooting in S-log2 or S-log3, while the original flat image is being recorder. This helps immensely with judging your exposure. Speaking of exposure there is a histogram and zebras, but NO waveform monitor. To me this isn't a huge deal to me and definitely not a deal breaker, even though I loved using the WFM on my Canon EOS C100.
I admit, it would have been nice to have and when I asked the Sony rep if the company had plans to include a Waveform monitor in the future – he smiled and said – probably not. If you want a Waveform better step-up to an FS7.
The button placement on the body seems almost identical to the one on the FS7, with the omission of the BACK button, the rest of the buttons are largely the same, although spaced a bit differently as to accommodate the smaller camera body. The MENU scroll wheel works alright, and those familiar with the FS7 menu will feel right at home here. Although I found it a tad bit annoying to use the upper X on the upper left corner of the LCD menu in order to exit out of menus as there is no BACK button on the FS5.
The Smart Grip is nice, comfortable, although it will probably suite someone with smaller hands – I don't think mine are that large, but I found myself extending my palm outwards as to reach Assignable button 6 for example or simply to use the jog wheel to adjust aperture. The Smart Grip is adjustable backwards and forward as to accommodate low-angle shots or above-head type shots, and it's really easy to adjust back into normal position via a small release lever button next to the Joystick.
The Variable electronic ND filter is really nice and when set to Variable position the change between ND strength is step-less. The ND filter goes up to 1/128th (8 stops) as to help when shooting in S-log3, which uses a native ISO of 3200 (ouch!). One thing I noted with S-log3 in particular is how the PP (picture profiles) are setup – with Slog-3 in either 3200K, 4300K or 5600K. Selecting one of those picture profiles for maximum dynamic range prevents you from adjusting the White balance, which I found strange.
Maybe I did something wrong, but whenever in S-log3 mode, I couldn't change the WB at all. In any of the other Picture Profiles like Cine2 or Rec.709, changing the White Balance was easy – via the WB set button and the joystick I could get it to where I wanted it to be in 100 K increments, but not in any of the S-Log modes. It's worth to note that for future research when I get the camera for my full review.
Outputs – there is 3G-SDI and Full-sized Type A HDMI output for external recording or monitoring. There is also an Ethernet connection for Live streaming and built-in Wi-Fi. I don't see myself using these options anytime soon, but I am sure there's plenty of people shooting conferences and long form events, some of which are streamed, that can benefit hugely from these functions.
Sony also mentioned that there is a Raw firmware  update in the works, which would enable 4K and 2K raw plus slow-motion out of the 3G-SDI to an external Raw recorder. I think the Raw will be the same as on the FS700, but we'll have to wait and see. At this stage there is no time frame or price for the upgrade. Yes, it will be a paid upgrade unfortunately.
Things I liked:
Super35 4K CMOS chip / high dynamic range
Body design – super light and ergonomic, you don't need a "rig"
Love the tool-less design
240fps Slow-motion (despite the fact that it's not continuous, still an 8 second burst is plenty for me)
Cheap SDXC recording media
Native E-Mount – sings with a Speed booster, can adapt your Nikon, Canon, vintage Zeiss glass etc.
Low power consumption – can run on a BP-U30 and U60 battery all day
Variable Electronic ND Filter – this thing is really neat, can change ND strength in stepless increments
Face detect works surprisingly well with the 18-105mm Kit lens
Kit lens has good range – 18-105mm
Simple/Intuitive Menu structure – even though it's Sony menu, I find it easier to get around than on my RX10 II (still not as good as the Canon C300/100 menu)
Can switch off the EVF from the menu (so your LCD screen doesn't cut off automatically due to the proximity sensor on the EVF cup)
1 x XLR on the body – important for audio when stripped down to body only config
Numerous assignable buttons
S-log2 and S-log3 gammas + S-Gamut3 and S-Gamut3.cine colour space
LOG View Assist in LCD screen
Great ergonomics for Run-n-Gun type of work – events, ENG, documentary, weddings etc.
Can make a great B-cam to FS7/F5 even F55
Killer camera for event/docu shooters!
Things I am not a huge fan of:
8bit 420 internal only, Long GOP codec in UHD
Even though it's 10bit 422 in Full HD, it's only running at 50Mb/s – rather low bit rate for a 10 bit codec. Would have loved it to be at least a 100Mb/s as in UHD.
Kit lens has a very short focus throw
No Waveform monitor, only Zebras and Histogram
18-105mm kit lens – focus by wire, very thin and difficult to pull focus manually
Smart Grip is smaller/different than the one on the FS7, Assignable Button #6 difficult to reach – it feels like it's made for very tiny hands
Viewfinder isn't that great – a bit too small for my taste, not horrible, but not as good as it can be. Looks very similar to the one in my Sony RX10 II, Sony rep couldn;t confirm whether it's the same or not.
Cannot record internally 4K, if recording via HDMI out to an external recorder at the same time (Should be fixed via upcoming firmware update in January)
Sony FS5 Features & Highlights
XAVC-L (UHD up to 30p, and Full HD 1080p up to 60p continuous) or AVCHD codecs – the XAVC-L codec can be used for 4K and HD recording, while AVCHD is limited to HD recording
XAVC-L (or Long GOP) is 8bit 4:2:0 in UHD, but 10bit 4:2:2 in Full HD 1080p
Slow-motion recording in Full HD up to 240fps in 10bit 4:2:2 in 8 seconds burst (80 seconds real time)
Native E-Mount – you can use your Canon, Nikon, Leica and most other lenses via adapters
Comes with an ergonomic handgrip that Sony calls a SmartGrip, which features Zoom, Start/Stop and Assign controls. The SmartGrip facilitates camera operation with the right hand, leaving the left hand free to operate the lens. The handgrip can be positioned at different angles permitting greater flexibility.
Dual SD media slots – for simultaneous or relay recording.
All input, output connectors feature covers for dust protection; this applies even to the DC input and LANC connector. The media card slots and Multi-Terminal are likewise protected from dust by a swing away door.
2 x XLR 3-pin audio inputs with line/mic/mic+48 switches. One is located on the body towards the back, and the other is as you'd expect to find it – on the top handle.
The top handle allows you to attach the LCD viewfinder to the camera, providing you with a choice of using the camera's built-in EVF, or a larger LCD view screen. Audio level control is on the main body of the camera and offers automatic gain control
A built-in, electronic, variable ND system allows you to dial in anywhere from 1/4 to 1/128th ND filtration in the camera body, allowing you to eschew the use of optical ND filters. The variable ND also features four preset positions; off, 1/4, 1/16, and 1/64.
One SDI connector provides HD 10-bit 422 output. In addition, one A-type HDMI 2.0 provides 4K and HD output. Both the SDI and HDMI ports can output REC trigger and TC following Sony's established transmission method.
The PXW-FS5 records to XAVC-L QFHD 8-bit 420 (up to 30fps) and HD 10-bit 422 (up to 60fps) internally
The PXW-FS5 has Simultaneous-Recording capability with Individual Rec Trigger. Mirror or back-up recording is possible. There are two Rec s/s buttons: one on the camera grip, the other on the camera handle. The target SD card slot for each trigger is assigned in the Recording Menu.
The PXX-FS5 is capable of simultaneously recording proxy files with the same name and time code as the main recordings.
The camera has a built in Wi-Fi capabilities that enables live streaming to PCs, tablets, and smart phones. When using content Browser mobile, the user can even control the camera wirelessly. One (1) Ethernet connector located on the rear panel of the camera provides robust connections when a reliable Wi-Fi link is not available.
Recorded movie files can be transferred via network to a designated FTP server. The following file format is available for FTP:
* XAVC Proxy files
* XAVC-L recorded files (4K(QFHD) & HD)
* AVCHD files (only m2ts stream files)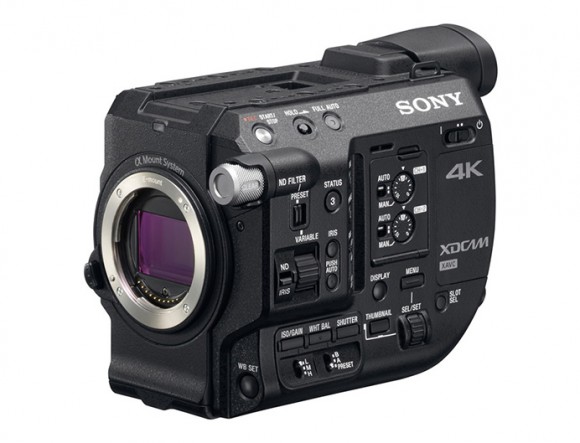 All in all, I think the Sony FS5 is a really nice camera. Is it perfect? Hardly; but I think the questions here is – is it perfect for the kind of work you do? Who do I think this camera is for? I think video shooters, who predominantly shoot events, low-budget corporate gigs, weddings and documentaries will love this camera.
If you on the other hand, are working on high end promos, commercials or high-end broadcast work – a proper 10bit/Raw cameras like the FS7/F55 are better suited for that kind of work.
To be continued…
You can buy the Sony FS5 from the following authorised resellers:
Sony PXW-FS5 Body Only – $5,599 B&H / WEX UK
Sony PXW-FS5K with 18-105mm F4.0 lens – $6,099 B&H
Claim your copy of DAVINCI RESOLVE - SIMPLIFIED COURSE with 50% off! Get Instant Access!