As 2015 is getting closer to its final days, more and more footage from the "most awaited camera of the year" – the Blackmagic URSA Mini 4.6K has been trickling down through the Web. As more beta testers release footage and Blackmagic (hopefully) finalize the colour science and tweaking soon, we'll probably see the camera shipping to us mortals in the first month of 2016. With Blackmagic Design you never know, but one thing is for sure – if, by now, you've had doubts about the ability of the new 4.6K sensor to deliver exceptional dynamic range, colour rendition and skin tones, today we have some more footage shot by various beta testers that will blow your mind.
URSA Mini 4.6K Beta Test | A Land Before Time from ROMAN ALAIVI on Vimeo.
Went on a little road trip yesterday to Canyon-lands National Park and also to Dead Horse Point, wherein I grabbed a few nifty landscape shots. I don't usually shoot things like this, but it was fun grading and going maybe a little over the top. Thanks for watching!

As a side note, the almost blood-red arch at the top of the frame on the second shot really does look like that irl. For a few minutes during sunrise it is exceptionally orange / red; it's not just me going crazy with Resolve;)

ProRes UHD 422 / 444 / HQ and XQ
Canon 70-200mm 2.8
Zeiss 35-70mm 3.5
Hoya ProNDs
Song: Changing Patterns by Solar Fields

The clips in this video were graded with no more than a single node. Despite the eccentric colour here, it took only a couple / few adjustments to get there.
Mini46 2K to REC709 from Camp Comet on Vimeo.
black borders = 2K RAW
no borders = UHD ProRes HQ

All RAW files are REC709 in the DNG tab, with very minor adjustments (white balance still off)

Long pan shot at the beginning should give a pretty obvious idea of DR… nothing's blown out but specular highlights, things that my eyes had trouble with on the spot. White cars, no clipping.

Tamron SP VC 45mm 1.8 and Tamron 24-70mm 2.8 VC — last shots starting with the people walking in the sand and into the guy with the hat are all the 45/1.8 for sure.

Could go anywhere with this footage to be honest, between Dynamic Range and colour latitude, many possibilities but good to see it with a standard Display LUT.
Here is also a pop promo shot on the URSA Mini 4.6K:
"Falling Again" – shot on Ursa Mini 4.6K Beta RAW from Oddio Works on Vimeo.
Video shot with the Ursa Mini 4.6K Beta RAW 3:1.
Entire video posted in Resolve 12.
Planned the shoots to see what the camera would handle:
– Interior to Exterior with minimal lighting to balance.
– High Contrast.
– Low Light.
– Blue Channel in low light.
I realise that a lot of you guys out there may have the URSA Mini 4.6K in your Christmas wish list so below, I've put together a basic shopping list of what would be required to get your new URSA Mini up and running including basic (but mandatory accessories and media).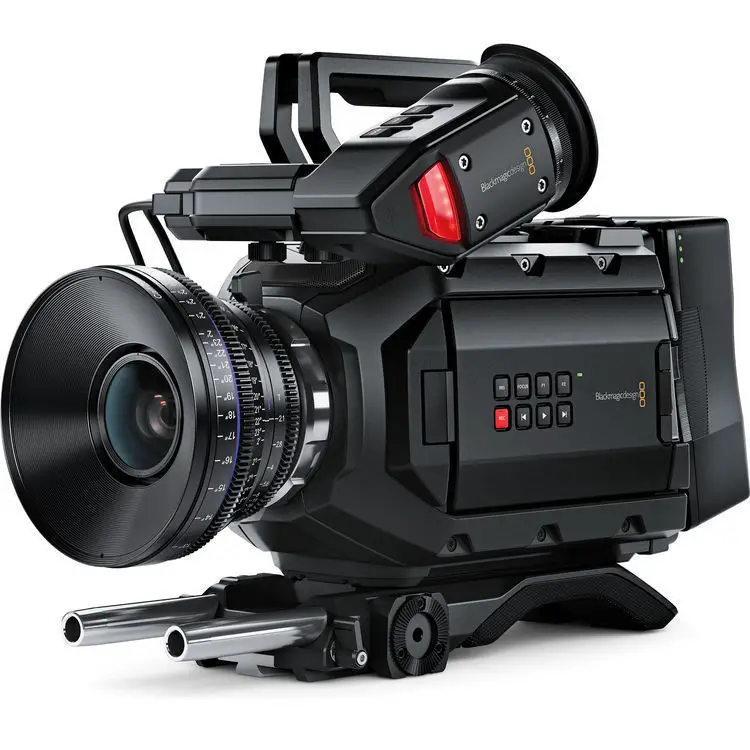 Basic Kit – with accessories to get the camera running and production ready.
URSA Mini 4.6K EF Camera Body – $4,995
Transcend CFast 2.0 128GB Cards – $299.95
Lexar Professional CFast 2.0 USB 3.0 Reader – $19.99
IDX V-mount Plate – $185
Switronix PB70C PowerBase Charger – $44.95
BMD URSA Viewfinder – $1,495
The above kit is closer to about $8K, which is still a very reasonable price for an insane camera that does 4.6K Raw internally as well as ProRes at various resolutions. I think it's better to keep things in perspective alongside required accessories and not just look at the price of the camera body alone, which can be tricky. Either way, the URSA Mini 4.6K with the latest footage seems like it will be an extremely popular camera with shooters worldwide.
Now, all that Blackmagic Design have to do is start deliveries. We'll keep you up to date when this happens. Hopefully not that long from now.
Disclaimer: As an Amazon Associate partner and participant in B&H and Adorama Affiliate programmes, we earn a small comission from each purchase made through the affiliate links listed above at no additional cost to you.
Claim your copy of DAVINCI RESOLVE - SIMPLIFIED COURSE with 50% off! Get Instant Access!