With NAB 2016 approaching fast (April 16-21st, 2016) many soon-to-be Blackmagic URSA Mini owners are getting restless and awaiting confirmation from the manufacturer that arguably the most anticipated camera of 2015 will actually start shipping soon. For those living under a rock for the past year, Blackmagic Design announced a whopping 38 new products at the 2015 NAB Show in Las Vegas, and one of them was a brand new URSA Mini camera to feature the company's latest 4.6K sensor.
The initial shipping time frame was slated for July 2015, but pretty soon became evident as we slipped into the middle of the Summer that the camera was still being worked upon and fiddled with. Of course, no one wants a half-arsed product, and we all appreciate the hard work that BMD's engineers are putting into making sure the camera is finished, but we're already in 2016 and dangerously getting close to the next NAB Show in April.
According to Blackmagic Design, the URSA Mini 4K is already shipping in small quantities, and so is the Micro Studio 4K camera, however, the 4.6K versions of the URSA Mini and the Micro Cinema Camera are yet to get a confirmed shipping date.
For what it's worth the 5-inch Video Assist monitor has also been shipping for a good two months now. Just yesterday, BMD's official website had January as the new shipping date for the URSA Mini 4.6K.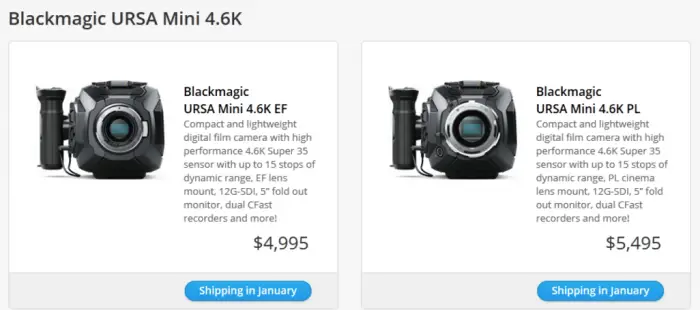 And while this is certainly better news than no news, that "Shipping in January" blue button used to say "Shipping in September" at one point. I would like to think that at this point Blackmagic Design cannot afford to put themselves in a position where they don't ship a product announced nearly 12 months ago and deliver after NAB 2016, which is in three months.
Blackmagic Design are no stranger to missing initial delivery dates, and by far not the only company to do so, but in a "sub-10K 4K camera" market already dominated by Sony (with their FS7 and now FS5) missing the boat is definitely not an option.  But there are also other signs giving us hope – it's no secret there are numerous pre-production models of the URSA Mini 4.6K out with beta-testers; we have covered such footage before here and also here.
You can check out Bobby Hewitt's awesome footage below from a pre-production version of the URSA Mini 4.6K below.
Mötley Crüe 12.28.2015 (URSA MINI 4.6K beta) from Bobby Hewitt on Vimeo.
RAW 3:1 // 4608 x 2592 at 23.976fps and 60fps
ISO 800
Canon 16mm-35mm f2.8
Canon 70mm-200mm f2.8
Final render is 3840 x 2160 Ultra HD .mp4
*This is a non-production camera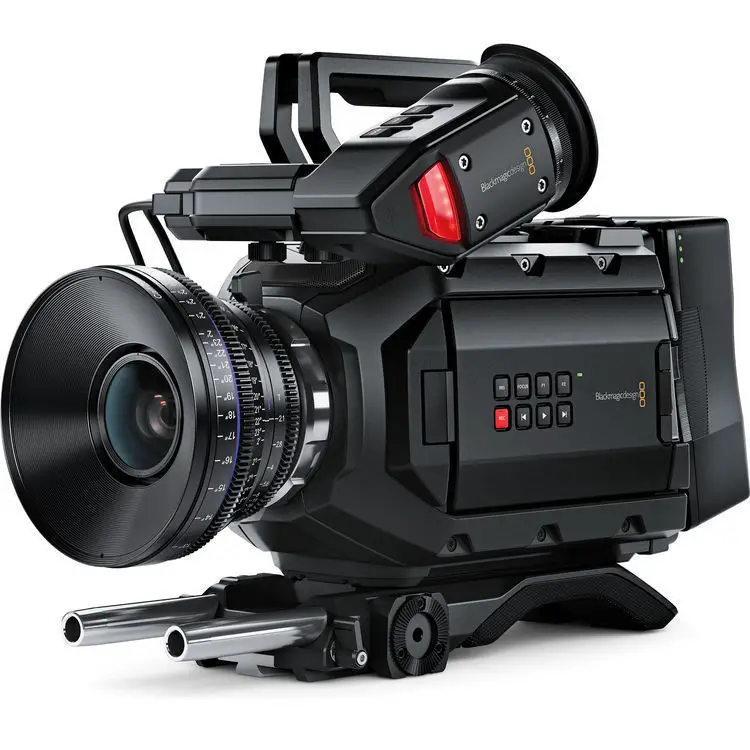 Blackmagic URSA Mini 4.6K EF ($4,995 at B&H)
Super 35mm CMOS Sensor
4,608 x 2,592 Video up to 60p
Compressed Raw Recording
Ready-to-Edit ProRes 444 + 422 Recording
Dual CFast 2.0 Memory Card Slots
12G-SDI Output, Timecode and REF Input
1080p Flip-Out Screen
Touchscreen Interface
2x XLR Audio Inputs with Phantom Power
Magnesium Alloy Body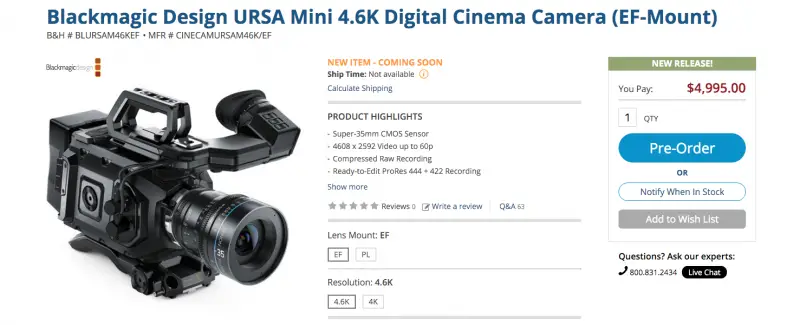 Whether Blackmagic have struck gold with their URSA Mini 4.6K EF/PL is yet to be seen and ultimately decided by the masses, but so far from the early pre-production footage we've seen – I can say it is quite impressive. The latest concert footage above from the Motley Crue show demonstrates the camera does really well in low light and especially very tricky lighting conditions such as a concert shoot.
Here's a quick rundown of some basic and popular accessories for the URSA Mini 4,6K:
Basic Kit – with accessories to get the camera running and production ready.
URSA Mini 4.6K EF Camera Body – $4,995
Transcend CFast 2.0 128GB Cards – $299.95
Lexar Professional CFast 2.0 USB 3.0 Reader – $19.99
IDX V-mount Plate – $185
Switronix PB70C PowerBase Charger – $44.95
BMD URSA Viewfinder – $1,495
I am a huge fan disruptive companies like Blackmagic Design, who offer amazing value for money, spec-for-dollar whatever you call it – they make awesome products. I still remember waiting months and months for my original BMCC 2.5K EF so I can go and shoot my debut feature film. I immediately fell in love with the texture and life-like images out of the camera.
And I just hope that someone buying their first URSA Mini 4.6K does the same. There are 14 more days in January and 90 days until NAB 2016. We'll keep you guys up to date as to when the camera ships. Hopefully in the next 2 weeks.
Order Links:
Blackmagic URSA Major 4K EF Mount – $4,995
Blackmagic URSA Mini 4K EF Mount – $2,995
Blackmagic URSA Mini 4.6K EF Mount – $4,995
Claim your copy of DAVINCI RESOLVE 16 - SIMPLIFIED COURSE with 50% off! Get Instant Access!