The constantly increasing video resolutions and file sizes, in particular, might eventually put some editors in the overwhelming situation when the hard drive of their latest Retina Macbook Pro suddenly runs out of space just when they need it the most. Having a bunch of external hard drives on such occasions might be a resolution, but only to a certain degree. So, what can you do to forestall this scenario and be confident enough that you have as much space and speed as you might need whenever you edit or manage high-quality 4K media either in the editing bay or on the go?
Well, you probably may recall when we did a brief write-up on the OWC Thurbay 4 enclosure some time ago. It turned out to be one of the most reasonably priced and extremely efficient storage solutions to date that has also proved its reliability and efficiency over time. And, if you have half a mind whether investing in such external storage solution would worth it, maybe the following video review by Max Yuryev may convince you to take the leap.
In a nutshell, the OWC Thunderbay 4 is an external enclosure that is powered by a Thunderbolt 2 interface supporting four hard drives simultaneously. The best part is that you can select multiple modes with these drives, one of them being RAID 5.
In this mode, your data splits up and it's stored on all the drives, so if one of those units fails you can easily swap it without experiencing any data loss. Plus, when configured in this particular mode the OWC Thurbay 4 provides sequential speeds slightly faster than most conventional SSD drives. Here is a quick test: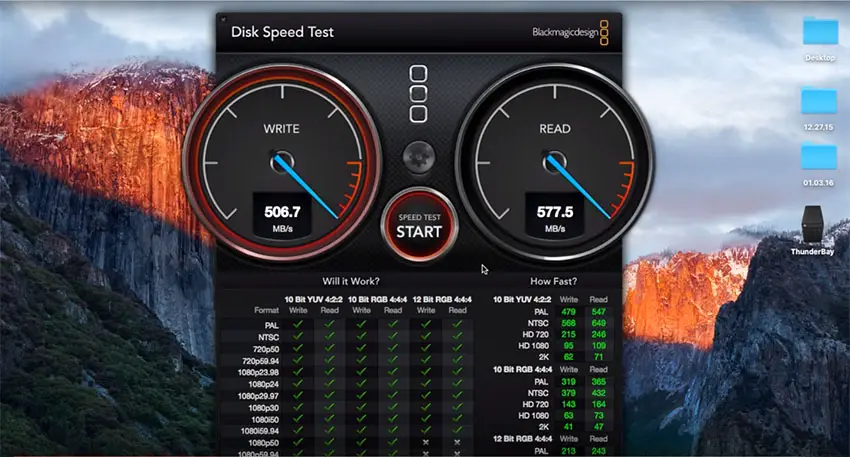 Furthermore, the OWC enclosure not only delivers faster speed, but you can also be able to find and access your data much more quickly. The drives come pre-programmed in RAID5 mode, so everything you need to do is attach the drives and plug them in. The unit provides two Thunderbolt 2 ports so if you are editing in your Macbook Pro, for instance, you can also hook up an external display, thus getting more  screen estate for more comfortable and convenient editing either in the studio or on the go.
The only drawback of this solution, though, is that instead of using a built-in hardware processor it actually utilizes some of the processing power of your computer, which isn't such a big deal considering the fact that it only drains 3% on average of CPU processing depending on the configuration that you are using.
According to Max when he utilizes the Thunderbay 4 in conjunction with his Hackintosh custom machine he was able to playback and edit simultaneously multiple 4K ProRes clips without any dropped frames. When you use the Thunderbay 4 in conjunction with the software the OWC provides you the unit can accommodate different drives without any compatibility issues, which means that you can even use the drives that you've already own.
All in all, as Max concludes, with the Thunderbay 4 users get a lot of space for storing huge chunks of 4K media, really fast performance, reliable data protection and all of that at a really good price. So, really what else you may need?
[source: Max Yuryev]
B&H Order Links:
OWC ThunderBay 4 Four-Bay Thunderbolt 2 RAID Array
OWC ThunderBay 4 4TB (4 x 1TB) Four-Bay Thunderbolt RAID Array (JBOD Edition)
OWC 20TB (4 x 5TB) ThunderBay 4 Hard Drive Array (RAID 5 Edition)
OWC 24TB (4 x 6TB) ThunderBay 4 Hard Drive Array (RAID 5 Edition)
Claim your copy of DAVINCI RESOLVE - SIMPLIFIED COURSE with 50% off! Get Instant Access!