A mandatory prerequisite and probably one of the most important considerations when it comes to monitoring sound is getting the right acoustical treatment of the room where you will be working on a daily basis. So, before buying the most expensive professional audio equipment for your studio or editing bay, first you need to figure out how good or bad is the overall acoustics of your room.
If you need some reference points to hear the difference between good and bad acoustics, perform the good old clap test in a wide variety of different rooms, and take notice of which types tend to sound best. Generally speaking, the big question you might come across when dealing with bad acoustics is that you won't be able to evaluate what needs to be fixed in your audio simply because you won't be able to hear it accurately. In the episode below, Curtis Judd covers three topics related to monitoring sound while editing video by providing a few handful tips and tricks on the subject.
If you don't have a lot of money to spend on audio equipment, you may have to use only headphones for monitoring sound. Keep in mind, though that there are a lot of disadvantages of this approach. In the first place, don't expect that a pair of headphones will re-create the sound as you would usually hear it in the real world. Further, when using headphones, some frequencies will be more prominent than others due to the limited space of the headphone cups around your ears.
On the other hand, by using this method, you will avoid most of the issues of a room with poor acoustical properties. As-a-rule-of-thumb, use your headphones as a way to get another perspective, rather than as your primary monitoring option. If the reference headphones are your only option, make sure that you get ones with an open-back design and comfortable earpads. Open back reference headphones can produce more "open" and realistic sound when you are mixing or editing audio, even it's just dialogue.
In most small rooms, typically there are many problems with bass frequencies messing with the other part of the audio spectrum. The best way to deal with these issues is to get bass traps that will absorb most of the problematic low frequencies so that you will be able to hear the sound more accurately. Bass traps are different than conventional foam panels as the latter are much better when it comes to absorbing high frequencies rather than low ones. In the best case scenario, you should have both of these in your editing room. However, if you are working on a shoestring budget and if you can only afford one thing now, go with the bass traps.
Another important consideration is that you shouldn't get very powerful monitors for a small room, especially if you don't use any of the above items to treat better the acoustics of your room as those might make the existing sound issues and audible inaccuracies even worse. If that's the case, avoid getting monitors with a port of reflex design. Overall, these can produce more low frequencies, but if you don't have bass traps the extra bass generated by a similar set of monitors will smear your audio and will make it less accurate in the end.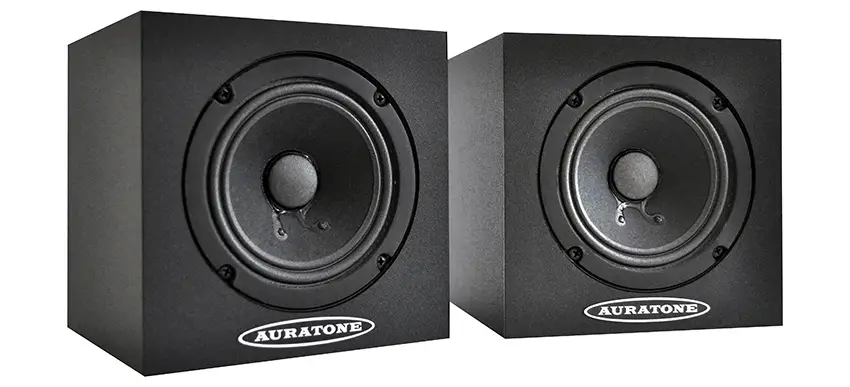 Speakers like the Auratone cube passive monitors, for instance, might be a viable option for those situations as they don't have a lot of bass response, but at the same time will help you a lot easier to identify what needs to be fixed in your audio. Keep in mind, though that a pair of these will require a separate amplifier to operate. The best part is that if you can make you audio sound great on those monitors, it will sound great on every other piece of professional audio equipment.
Ultimately, if you'd like to improve your sound recording skills for film and learn more useful stuff on the topic, have a look at the insightful Curtis Judd's Production Sound Fundamentals for Film and Video.
The course is ideal for those who want to produce more compelling films and have no sound experience, or have some sound experience and wish to improve their recording skills.
[source: LearnLightandSound.com]
B&H Links:
AKG K 702 Reference-Quality Open-Back Circumaural Headphones – $ 349.99
AKG K612 PRO Over-Ear Reference Studio Headphones – $ 199.99
Auratone 5C Super Sound Cube Passive Studio Monitors (Pair) – $ 349.00
Auralex LENRD Bass Traps (Charcoal, 4 Pieces) – $ 149.59
Primacoustic FullTrap – Broadband Bass Trap (Grey) – $ 399.99
Auralex Studiofoam Pro Acoustical Foam Panel (10-Pack, 2 x 2′) – $ 263.99
Claim your copy of DAVINCI RESOLVE - SIMPLIFIED COURSE with 50% off! Get Instant Access!