When it comes to high-end pro drones used on big commercials or higher budget promos, one name comes to mind – Freefly Systems. The pro drone specialists, who started the hand-held gimbal craze a few years back with their Movi M10 3-axis gimbal have a long history in creating some of the most admired flying camera stabilisation systems. Last year, Freefly introduced the ALTA 6 a revolutionary autonomous drone designed for the latest digital cinema cameras such as the RED Weapon, Scarlet-W and ARRI Alexa MINI, and now Freefly have announced the next evolution in their pro cinema camera drones – the ALTA 8.
The Freefly ALTA 8 provides more stability and a larger payload at 20lbs compared to the ALTA 6 15lb payload limitation, much thanks to the fact that the ALTA 8 is now an octocopter. The ALTA 8 features Freefly's amazing Synapse Flight Controller allowing drone pilots incredibly detailed and reliable control over the flight of the ALTA 8. The new drone also boasts a quick setup time – taking 5 minutes from unpacking to take-off, streamlining your production on set, where every second is vital.
The ALTA 8, much like its predecessor, offers both a top and bottom camera/Movi mounting and can support the latest cinema camera offerings from RED, ARRI and other brans as long as the total payload does not exceed 20 lbs. The ALTA 8 is not just a super capable high-end pro drone, but also one that offers a small footprint for easy transport by being able to fold into 50% of its size, thanks to its folding props, folding swan neck booms and innovative quick release mechanisms.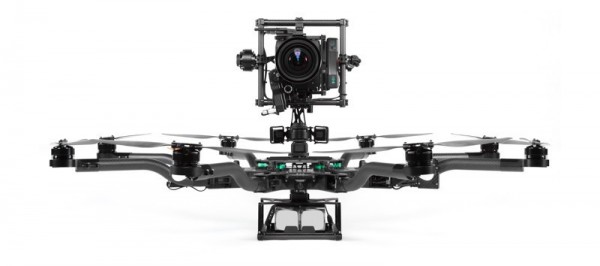 The ALTA 8 from Freefly Systems is one of the most advanced aerial camera stabilisation platforms ever created offering super reliability achieved through rigorous testing and state-of-the-art software and design making it possible for the ALTA 8 to achieve a 45 degree of tilt while still flighting straight allowing for some insane shots to be captured.
High-end pro performance such as this of course, comes at a price of $17,500 and that doesn't include the Movi gimbal, batteries, radio system, FPV system, abd the lower landing gear, making the ALTA 8 strictly directed at video professionals who are looking to upgrade their current cinema drones and those specialising in aerial photography given the significant investment.
For the rest of us who are still learning to fly and hope to someday get to fly beasts like the ALTA 8 there is of course the much more affordable DJI Phantom 4 and 3D Robotics Solo.
The Freefly ALTA 8 is available to pre-order from authorised resellers such as B&H and/or directly from Freefly Systems here.
Claim your copy of DAVINCI RESOLVE - SIMPLIFIED COURSE with 50% off! Get Instant Access!