Getting to grips with Sony camera menus can be a soul crushing task, but worry not there are plenty of helpful tutorials and videos on the Internet. Such videos are often most helpful when they come from manufacturers or advanced users of the kit in question. Convergent Design have always had very informative and easy to follow instructional videos on how to use their monitor/recorders and the latest one is no different. For those who already own a Sony FS5 or plan to buy on soon and shoot 4K/2K raw with it – at the moment the best external recorder on the market that can unleash the full potential of the FS5 is the Odyssey7Q+ from Convergent Design.
In addition, Convergent Design just announced that for a limited time (until August 15th) they are shedding $400 Off their Odyssey Raw Bundle, which usually sells for $995 directly from their website. From now until August 15th you can buy the Odyssey Raw Bundle for just $595!
Cameras supported by the Odyssey RAW Bundle include the ARRI ALEXA Classic, Canon C500 and C300 Mark II, Sony FS5, FS7 and FS700, IO Industries Flare 2KSDI, Indiecam indie GS2K, with upcoming support for the Panasonic Varicam LT and IO Industries Flare 4KSDI. As new RAW cameras are supported by the Odyssey monitor/recorders, they will be added to the Odyssey RAW Bundle at no additional cost.
Keep in mind that in order to unlock the Raw recording on the Sony FS5 you have to buy a the Sony FS5 Raw license, which costs about £375+VAT or $499 (B&H / Adorama) depending on where you live.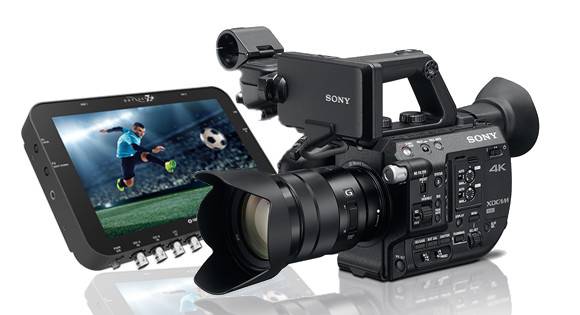 With the Convergent Design Odyssey7Q+ (with the Odyssey Raw bundle installed) you get the following 4K/2K Raw frame rates from the Sony FS5:
DCI 4K (4,096 x 2,160) up to 60p 
DCI 4K bursts up to 120p – only in a 4 second burst (20 seconds real-time)
2K (2,048 x 1,080) up to 240p – for Super-Slow motion
All of frame rates and resolutions will be included in the Odyssey RAW Bundle and users can either shoot in CinemaDNG Raw or Apple ProRes (HQ/422/LT), as well as Raw to Apple ProRes HQ/422 or LT conversion, which will yield better results in general than just shooting in ProRes to begin with.
Claim your copy of DAVINCI RESOLVE - SIMPLIFIED COURSE with 50% off! Get Instant Access!