Whether you are building а GH4 rig from scratch or just want to see how your existing one stacks up against others, the video of Andyax below might help you to sort out details and pick some new cool pieces for your kit. The aspiring filmmaker has been updating his gear throughout the recent year while working on several different projects before ending up with this setup. Find out how this GH4 combo looks like, why Anders chose that particular gear and most importantly how much it costs. The kit includes the most necessary pieces of equipment that the filmmaker carries in his backpack every time he's working in on a project.
As Anders points out, the right gear is important, not only for creating stunning images but also to be able to work more productively and efficiently on set. Besides the GH4 body itself, you will need a fast and sharp lens. This is where the Sigma 18-35mm f/1.8 comes in. The unit provides a decent focal range, sturdy build quality as well as it's sharp even when shooting wide open. The only downside according to Anders is the lack of image stabilization, but it can be easily overcome by using a proper shoulder rig or a gimbal.
To make this lens work with the GH4, however, you will need a lens adapter. Anders chose the Aputure DEC LensRegain that also works as a focal reducer and start/stop recording trigger for the GH4. The unit provides a focal reduction of 0.75x and makes all full frame, and APS-C lenses work on Micro 4/3 cameras like the Panasonic GH4 and Blackmagic Pocket Cinema Camera. Additionally, it allows users to pull focus and control the lens aperture wirelessly with the dedicated remote controller included in the kit.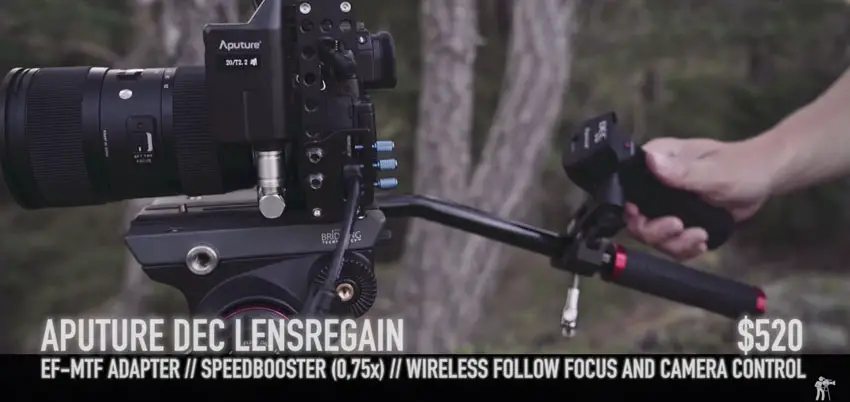 Another essential piece of gear on this list is the Yelangu Cage. Besides the solid handle grip and anti-slip design, it features multiple screw threads, a base plate with adjustable rail rod, along with a convenient locking mechanism for HDMI cables. You can even attach the LensRegain remote control on the side of the cage to control your camera settings effortlessly while shooting hand-held.
To be able to nail focus and frame your shots properly, you will need an external monitor such as the Aputure VS-2.  In essence, it's a 7-inch Full HD monitor boasting a set of industry standard features including built-in peaking and highlight focus assist functions with red, yellow, blue, and white color modes which trace the focus areas and make focusing quick and easy. The VS-2 also provides all the necessary exposure control features including false color, histogram, and zebra to help you monitor, control, and maintain exposure levels regardless of shooting conditions.
You can find the full list of all bits and pieces that Anders utilises for rigging the GH4 camera below.
Keep in mind that you can use these pieces in multiple configurations depending on the type of your projects and the style of shooting you have. Feel free to share the gear and accessories you're using with your GH4 in the comments below.
[source: Andyax]
Claim your copy of DAVINCI RESOLVE 16 - SIMPLIFIED COURSE with 50% off! Get Instant Access!