Now that the issue of not enough camera resolution and poor dynamic range in pro cameras serving the world of moving image acquisition has been solved, what remains a challenge is getting the image from the camera out to a monitor without being tethered to a BNC cable. This is where Teradek come in. Teradek are well known for their high-end pro wireless video transmitters and the company just announced a couple of new "zero delay" wireless HD video transmitters in their Bolt Pro range – the Bolt 1000 and Bolt 3000. The two new units can transmit up to 1000ft and 3000ft respectively (that's nearly a kilometer!). Both new arrivals in the Bolt Pro range offer significantly improved wireless performance at more affordable prices, while maintaining visually lossless image quality.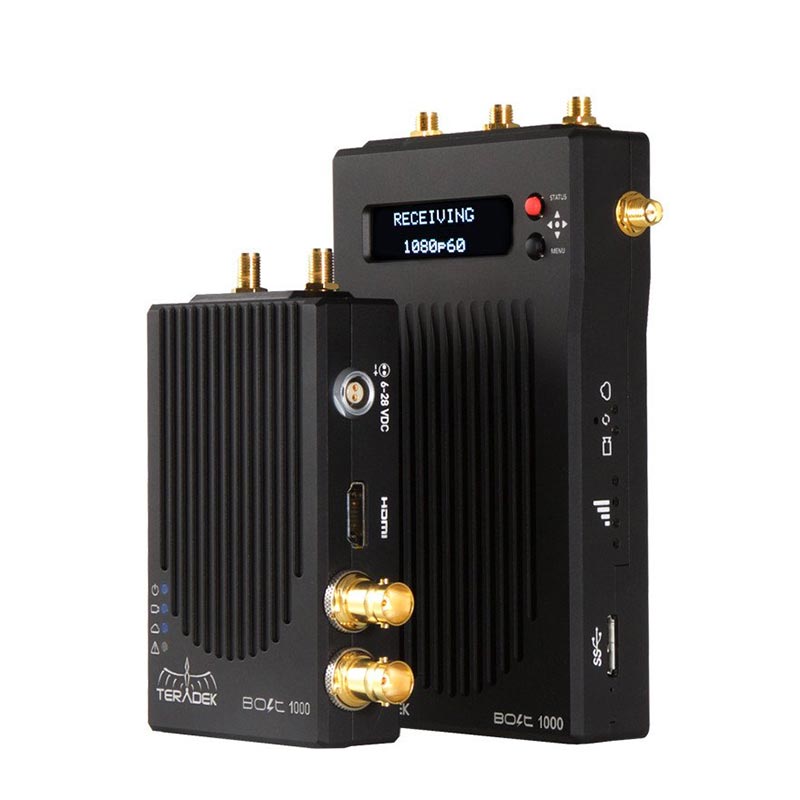 Both the new Bolt 1000 and 3000 feature SDI and HDMI connections for easy integration with any pro camera system out on the market (and some prosumer cameras used in a professional capacity). The new Teradek Bolt 1000 and 3000 will come with a new firmware version, which allows the transmitters to achieve its maximum range and potential right out of the box, even if you're operating in difficult environments.
Other improvements include Instant Reconnect times following a dropped signal and each of the new models performs better under extreme conditions.
Teradek Bolt 1000/3000 Features
Longer Range – Transmit visually lossless video up to 1000/3000ft with no delay (depending on model)
20mhz Channels – Use more than twice as many Bolts in one location or avoid interference like never before
2 New DFS Channels – Operate interference-free more often in the USA and Europe by making use of two newly introduced DFS channels
20% Smaller Chassis (compared to previous version) – Not just smaller, but lighter too, allowing these models to integrate into any rig unnoticed
More Robust Than Ever Before – Reach your Bolt's full range and potential right out of the box with new software that provides the most robust wireless link we've ever created
Rapid Reconnection – Reconnect times during a dropped link are now instantaneous once you move back into range
Built-in HDMI To SDI Converter – Perfect for use with MoVI and other gimbals, Bolt's TX has a built-in HDMI to SDI converter, allowing you to connect both your on-camera monitor and video source via the same device
Individual Identity – Easily identify which Bolt TX and RX work together with removable colored top plates
Metadata and timecode and 3D LUTs Support
Dual inputs/outputs
Multicast capable
Manual frequency selection
USB 3.0 GRAB Engine included
The Teardek Bolt 3000 with SDI and HDMI set is currently retailing for about £8K + VAT in the UK, and the Bolt 1000 set with the same dual connectivity sells for about £4,775 + VAT. If you are in the US/North America you can browse though all the Teradek wireless offerings on B&H here and find the kit that's right for you.
Claim your copy of DAVINCI RESOLVE - SIMPLIFIED COURSE with 50% off! Get Instant Access!