First images of the new upcoming GoPro Hero 5 appear online and GoPro Hero4 Black also gets a new major firmware update. The GoPro Hero 5 is expected to be announced in September and hopefully rejuvenate the ailing GoPro financial situation; the leading action camera maker is in a dire need for a new hit product, after their first drone attempt – the GoPro KARMA release date has been allegedly pushed by a few months to Q4 2016 and possibly even Q1 '17. Mirrorless Rumors recently posted some alleged photos of the new GoPro Hero 5 Black alongside some specs. According to the leaked specs, the GoPro Hero 5 Black will retain the HDMI output and also, interestingly enough gain a USB Type C port. The recording media seems to be the same – MicroSD as on the previous generation.
The form factor of the Hero 5 doesn't seem to be too radically different from the Hero 4 Black, however, rumour is that the body of the new version will supposedly be water-proof without the need for an additional housing. The front is also missing the start button and the camera will apparently feature a full on touch screen where users can change functions and access features.
It would be interesting to know if the camera will use a new sensor and if it can delivery higher frame rates in 4K and lower resolutions including 2.7K like its predecessor. Speaking of the GoPro Hero4 Black, as mentioned above, the camera gets a new firmware update. You can check out the details below and download from the link at the end.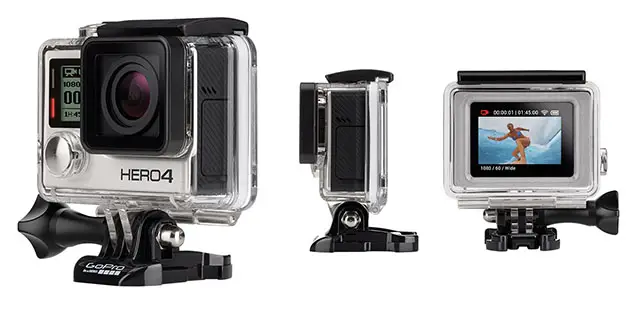 GoPro Hero 4 Black/Silver Firmware v4.00.00
Performance Improvements:
Protune improvements: Adds the ability to lock the shutter speed for greater control under different motion and lighting conditions. The Shutter setting is available for videos.
Protune improvements: Adds additional White Balance settings to allow for finer adjustments when optimising for cool or warm lighting conditions. Available for videos and photos.
Protune improvements: Adds additional ISO control settings. Adds additional ISO options, adds the ability to lock the ISO setting for video and set an ISO range for photo capture.
Adds additional Bluetooth functionality to support the Works with GoPro program.
Usability Improvements:
Adds the ability to add/remove HiLight Tags directly from the touchdisplay
Adds the ability to quickly move to the next or previous HiLight Tag in a video
Media filters add the ability to sort content in the gallery (thumbnail) view by videos or photos so you can find specific content faster. Filters, the slideshow option, and the ability to delete multiple files can be accessed from the Menu icon in gallery view.
General Improvements + Bug Fixes:
Fixes stability with video playback over HDMI
Improves time lapse stability and interval accuracy
Improves camera and smartphone reconnections
Fixes intermittent audio issues with Periscope
You can upgrade your camera via the GoPro App for desktop or mobile.
GET the ULTIMATE DAVINCI RESOLVE 16 COURSE BUNDLE for just $97! Sale Ends July 9th, 11:59pm PT