It seems that OWC/Other World Computing came up with an exciting solution that will allow current Macbook Pro Retina and Macbook Air users to upgrade the storage capacity of their favorite non-upgradable notebooks. Since Apple decided to swap the widely available 2,5-ich drives with smaller SSD modules integrated onto the motherboard of the models from late 2013 to date, this upgrade became a seemingly impossible task. Well, not anymore! The OWC Aura Internal SSDs are specifically designed for Macbook Pro Retina and Macbook Air units providing capacities of 480GB and 1TB, thus delivering up to eight times the storage space of your Mac's stock flash drive. The instructional video below will show you how to install the OWC Aura SSD module into a 13-inch Macbook Pro with Retina Display seemingly and effortlessly in no time.
Apparently, replacing the PCIe-based flash drive in your MacBook Pro Retina is as simple as removing a few screws and swapping the original storage unit with the new one.  And, the best part is you'll find all the necessary tools such as the compact Torx T5 and Pentalobe P5 drivers included in your upgrade kit. Users will also get the Envoy Pro Enclosure, which will accept the old drive and turn it into an external SSD USB 3.0 drive, which then can be used to transfer all available data to the newly installed Aura SSD inside your laptop.
Meanwhile, these SSDs offer sustained reads of up to 763 MB/s, sustained writes of up to 446 MB/s and come pre-formatted as Mac OS Extended (Journaled). It's also worth noting that Aura PCIe-based flash storage reserves 7% of the overall capacity as free space. With this allocated free space, Aura SSDs can perform required maintenance tasks making the drive more stable, dependable, and ultimately a safer place to store your data.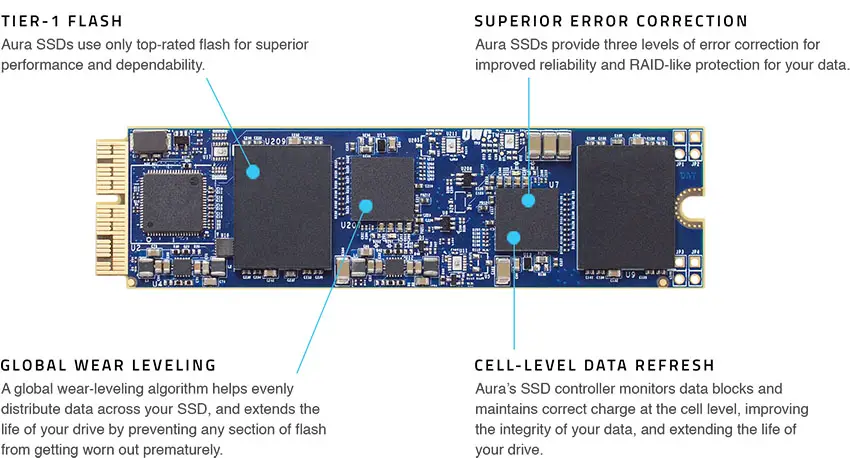 All in all, the Aura SSDs are compatible with the Mid-2013 and Later Macs and use only top-rated flash components for superior performance and dependability. These SSDs are backed by a 3-year limited warranty and are designed from the ground up for reliable performance and complete compatibility with your Mac. Just follow the installation instructions as precise as possible and make sure your Macbook Pro model is compatible. You can find the full list of the supported models here.
B&H Order Links:
OWC 480GB Aura Internal SSD for MacBook Air and MacBook Pro Retina (Mid-2013 & Later)
OWC 1TB Aura Internal SSD for MacBook Air and MacBook Pro Retina (Mid-2013 & Later)
Claim your copy of DAVINCI RESOLVE 16 - SIMPLIFIED COURSE with 50% off! Get Instant Access!