There are a lot of marketplaces for creative goods. They offer different sorts of products and different price points. But one marketplace that has a really interesting new take is Motion Array. Where Motion Array stands out from some of the other marketplaces is in their commitment to quality, their range of products, and their pricing structure. Let's break that down a little further. Some marketplaces let anyone and everyone post products for sale. And this is a plus if you want many, many options to choose from. But the downside is that a lot of the products aren't the highest quality. Sometimes, templates aren't laid out in a clean manner, and there doesn't seem to be any oversight.
Motion Array vets all of their producers to ensure high-quality products each and every time. They make sure all project files are in order, and of the best quality. This means that their library isn't as big as some of the other guys, but it continues to grow daily, and you know you are getting great quality every time.
Range Of Products
Make Amazing Videos with Motion Array from Motion Array on Vimeo.
Some sites offer a very specific product like After Effects templates or stock video. Some have a wider range. But Motion Array has selected a very specific range of products geared for video producers and designers that includes, their newest product, Premiere Pro templates, After Effects templates, stock music, stock video, and stock motion graphics. The Premiere Pro templates are especially interesting in that you don't find this product in most marketplaces. These templates are broken down into categories like edits, toolkits, transitions, titles, presets, and logos.
They also have a generous selection of free items for potential users to try out and keep before signing up.
Pricing Structure
This is another way that Motion Array is trying to set themselves apart from the competition. Whereas many of the current marketplaces have a pay per download structure, Motion Array uses a subscription model. The pay per download method may seem like a good idea until you really take a closer look. Often you are required to buy credits. The amount of credits you have to buy will leave you with a few unused credits, which are basically wasted money. And assets are often $30 to $50 each.
With a Motion Array subscription, you are given three simple options, Lite, Plus, or Pro. The Lite plan is $19 a month for 4 downloads. The Plus plan includes 10 downloads for $29 a month. And the Pro plan offers up 20 downloads per month for $49. That comes to just $2.45 per download. That's a price that's hard to beat. 
The license for all of their products is very simple and it basically says, once you download the product, it's yours to keep and use for any type of project, commercial or personal. They also make it really easy to upgrade your plan or cancel at anytime. No, hard to figure out system where you feel trapped with whatever plan you signed up for.
Additional Features
While Motion Array started as a library for After Effects templates, that has grown to include several other assets, they are continuing to find new and interesting features to make the subscription price even more enticing. For instance, they recently introduced a video portfolio site feature that lets any paid member create their own video portfolio site. It's very simple to set up and you can use one of their custom domains or point to your own.
See the portfolio image below, and visit http://www.404media.tv for a live demo.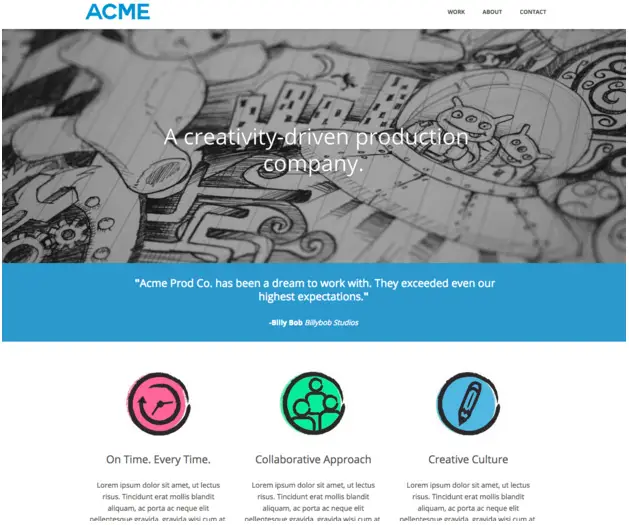 They also have a blog that covers tip, tricks, and industry news, and a very nice tutorial section with all kinds of interesting lessons for designers and editors. There's a lot to like here as the Motion Array team seems to really be trying to shake up the creative marketplace industry. It's worth taking a look at what they have to offer, downloading a few free projects, and maybe signing up for a plan to see how useful it can be. For more information, visit motionarray.com
[source: Motion Array]
Claim your copy of DAVINCI RESOLVE 16 - SIMPLIFIED COURSE with 50% off! Get Instant Access!