Are you ready to take your time-lapse videos to the next level? Well, the Syrp Slingshot will certainly help you along the way. In a nutshell, it's a unique production tool for creating sophisticated motion control camera movements over extended distances of up to 300ft (100m) in length. The system solves the biggest shortcoming of other devices such as sliders and jib cranes where time-lapse motion is limited by the length or range of these tools. The Syrp Slingshot, on the other hand, utilizes a 4-wheeled carrying cart that rolls smoothly across long cables that can be easily setup virtually anywhere, thus providing a level of motion control that is otherwise difficult to achieve.
The Slingshot comes as a complete kit with up to 100 meters of Genie rope and Slingshot rope along with all the necessary fastening equipment required in a compact carry bag. To utilize the system, you will need to find two fixed anchor points and just tighten the rope at both ends. Due to its quick-release design, setting up the Syrp Slingshot is easy and straightforward, and shouldn't take your more than a few minutes.
Furthermore, the system is fully compatible with the Syrp Genie and Genie Mini devices. So, if you need even greater motion control and more complex camera movements for your time-lapse videos, you can combine the Slingshot with the Genie Mini for pan track motion or capture full 3-axis motion control with the addition of two Genie Mini's for tracking, panning and tilting at the same time.
All devices can be controlled simultaneously via the Syrp Genie app interface available for both iOS and Android users. Just connect the multiple Genie products via Bluetooth and program everything wirelessly directly from the app. Set up your tracking, panning and tilting movement as well as all other time-lapse parameters to shoot two or even three-axis motion.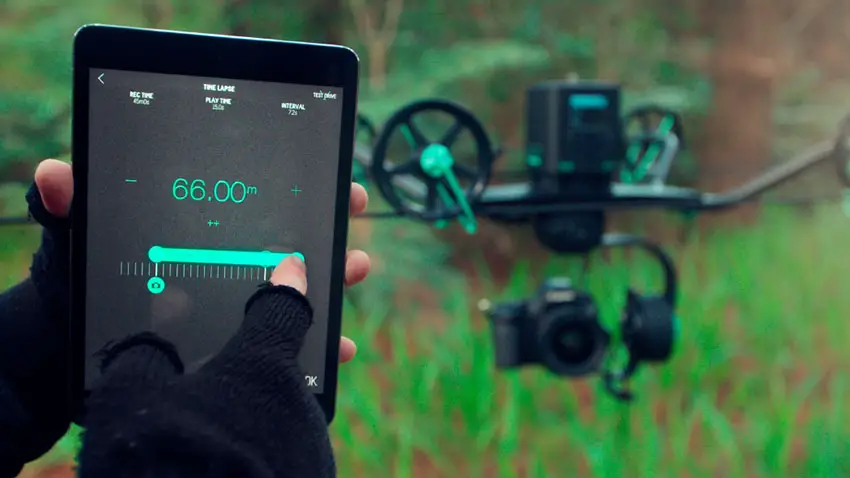 The system can handle up to 8kg (17.6lbs) payload on the carriage itself which means you can use a wide variety of camera setups for your motion timelapse videos. Currently, the Slingshot kit including 25m Slingshot and 25m Genie Rope along with all the required accessories and the Slingshot carry bag will set you back $989.
Adding a Syrp Genie and ball head to the mix will cost you $1,887, whereas the fully-fledged Slingshot Pan Track Kit with all the bells and whistles and an extra Genie Mini sells for $2,155. You can find out more about the Syrp Slingshot and different price tiers on the Syrp official website.
[source: Syrp]
Claim your copy of DAVINCI RESOLVE 16 - SIMPLIFIED COURSE with 50% off! Get Instant Access!