At Photokina 2016, Panasonic announced the development of their new flagship mirrorless camera the LUMIX DMC-GH5, which will have some highly impressive features such as 6K photo capture at 18MP, 4K/60 video and even internal 4K capture at 10bit 422 – a first for any mirrorless camera or DSLR! After months of speculation and a good dose of rumors (most of which were surprisingly true) and teasers, earlier today, as expected, Panasonic did a "soft-launch" of the upcoming GH5 announcing they are working hard on bringing you one of the most advanced mirrorless cameras to date. The company also re-affirmed their position as fully committed to bridging the gap between video and stills by moving towards 8K by 2020. Their LumixUK division had this tweet earlier with the heartwarming message "We Heard You" underneath.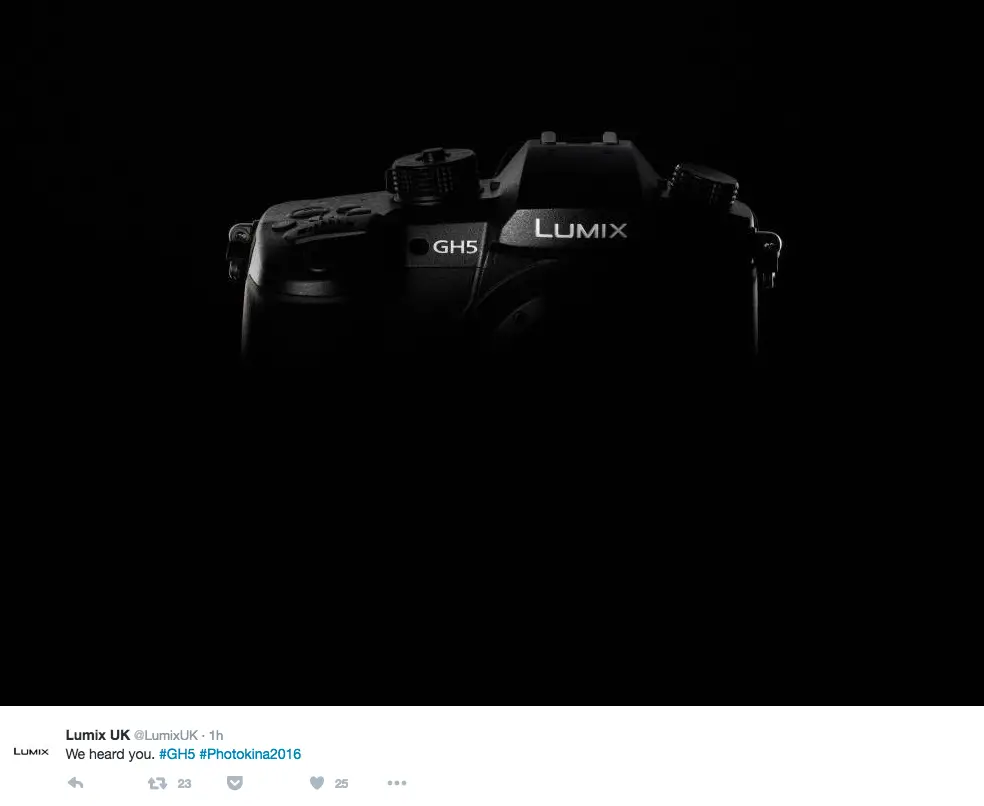 Detailed info about the upcoming Panasonic Lumix GH5 is very limited, but this is what we know so far:
New 18MP CMOS (Micro 4/3 type) sensor
New Body Design
6K Photo at 30p for 18 Megapixel extracts (unclear if the 30p revers to a video stream that can be recorded or not)
4K/60p (possibly in 8bit 4:2:0 or 10bit 4:2:0) read more on that below
4K at 24, 25 and 30p at 10bit 4:2:2 internal (codec unknown, could be H.265, could be H.264 based)
8MP / 60fps Burst Photo – possibly from the 4K/60p stream
No info on IBIS (in-body image stabilisation)
Available – first half of 2017 (can be Q1 or Q2)
Price – TBD
Here's a snapshot of one of the presentation slides that lists some basic info on the video features by twitter user @EIWheet.
From Panasonic:
The new LUMIX GH5 is scheduled to enter the market in the first half of 2017 and will feature Panasonic's new '6K PHOTO' offering – an approximately 18-megapixel-equivalent still image extraction from an ultra-high quality video with approximately 9x higher resolution than Full HD. Furthermore, an approximately 8-megapixel equivalent '4K PHOTO' can be extracted from a video shot at 60 fps.
Commitment to innovation
The LUMIX GH5 will allow creative minds to capture their vision with ease and style, and further confirms Panasonic's commitment to develop incomparable products and functions to address the new demands in photography and film production.
Panasonic is committed to the development of innovative digital cameras under the theme "create a new photo culture in the digital era". The company brought the world's first CSC, the DMC-G1, to market in 2008[3] and the succeeding DMC-GH1 achieved the world's first Full HD video recording in 2009[4].
Professional, versatile 4K videography with freedom and ease
The LUMIX DMC-GH4 has received much critical acclaim since its launch in 2014 and was the first camera to realise 4K 30p/25p video recording[5]. Building on its predecessor's success, the LUMIX GH5 will offer a new world first: 4K 60p/50p and 4K 30p with 4:2:2 10-bit.
Exceptional 4K video recording will be packed into a compact, lightweight design created for videographers to take the camera anywhere and shoot in any location. With the unprecedented video recording performance of the LUMIX GH5, Panasonic aims to elevate its status in the film production industry.
Elevating outstanding photography to new heights
The LUMIX GH5 will dramatically advance the conventional '4K PHOTO' function with '6K PHOTO' that will cut a still image out of ultra-high definition video (4:3 or 3:2 video footage) with approximately 9x higher resolution than Full HD.
Silent and unobtrusive with quick focus to capture the moment, the LUMIX GH5 will allow photographers to take advantage of high-speed, long-time high frame rate shooting capability. Unmissable moments can also be saved as beautiful photographs in a higher resolution that complies with larger size of printing by substantially increasing the resolution from 8-megapixel (4K PHOTO) to 18-megapixel (6K PHOTO) equivalent resolution.
New LEICA DG VARIO-ELMARIT F2.8-4.0 lens series
The LUMIX GH5 will be featured at Photokina 2016 alongside a new LEICA DG VARIO-ELMARIT F2.8-4.0 lens series. Achieving both high optical performance and compact size, the LEICA DG VARIO-ELMARIT F2.8-4.0 lens series will include a new 12-60mm standard zoom lens, an 8-18mm wide zoom lens and a 50-200mm telephoto zoom lens. All lenses will be showcased as reference exhibits at the Panasonic booth.
[1] As of 19th September 2016 according to Panasonic research
[2]In 4K/30p, 25p, 24p, 23.98p video recording
[3] For a Digital Interchangeable Lens System camera, as of 12 September 2008, according to Panasonic research
[4] For a CSC as of 3 March 2009, according to Panasonic research
[5]For a CSC as of 7 February 2014, according to Panasonic research
Claim your copy of DAVINCI RESOLVE - SIMPLIFIED COURSE with 50% off! Get Instant Access!