Google's little streaming HDMI dongle that has been around since 2013 finally goes 4K! Thanks to the new Chromecast Ultra, Google is letting consumers to "cast" or "stream" 4K and HDR content onto their TV sets. The new Chromecast Ultra gives you yet another reason to get a 4K HDR TV this year as the little device now supports 4K HDR as well as Dolby Vision, making your Netflix streaming experience a much more immersive one to say the least. Of course, it would help to have a spiffy 4K and HDR capable TV to begin with in order to enjoy the Chromecast Ultra to the fullest, although having a 4K TV isn't a required according to Google. If you use the Chromecast Ultra to stream 4K content, let's say from YouTube or Netflix on a Full HD TV (with some sort of a quasi-upscale features) you will probably get a bit sharper image, but nowhere near as crisp as a native 4K TV, so better start saving for a decent 4K TV now. I am doing that just now, and have a few LG models, like the LG-B6P 55 inch 4K HDR telly, which now sells for $2,299 (saving you $1700 of what it used to cost not that long ago) that I quite fancy. The Chromecast Ultra, much like its predecessors is super easy to use, all you need is a Wi-fi connection and a TV with an HDMI input in order to get "casting".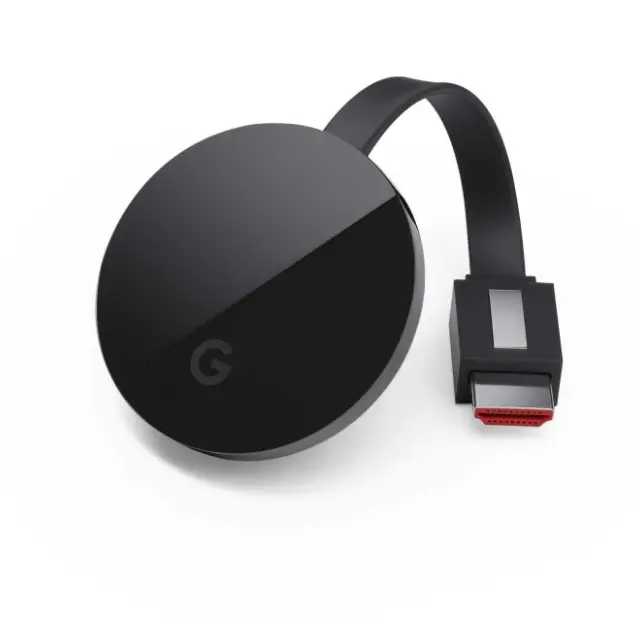 The Ultra features an almost identical design to the Full HD limited Chromecast 2 previous model ($35 at B&H), however if you compared it to the 1st generation Chromecast (which looked like a USB Stick) it looks rather rad, with a slimmer design so you can tuck it behind your TV, thus not obstructing your aesthetics. And you also don't have to rely solely on your Wi-fi connection to stream your content to your TV – the Ultra comes with an Ethernet port adaptor for a more secure and fast connection to your home broadband.
Popular supported apps include Youtube, Netflix, Spotify, Now TV, BBC iPlayer (for those in the UK), plus many more. The new Chromecast Ultra is also said to be 1.8x faster for loading content compared to the predecessor model. For full list of supported apps and more info head over to Google.
Google Chromecast ULTRA Full Tech Specs
Dimensions:
Length: 2.29 in (58.20 mm)
Width: 13.70 mm (0.53 in)
Height: 58.20 mm (2.29 in)
Power cable: 2 m
Weight:

Device: 47 g (1.6 oz)
Adaptor: 101 g (3.5 oz)

Ports & Connectors:

HDMI plugs directly into the TV
Micro-USB for power and data
Power adaptor Ethernet port, for hard-to-reach Wi-Fi spots in your home
Colour: Black
Resolution: Up to 4K Ultra HD (3840 x 2160)
Supports all resolutions up to 4K Ultra HD and high dynamic range (HDR) for stunning picture quality.
Wireless: 802.11ac (2.4 GHz/5 GHz) Wi-Fi for high-performance streaming
Power: Power supply required and included
The Google Chromecast Ultra is priced at $69 and scheduled to start shipping sometime in November. UK and EU pricing at this moment is not known, but I expect it to be around £50/55 Euro. In either case, it's cheap as chips for a 4K and HDR capable device.
[via Pocketlint/Google]
Claim your copy of DAVINCI RESOLVE 16 - SIMPLIFIED COURSE with 50% off! Get Instant Access!