The awkward placement of the start/stop recording button on the Sony A7S II camera has been extensively reported as one of the most annoying quirks by many videographers shooting video with the camera on a daily basis. The same goes for the other Sony Alpha Series cameras. Fortunately, there are a couple of options you can opt for, depending on the budget and other compatible gear and accessories you already have at your disposal. The easiest way would be to assign the recording function to a custom button. But, if this is not a feasible solution, you can also try a dedicated remote control and even utilize a LANC compatible hand grip of a professional camcorder such as the Sony FS7 or Canon C300 Mark II.
Even though the latter is the most expensive option, it gives you the convenience of controlling your compact mirrorless camera just like you would normally do with any professional camcorder. To put things into perspective, American photographer and filmmaker Jeff Rojas explores different options and accessories you'll need to make a professional LANC compatible hand control work with the Sony Alpha Series camera whether it's the A7S II, A7R II or even the entry-level a6300.
If you're predominantly using shoulder rigs and it gets very tedious repeatedly looking to trigger video recording by using the custom controls on your Sony mirrorless camera, you can still get the Sony RM-VPR1 Remote Control that will set you back merely $60 while allowing various remote control operations to be performed without handling the camera whatsoever. The RM-VPR1 is compatible with most Sony cameras, including the A7S II and A7R II,  as it enables you to control shutter, optical zoom, digital zoom alongside triggering video recording.
The major downside of the Sony RM-VPR1, though, is that it's too small and too light as a zoom controller, so it may be improper for using on some occasions mainly due to its lightweight form factor. So, if you want more professional and robust solution, you should try out some of the available LANC compatible hand controls such as the Sony RM1BP Remote Commander.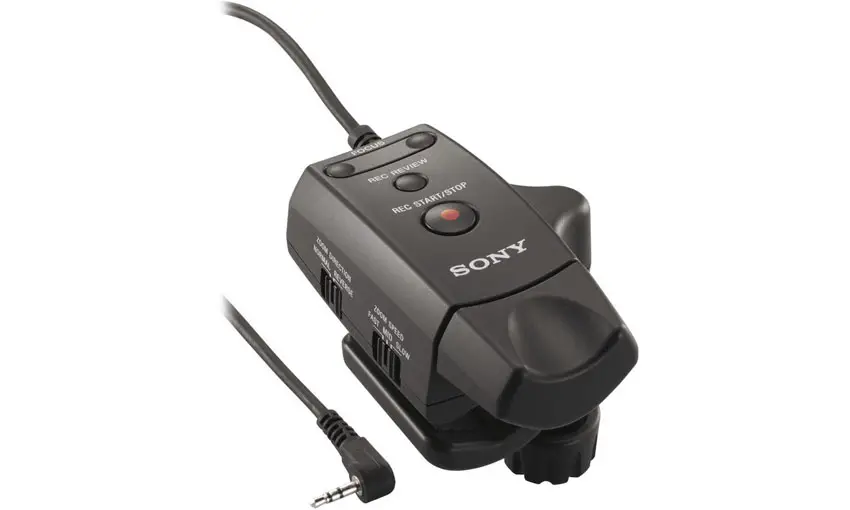 To use such a device, however, you'll need the Movcam LANC Cable to be used in conjunction with the Anti-Skid Controlling Handgrip as the Sony Alpha Series cameras doesn't support LANC protocol by default. The best part is that you can use this same cable with the stock FS7 controls and still retain the Start/Stop and Zoom functions. An essential prerequisite is to use the Sony Power Zoom lenses to enable the latter feature like the Sony E PZ 18-105mm f/4, Sony FE PZ 28-135mm f/4, Sony E PZ 18-110mm f/4 G OSS or the Sony E PZ 18-200mm f/3.5-6.3.
The dedicated LANC adapter and the Remote Commander are a bit pricey, though, as these will cost you roughly $300. But if you want to have the comfort and convenience of controlling your Sony Alpha camera just like a high-end camcorder, the extra cash for this setup would probably be a worthy investment. Either way, you have a few alternatives that will certainly make controlling your mirrorless camera on set a lot more convenient and straightforward.
[source: Jeff Rojas]
B&H Order Links:
Sony a7S Movcam LANC Cable for Anti-Skid Controlling Handgrip
Claim your copy of DAVINCI RESOLVE 16 - SIMPLIFIED COURSE with 50% off! Get Instant Access!