Canon say they created their new flagship Canon EOS C700 4K camera as an "A" camera on Hollywood and TV productions. And rightfully so, if you are going to make a camera for Hollywood, then you need to give it to a Hollywood DP to go and shoot some pretty pictures with. And that's what Canon just did with their latest 4K promo called "The Calling", which happens to be the first US-based pro shoot for the new Canon EOS C700. The promo below was shot on a C700 PL prototype and lensed by Russell Carpenter, ASC, who's shot plenty of Hollywood films in his career including Titanic, True Lies, Charlie's Angels, Ant-Man and many more.
Canon's new EOS C700 features a brand new Super 35 sensor and is designed to be a flexible "A" camera for various types of productions ranging from high-end documentaries to TV episodic drama and feature films. The EOS C700 features both internal 4K ProRes and XF-AVC recording in 10bit and 12bit flavours depending on resolution and speed. With the optional 4K Codex CDX-3150 recorder, the EOS C700 is capable of recording uncompressed 4K RAW up to 120 frames per second.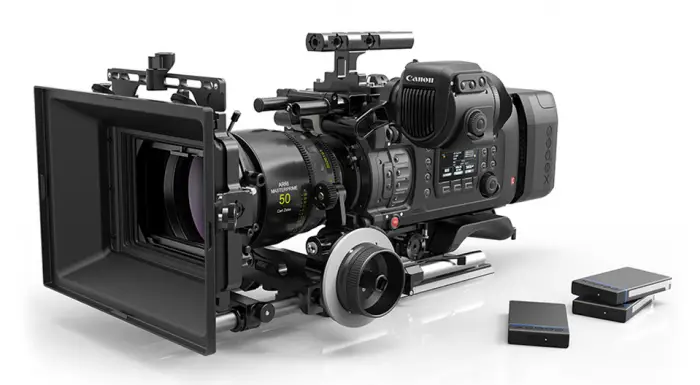 "The Calling" – shot by cinematographer Russell Carpenter, ASC and directed by Canon Explorer Of Light Tyler Stableford (be sure to watch in 4K):
Behind the Scenes with the Canon EOS C700: Introduction
"The Calling" Behind the Scenes:
Canon EOS C700 Highlights – $28,000 Body at B&H
Super 35mm 4K CMOS Sensor
10-bit or 12-bit 4K RAW up to 120 fps (via Codex raw recorder)
2K RAW up to 240 fps (via Codex Raw recorder)
ProRes 4K up to 60 fps (via Codex Raw recorder)
EF Cinema Lock Type Mount (PL version available)
Global Shutter version in 2017
Up to 15 Stops of Dynamic Range
Dual Pixel CMOS AF
4K up to 60 fps, 2K/HD up to 240 fps
ProRes 4444 in 2K/FHD
Proxy Recording to SD Cards
Canon Log 2 and Canon Log 3
XF-AVC and ProRes Recording to CFast 2.0
Where the Canon C500 never really took off in high-end productions, except for the odd B or C camera on major motion pictures, the story with the new EOS C700 is quite different, as this time around Canon are developing a high-end 4K production camera from the ground up – with a proper shoulder style body that's built like a tank and features that lovely Canon colour science plus a new 4K sensor that is capable of large dynamic range rendering images full of film-like textures and organic skin tones.
I think this new promo looks absolutely stunning, even on a laptop and with a YouTube compression and I can imagine how much better it would look on a proper 4K monitor. In any case, the EOS C700 is big boy camera that is meant to be used in a crew environment on high level productions. It's price and feature set reflects this.
It won't be easy for Canon to take away some of that sweet episodic TV and narrative drama market share that is currently dominated by ARRI Alexas and RED Epics, however from a pure picture quality and usability standpoint I don't really see a major reason why it wouldn't be used on major TV shows and motions pictures. I have a feeling we'll start seeing major movies shot on the C700 in the near future.
Claim your copy of DAVINCI RESOLVE - SIMPLIFIED COURSE with 50% off! Get Instant Access!