By pushing state of the art forward in multiple ways with the unique ultra-high speed capabilities provided for the price, the affordable DIY Chronos 1.4 camera continues to attract the attention of more and more aspiring filmmakers and content creators around the world. The project not only smashed its Kickstarter goal just in a few hours but also managed to take the industry by storm and created some serious buzz in the community. For those of you who are not aware, the camera is capable of shooting up to 21,650fps at its lowest resolution of 640×96 as well as capturing 1,057fps at 1280×1024. Here's what Ben Krasnow of Applied Science has achieved once he got his hands on the Chronos 1.4 prototype.
The more intriguing part of this setup, besides the camera itself, is the custom bullet time rig that Krasnow has built in advance to spin the device in a circle while shooting. It's also worth noting that for this test, he used a cheap 25mm C-Mount lens that allowed him to capture those stunning super slow-mo images. That way, the hardware engineer managed to emulate the bullet time effect that typically requires a much more expensive rig with multiple cameras synced perfectly together.
Furthermore, Krasnow also explains how he managed to build and operate this spinning platform and also provides a helpful insight regarding the Chronos 1.4 features and performance in a real-life situation. All in all, the custom-made ultra-high speed camera boasts a variety of neat features such as touchscreen display, HDMI connection, SD card slot, USB and SATA ports alongside the ability to save RAW video files all packed into a standard DSLR body.
The camera can either be powered by a single Nikon EN-El4A battery (lasts 1.75 hours per charge) or through an external power source such as a standard 19V Laptop AC charger. The unit also features a low-noise variable-speed fan allowing continuous operation without overheating. Here's another video showcasing more of the Chronos 1.4 capabilities in action.
Chronos 1.4 Ultra High-Speed Camera Highlights
1280×1024 1057fps CMOS image sensor with 1.4Gpx/s throughput
Sensor dimensions 8.45 x 6.76mm, 6.6um pixel pitch
Global shutter – no "jello" effect during high-motion scenes
21,650fps at 640×96; 1050fps at 1280×1024
CS and C mount lens support
ISO 320-5120 (Color), 740-11840 (Monochrome) sensitivity
5″ 800×480 touchscreen (multitouch, capacitive)
Multiple RAM versions
Internal Recording on an SD card, External  Storage Option via USB and SATA interface
MP4 recording format
RAW video saving
No PC needed for operation
AC Adapter or battery (1.75 hours per charge)
Trigger: TTL, switch closure, image change*, sound*, accelerometer*
Low-noise variable speed fan – camera can run indefinitely without overheating
Weight: 3.3lbs
Price – $2,500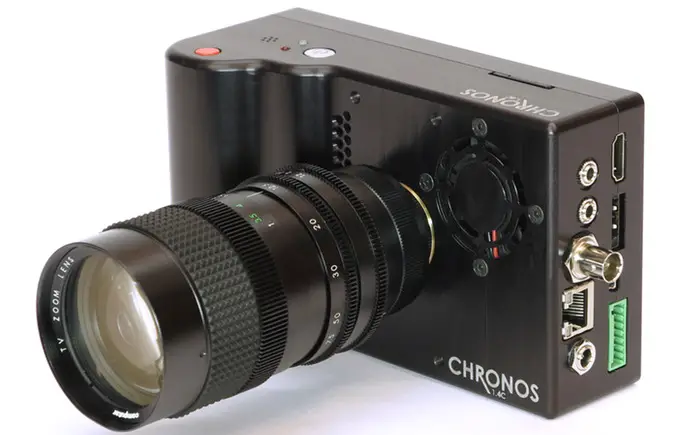 As we've seen in the first video above, the unit can also be triggered wirelessly which was a crucial prerequisite for conducting this particular test. Once you cease recording, you can play back the footage in the camera and then set mark-in and mark-out points, thus selecting a particular portion of the captured video that you want to be stored on the SD card afterward.
Currently, the ongoing Kickstarter campaign of the project has raised more than $335,000 which will allow the creators of the camera to develop a WiFi dongle support and Android remote control app along with other useful extra features.
[via: PetaPixel, source: Kickstarter]
Disclaimer: As an Amazon Associate partner and participant in B&H and Adorama Affiliate programmes, we earn a small comission from each purchase made through the affiliate links listed above at no additional cost to you.
Claim your copy of DAVINCI RESOLVE - SIMPLIFIED COURSE with 50% off! Get Instant Access!