Regardless of the outstanding video features that all Sony Alpha Series cameras have brought to the table, they still need some further tweaking before one can get natural looking skin tones when shooting video with them. So, if you're one of those aspiring videographers who also pays close attention to the way your Sony camera captures skin tones, here's another insightful video produced by Harv Video/Audio Stuff that offers a bunch of useful tips and tricks on the topic that should help you along to get the most out of your Sony mirrorless camera.
First and foremost, be careful which color space you'll be using in your profile as some color shifts may occur when you take a very large color space such as S-Gamut and S-Gamut 3 and squeeze it down to a smaller one like sRGB or Rec 709. As a rule, try to stay away from the former.
The second tip may sound too obvious, but always nail down your white balance in camera instead of tweaking it later in post. Due to the relatively lower color bit depth and codec compression, you are too limited in your choices so getting it right in the camera is probably your best chance. Just use a white or gray card and do a proper white balance before start rolling.
Additionally, you can adjust your color profile settings further just be extremely careful not to push them too far and double-check if your colors stay in range after every subtle tweak you make. To do so, simply get access to your Picture Profile settings in the main menu, scroll down to Color Depth, pull down your greens with a notch or two, and see how this would affect your overall colors.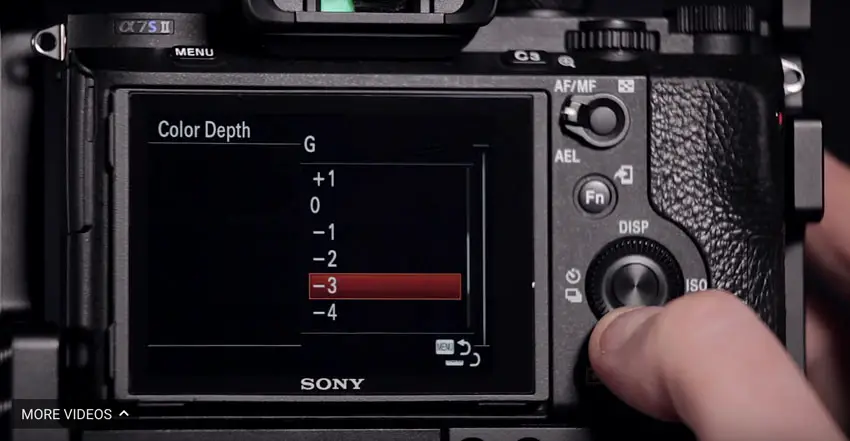 Harv also recommends getting the EOS HD profile developed by British filmmaker and editor of EOSHD Andrew Reid. In essence, it's a highly optimized in-camera profile that produces punchy Canon-like colors straight off your Sony mirrorless camera whether it's A7S II, A7R II, a6300, a6500, RX100 IV / RX 100 V or even Sony FS5 without using any additional LUTs in post. This color profile can certainly sort your color out, plus it's pretty inexpensive and gives a much more neutral color look to your footage.
Speaking of LUTs, be careful when you apply any of those to your footage in the grading process. Even though some of them can yield some excellent results, most LUTs can utterly change the feel and look of your footage so use them with some extra precaution, especially when you want to improve skin tones and get natural looking colors.
Last but not least, always pay close attention to the light source that you are utilizing to light your videos. Even though most professional lights are optimized to produce accurate colors, they still can introduce some color shifts so be careful with your white balance and exposure, especially in mixed lighting situations.
If you have some other tips on the topic, feel free to share them in the comments below.
[source: Harv Video/Audio Stuff]
B&H Links:
Sony Alpha a7S II Mirrorless Digital Camera (Body Only)
Sony Alpha a6500 Mirrorless Digital Camera (Body Only)
Claim your copy of DAVINCI RESOLVE - SIMPLIFIED COURSE with 50% off! Get Instant Access!