If you are one of those aspiring filmmakers who has been struggling to find a robust and reliable car mount system for your workflow or you are just not satisfied with the results you're getting lately with some other low-end systems, maybe you should give the Camtree Gripper Car Mount Rig a try.
The platform is not only reasonably priced and sturdy built, but also comes with a plethora of different pieces and various length arms that allow you to configure the rig virtually any way you want. Seasoned filmmaker Tom Antos has been testing out the system extensively in the past few weeks as he shares his insight in the video below.
The Camtree G-51 Camera Gripper Car Suction Cup is built of industrial grade impact-resistant material and can be mounted on almost any surface whether it's a roof, hood, or side of a moving car or any other vehicle.
The included universal head, on the other hand, can accommodate any professional camera system weighing up to 4 kg (9lbs). In addition, the platform features shock absorbing properties to isolate the unwanted camera movements and also comes with dust covers that provide maximum surface adhesion.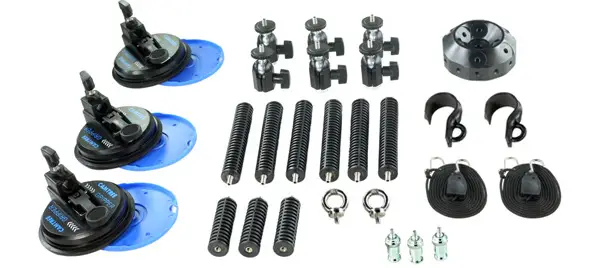 The extension rods are weather-proof and come in two sizes (3 & 6 inches) with ¼-inch male and female connectors for extra stability and smoothness. As we can see from the video, you can literally set up the system just in a couple of minutes. Simply adjust the span of the tripod legs by adding different length rods as required to reach the mounting surface.
Then insert ball tilt head into the rods, tighten to secure it properly, and screw in other rods into ball tilt head. Finally, select a surface position for your suction cups, attach the rest of the components and make sure to triple-check all connections to avoid accidental damages or loss of your camera and rig.
The G-51 Camera Gripper Car Mount Rig comes with a neat padded carry case that accommodates and secures all the necessary bits and pieces of the system when traveling around. Optionally, you can utilize the safety cables for extra stability if needed.
Camtree Gripper G-51 Camera Car Mount Rig Highlights
Professional grade Car Suction Cup mounts with sturdy multi-position adjustment.
High-quality design for years of service.
Features shock absorbing properties to isolate your camera.
Flexible mechanism with Ball-Tilt for extra wide spatial configuration.
Threaded rod provides secure placement.
Weather proof components for outdoor use.
Fast, secure setup on window glass, trunk, hood, roof and car doors.
Manufactured from an Industrial grade impact-resistant material.
Price: $135
All in all, the G-51 GRIPPER allows creative professionals to mount their cameras on various flat surfaces where handheld and fixed mount configurations are not possible. With its strong industrial suction cups for positive load-bearing contact, the G-51 ensures extremely strong and reliable connection with the surface that is typically provided by a lot more expensive professional car mount systems on the market.
With all these neat features and extremely competitive price tag of $135, the Camtree Gripper G-51 Camera Car Mount Rig can certainly give you plenty of bang for your buck, so we definitely recommend to test it out.
[source: Tom Antos]
Amazon Order Link:
CAMTREE G-51 Professional Gripper Campod Car Mount Stabilizer
Claim your copy of DAVINCI RESOLVE - SIMPLIFIED COURSE with 50% off! Get Instant Access!