Canon just released a new promo video and behind the scenes for their new EOS C200 4K Raw camera, and I have also been reading the specs in further detail. In the process, I found out a few things I thought I'd share with you guys to hopefully make it easier for you to make a decision whether the C200 is right for your or not.
There are two official models available for sale – the Canon EOS C200 and C200B. The "normal" Canon EOS C200 comes with the top handle, back EVF eyepiece, top mounted touchscreen LCD and redesigned side handle – it is priced at $7,499 and is already up on B&H and Adorama.
Canon EOS C200 EF includes:
EOS C200 Camera Body 
LCD Touch Panel Monitor (LM-V1)
LCD Attachment Unit (LA-V1)
Handle Unit (HDU-2)
Camera Grip (GR-V1)
Shoulder Strap (SS-1200)
AC Adapter (CA-A10)
Battery Pack (BP-A30)
Battery Charger (CG-A20)
Compact Power Adapter (CA-CP200B)
50cm Unit Cables (UN-5)
Eyecup
Mic Holder Unit
Tape Measure Hook x1
Thumb Rest
Body Cap
The Canon C200B is literally a "body only" model – meaning you don't get an EVF (like the back EVF is gone totally), no side handle, no top handle, and no top mounted touchscreen LCD – the price for the C200B is $5999. It is a stripped down version designed for gimba/crane work. Users are expected to either add a separate third party SDI/HDMI monitor or by the official Canon LM-V1 touchscreen monitor for $699.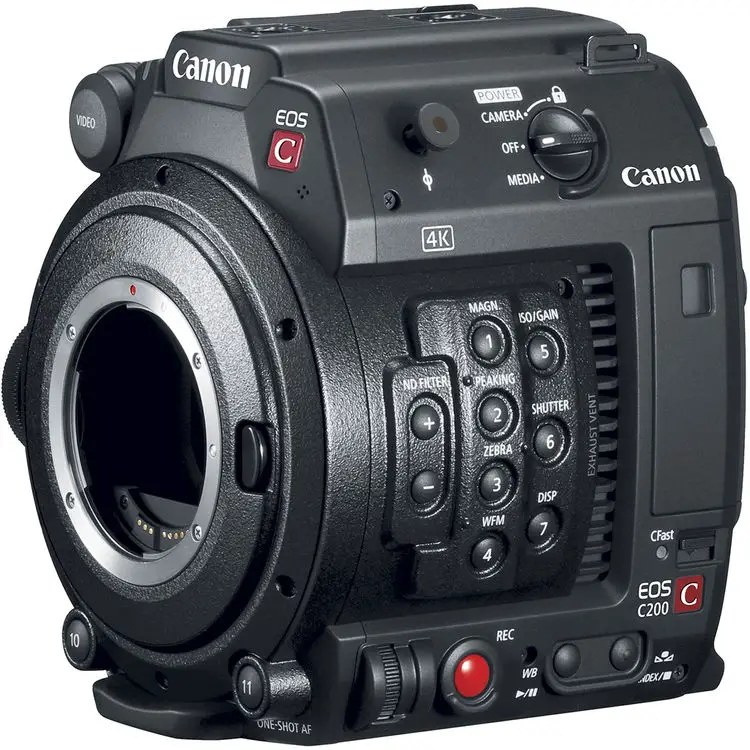 Canon EOS C200B includes:
EOS C200B Camera Body
AC Adapter (CA-A10)
Battery Pack (BP-A30)
Battery Charger (CG-A20)
Compact Power Adapter (CA-CP200B)
Mic Holder Unit
Tape Measure Hook x1
Thumb Rest
Body Cap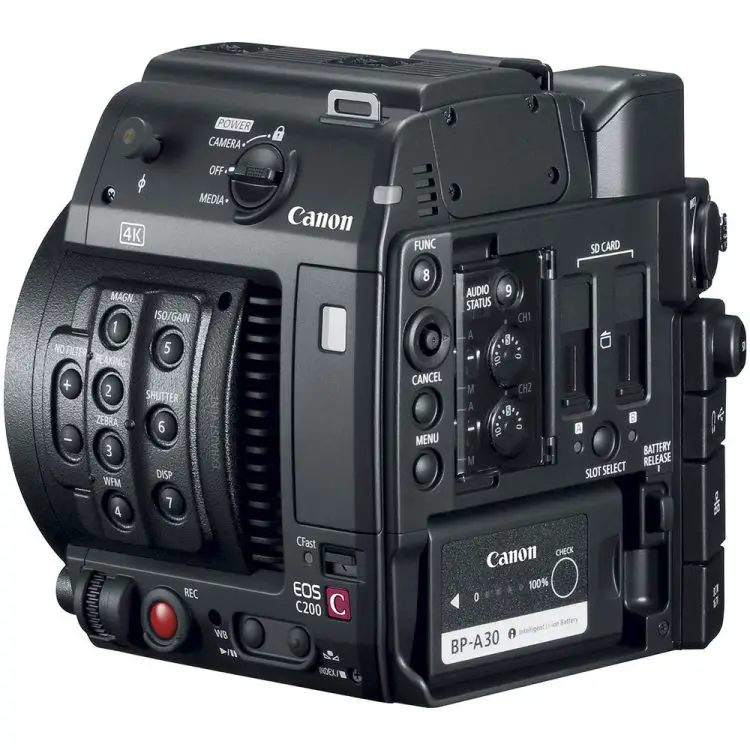 Here is a list of accessories for those planning on getting the Canon C200B version.
"FROM DOCK TO FISH" CANON EOS C200 Promo
Director Andrew Fried and DP Bryant Fisher team up for the first film shot on the brand new EOS C200. Fried — one of the filmmakers behind Chef's Table — brings you "From Dock to Dish," which follows a mackerel's journey from the ocean floor to the restaurant door, tracking the many people, places, and atmospheres that flavor a culinary masterpiece.

The film showcases the many features of the versatile new EOS C200, including the ability to record 4K internally using Canon's proprietary Cinema RAW Light, optimized for HDR. The EOS C200 is also capable of recording up to 60p in 4K and 120p in HD
Behind the Scenes:
Check out also the Canon produced EOS C200 highlights video by Canon's Technical Advisor – Brent Ramsey:
Canon EOS C200 Summary / Features
4K DCI Cinema RAW Light

4K/60p – 10 bit onto CFast 2.0
4K/30p – 12 bit onto CFast 2.0

Internal Compressed Codec options:

4K/60p Long GOP 8bit 4:2:0 at 150 Mbps in MP4
4K/24/25/30p Long GOP 8bit 4:2:0 at 100 Mbps
2K/HD at 35 Mbps 8bit 4:2:0 in MP4
Full HD 120fps Continuous with no sensor crop
Records onto SD cards
Can do 2K/Full HD Proxies on SD card and Raw on Cfast 2.0

Up to 15-stops dynamic range (Cinema RAW Light)
Wide DR, Canon LOG & Canon LOG 3
Dual Pixel CMOS AF with touch control and extensive shooting functions
Built-in NDs – 2/4/6/8/10 stops (like on C300 II)
ACES 1.0 Support
BT.2100 (PQ) HDR support
HDR ST-2084 LUT (in EVF)
Uses BP-A30 and BP-A60 batteries (same as C300 MK II)
8bit 4:2:2 XF-AVC 4K internal codec coming Q1 2018 as free firmware
NO Way to Output 4K Raw (has to be recorded internally)
HDMI Output:

1920 x 1080p – 10bit 4:2:2
3840 x 2160 – 8bit 4:2:2

SDI Output:

2048 x 1080 / 1920 x 1080 – 10bit 4:2:2 – Raw Light
1920 x 1080 – 10bit 4:2:2 
Here is a chart that shows what bit depth/resolution you can output via the SDI and HDMI outputs: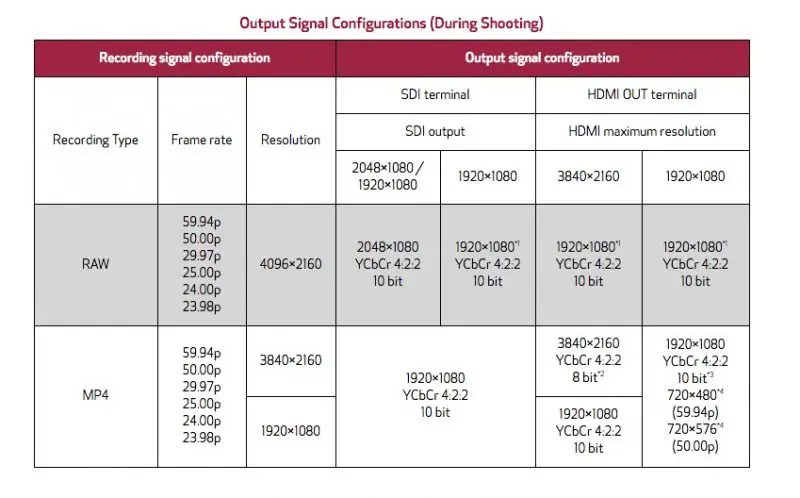 To say that there have been a few eyebrows raised at the omission of a broadcast-ready 10bit internal codec in a pro-level 4K camera announced in 2017 is a bit of an understatement. This has been quite a polarising camera announcement (as most Canon announcements as of the last three years IMHO), with plenty of people getting ready to sharpen their pitchforks, which I personally find ridiculous (just read some of the YouTube comments below the C200 video above), and the rest feeling quite alright about the inclusion of 12bit compressed raw internally – in a camera that doesn't have a RED or BMD badge.
Canon has a tendency to sometime make some really strange decisions – such as not initially including Log in the 5D Mark IV, and then announcing a paid for upgrade, or as in the case of the brand spanking new EOS C200 – having a choice of only a high data rate 12bit/1obit Raw codec and a lousy "2010" non-broadcast ready 35Mbps 8bit 4:2:0 Long GOP codec!?
A 35 Mbps codec makes sense – but only when you also have a 50Mbps 8bit 422 or higher option already; sure it will mostly get used by folks shooting long form conferences, events and the sort, but it is an option that gets you more mileage from your cards. But come on, we're not living in 2011 anymore, a 256GB SD card doesn't cost the moon any more…
For some the omission of either an 8bit 422 codec or a solid 10bit 422 Intra codec upon release is a deal breaker. I am in this camp. However, for those who don't shoot for broadcast – the wedding guys and gals, the low budget corporate promo or those creating predominantly for web exhibition – which is a HUGE market – then for those the C200 offers significant benefits – mostly the DPAF and the new touchscreen. This is a killer combo, that cannot be underestimated; these guys dont need a 10bit 422 codec, and they don't even need Raw light.
So, I won't expect to see any FS7 shooters to all of a sudden flock their kit on ebay and buy a C200… Maybe Canon are protecting the C300 Mark II, which makes sense in a way – the C300 II peeps don't have touchscreen, internal Raw or 120fps slow mo without a crop, but on the other hand the C300 II has a very solid 10bit and 12bit internal codec, Dual SDI outputs, Dual CFast slots etc… all these things make it more – broadcast friendly for a lack of a better word…
Or is there a C400 coming at IBC in September?….
Claim your copy of DAVINCI RESOLVE - SIMPLIFIED COURSE with 50% off! Get Instant Access!