Recently I got a chance to shoot with the URSA Mini Pro 4.6K camera, that the good people at Blackmagic Design loaned to me. I took the camera for a spin around Central London on a really hot and sunny day, which turned out to be a good opportunity to test the camera in the harsh sun and high-contrast situations.
As most of you know, the URSA Mini Pro was announced earlier this year and despite the similar body design to the URSA Mini 4.6K, the new "Pro" version has a few new key features that set it apart. Namely the bid improvement is the addition of built-in ND filters, which were a life saver during my tests. The URSA Mini Pro also comes in EF mount as standard, which can be changed to PL or Nikon F. More broadcast/ENG-friendly improvements on the side of the body feature ISO and WB switches as well as Auto WB button on the front. Improved audio controls and dual SD card slots, which are UHS-II compliant complete the package.
Preface: I will try and keep my review short and to the point. For the sake of clarity, I mainly focused on shooting in 4.6K compressed Raw as this is the mode I am most interested in as well as 120fps slow motion. I also shot 4.6K ProRes. My tests did NOT include, any audio tests, low light or controlled environment, hence the title – hands-on review, rather than an all-encompassing review of the URSA Mini Pro, which even from my limited use, is a seriously capable beast.
Here is the first part of the footage I shot with the URSA Mini Pro. I shot the footage below in 4.6K ProRes HQ and LT (4608 x 1920 which is already cropped to 2.40:1 in camera) and the Sigma 18-35mm f1.8 Art lens. Only built-in ND filters were used, no polarizers or other diffusion filters. I graded in DaVinci Resolve 12.5 with the OSIRIS LUT pack, mainly the KDX LOG LUT with slight tweaks to the white balance, exposure, contrast, highlight recovery and shadow boost in a few places, but nothing fancy. I make no claims to being a competent colourist, and I am sure that a lot of you are far more competent in the grade than me.
I also used the awesome Blackmagic Design Resolve Micro Panel to grade the footage. I will be posting my separate review of the panel in the upcoming days.
Here is a quick snap of my barebones setup below – I wanted to shoot with the lightest possible URSA Mini Pro setup – so I took off the URSA viewfinder and the side grip and just kept the top handle. I even took off the Shoulder mount/baseplate as I wanted to keep the setup as nimble as possible. It was a really nice touch from Blackmagic Design that they sent me the camera with the compact IDX Endura DUO-C95 V-Mount battery.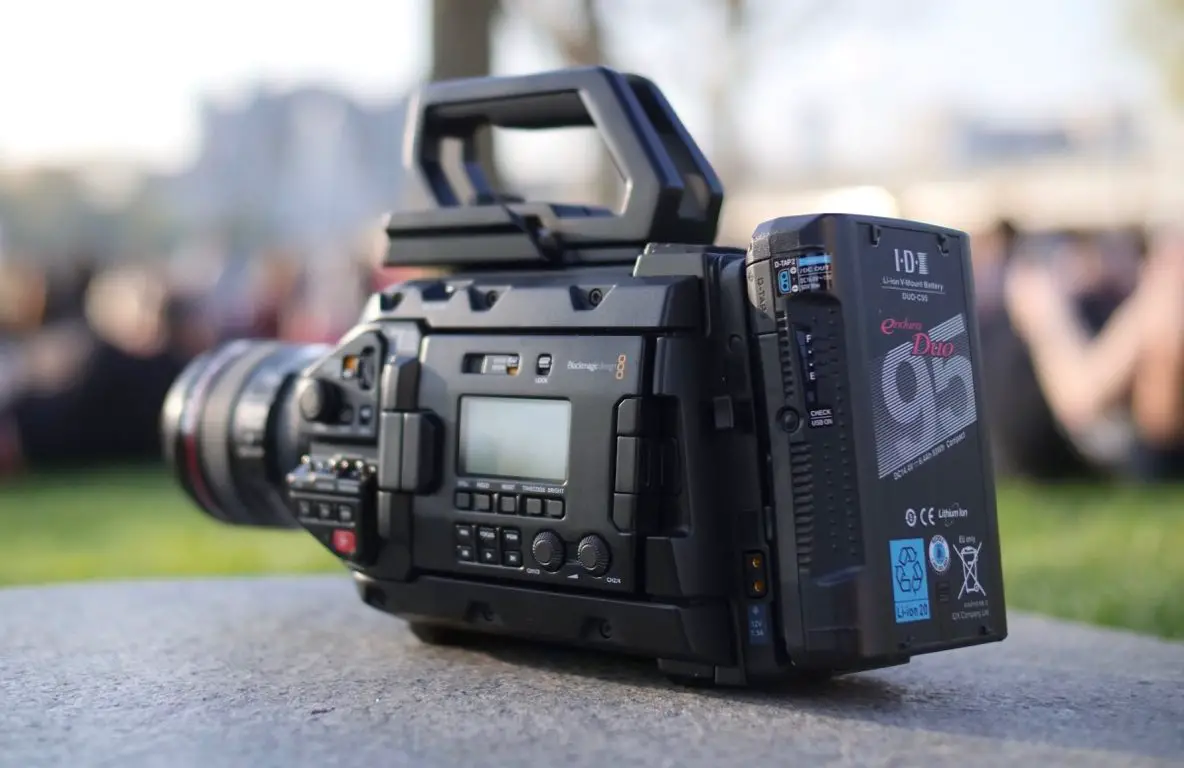 The DUO-C95 has a couple of D-Tap ports, one of them being an "Advanced D-Tap" through which you can charge the battery via an equally compact charger that simply plugs into the D-Tap port instead of slotting the battery onto larger "brick"-sized V-mount heavy-duty chargers.
This feature alone enabled me to shoot pretty much all day as I had to stop and charge the battery half-way through. Keep in mind I didn't test the exact battery life through the day, but all-in-all I'd say when factoring all the times the camera wasn't recording or put into standby mode I got at least 1.5 hours non-stop shooting.
I also shot some 4:1 CinemaDNG Raw in 4.6K, which you can see below.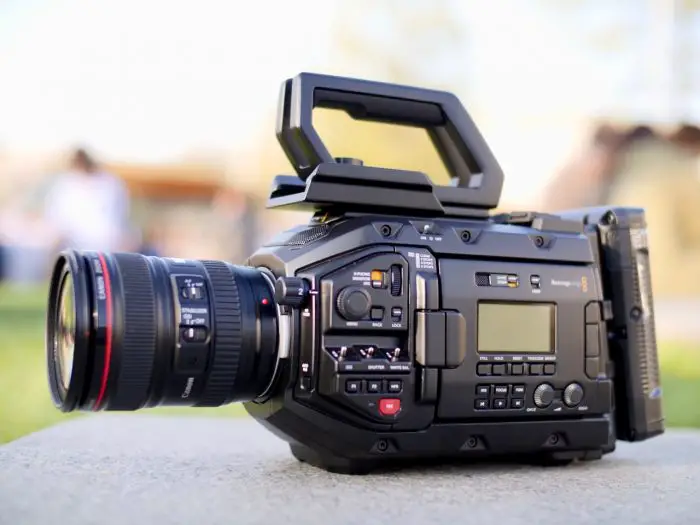 Blackmagic URSA Mini Pro 4.6K Highlights
15 Stops DR, Super 35 4.6K Sensor
Lightweight and durable magnesium alloy body.
Fully redundant controls including ergonomically designed tactile controls
Interchangeable mounts – Canon EF, PL, Nikon F
Built-in ND Filters – 2, 4, and 6 stops.
Supported Codecs:

CinemaDNG Raw
CinemaDNG Raw 3:1 & 4:1
ProRes 4444 XQ & 4444  
ProRes 422 HQ/422/LT/Proxy

Recording Resolutions

4608 x 2592
4608 x 1920 (4.6K 2.40:1)
4096 x 2304 (4K 16:9)
4096 x 2160 (4K DCI)
3840 x 2160 (Ultra HD)
3072 x 2560 (3K Anamorphic)
2048 x 1152 (2K 16:9)
2048 x 1080 (2K DCI)
1920 x 1080

Maximum Frame Rates

4.6K up to 60fps
2K up to 120fps (Crop mode)

Custom Designed Add-on SSD Recorder on back – for longer recording times (future optional accessory)
Dual SDXC UHS-II and CFast 2.0 slots
Ergonomic controls – AWB, ISO, Shutter switches on Operators Side!
B&W Panel LCD – similar to shoulder mount ENG cameras
Built in high quality stereo microphones for recording sound.
Dual XLR inputs
Improved Audio & Audio Controls
4-inch Flip-Out LCD Touchscreen
I also shot some Full HD 120fps Slow Motion Footage:
Having to expose and compose my shots all in the flip-out screen wasn't too difficult even in the bright sun – even though I found myself shielding it with my hand often (and yes, I agree, using the EVF would have been a much better idea) it wasn't too bad – I found the flip-out screen to be of ample resolution and quality to give me a good idea of what I am shooting on. It's not a replacement for using the viewfinder, but for those of you planning on getting just the camera to begin with – it is perfectly workable.
I started using the EVF later in the day, but more on that later. The one thing about using the flip-out screen is that when tilted at a certain angle (when trying to get a low angle shot for example) it can get in the way of the vertical scroll wheel, with which I was adjusting the Iris since I didn't have the side handle attached. The control wheel can also be used to control the headphones level.
All-in-all I was very surprised to see the slow-motion footage, even though cropped on the sensor level – was surprisingly not too muddy and held reasonable sharpness. I also shot most of the slow-mo footage on the Canon EF 24-105mm f4, which isn't the sharpest of lenses on the long end, and I wasn't too confident in my focusing abilities at times as you can see from the footage above some of the shots may appear a bit soft – thats because the focus had drives to either the foreground or background rather than an actual softness from the 120fps crop.
The Crop mode is definitely softer than the native 4.6K resolutions sure, but it is definitely usable and I would not hesitate to use it in any situation.
4K AND CINEMA DNG WORKFLOW
I recorded all footage including 4K, 1080p slow motion, and Raw footage on the 256GB Lexar CFast 2.o card that Blacmagic Design loaned me with the camera. I cut all the footage I shot on the URSA Mini Pro in DaVinci Resolve 12.5. The ProRes HQ and LT were okay-ish to edit on my MacBook Pro 2015, even at 4.6K, and even though the footage was a bit choppy at times, I didn't feel the need to create optimized media (proxies).
This however became a necessity when I shot 4.6K CinemaDNG Raw as I was getting not more than 6-7 fps in real time. Creating quarter size ProrRes Proxy files as Optimized Media in Resolve made all the difference in the world for CinemaDNG Raw in 4.6K and I was able to edit it without a hitch and also get smooth playback. For anyone considering a Blackmagic camera, be it an URSA Mini Pro or otherwise, getting to grips with Resolve is a must as it gives you so much control over the footage.
BUILD QUALITY AND ERGONOMICS
I think the camera has significantly improved since the URSA Mini 4.6K, which I reviewed last year, mainly thanks to the ergonomic additions and the built-in ND filters. The body feels solid, it is metal, it certainly doesn't feel cheap or that it would fall apart as some cameras I've shot with in the past. The URSA Mini Pro sits well on the shoulder with the shoulder kit, and the EVF is bright and crisp. I did use it more as the day progressed and I was sometimes falling behind the sun, which made the flip out screen difficult to rely on.
The URSA Mini Pro can easily be converted for more traditional studio use on a tripod thanks to the Shoulder Mount support kit, which BMD makes – it really is a vital accessory you have to consider when purchasing the camera, as it includes also the top handle, extension arm for the side grip and shoulder bracket with VCT-14 compliant connection on the bottom.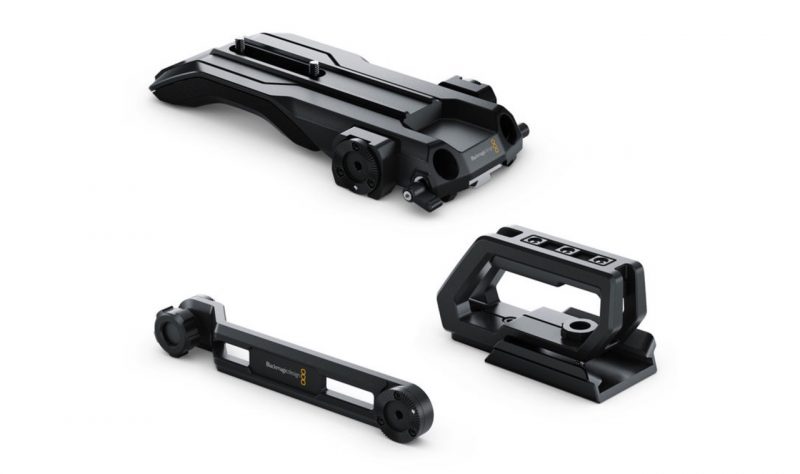 The URSA Mini Pro does have some weight to it, and does require V-mount or AB batteries to power, which add on mass and weight, however this is necessary to drive internal processing given the significant choice of CinemaDNG Raw or ProRes/DNx in camera. The addition of SD card slots will surely help those who predominantly shoot longer form content in Full HD. I did shoot all my tests on the CFast 2.0 card, and kinda wished I recorded some footage on the SD card, but alas, this will have to be done next time I get a chance to take the URSA Mini Pro for a spin.
For me personally, the addition of the built-in ND filters and WB controls on the side are the most important improvements in the URSA Mini Pro as it saves me from using a matte box or screw in ND filters when I am shooting handheld, which is most of the time.
IMAGE QUALITY 
At the end of the day, the image quality is the deciding factor for me. And there is something special about this sensor in my opinion, I can't really quantify it, I can't put a number to it, but the URSA Mini Pro is by far the most organic and pleasing image I have gotten out of straight out of a camera. BMD's LOG profile – BMD Film is really easy to work with, even when grading without LUTs in Resolve.
The image is pleasing to the eye in the sense that it takes it easy on the highlights and even when overexposed by about 2 stops, I can use highlight recovery in Resolve and dial them down, while at the same time seeing how much information is still present. Resolve is a phenomenal tool, and even though I am just a beginner there, once you master it, you can really make your URSA Mini footage sing. Especially when you shoot CinemaDNG Raw.
Even when you lift the shadows quite a bit and see some noise, it is not distracting, but rather it compliments the character of the image, giving it a more textured look. Maybe it's just me and the fact that I don't mind a bit of film grain, and with the URSA Mini Pro's footage, you don't even need to add any additional grain – it is kind of there, and unless you are working with severely underexposed footage, it shouldn't be a problem. That is not to say that the URSA Mini Pro footage isn't clean, but compared to some super-clean, and compressed video footage from more traditional ENG camera makers that tend to be over-sharpened and heavily employing noise reduction in-camera in baked picture profiles, the URSA Mini Pro footage has a lot more character and to me is much more pleasing.
If you are looking for some super-clean and over sharpened, more video-like crisp image – you may want to look elsewhere.
THINGS I DIDN'T LIKE SO MUCH
Well, there aren't many. The URSA Mini is a fine camera, but far from perfect.
Size and weight – It is a bit bulky, and it requires big batteries. I come from the "DSLR world" and prefer a more compact battery system, one that I can put in my pocket. There are some really nice compact V-mount batteries out there, but at the end of the day, they are not LP-E6 sized.
Not a fan also of the fact that the CFast card slots don't have covers and are exposed when not filled with cards and the flip-out screen is opened. This can become a real concern in dusty or damp environments.
XLR ports still on top of the camera instead of on the side or back
VCT-14 base didn't connect properly with a my VCT plate when I tried to mount it on my tripod. It would take a few tries before it finally snapped into place, but then the back connector felt a bit loose.
Not a fan of the Side Grip, feels a bit uncomfortable as not styled around your palm like the one on the FS5/FS7 for example
WHO IS THIS CAMERA FOR? 
Which bring us to my conclusion – who is this camera for? I think OMBs (one man band operators) or small production companies who produce (or aim to produce) more cinematic content, whether in the form of music promos, commercials or documentaries, while dabbling in the odd short or low-budget narrative drama should seriously consider the URSA Mini Pro.
As long as you are aware that you will have to stock up on extra hard drive space and CFast 2.0 cards because the URSA Mini Pro will eat them fast, and that you will have to use either Resolve or other grading software to get the best out of your footage, the URSA Mini Pro won't disappoint.
Even though the URSA Mini Pro does bridge the gap between an ENG camera and a cinema camera by offering built-in NDs and more traditional control over white balance and other key features, at its heart – this is a serious cinematic machine, and one that shouldn't be treated solely as a video camera. It does offer the best of both worlds, but for me personally, the sensor is just too good to for the Rec.709 treatment and should be used to the fullest – shoot flat in BMD Film and maximum res in CinemaDNG then grade in Resolve. Obviously for the majority of broadcast work, this is not feasible, but it is available if needed.
The URSA Mini Pro offers an incredible price/performance ratio at $6 grand body only, and I do realize this is a significant investment for a lot of people, especially up and comers rising from the DSLR ranks. Despite this, the investment in a serious and affordable digital cinema camera like the URSA Mini Pro is much more valuable than anything you'd learn in film school.
Have you shot with the URSA Mini Pro yet? Own one or considering one? I'd love to read your thoughts in the comments below.
Huge thanks to Patrick H. and Larissa from Blackmagic Design for loaning me the URSA Mini Pro for this review.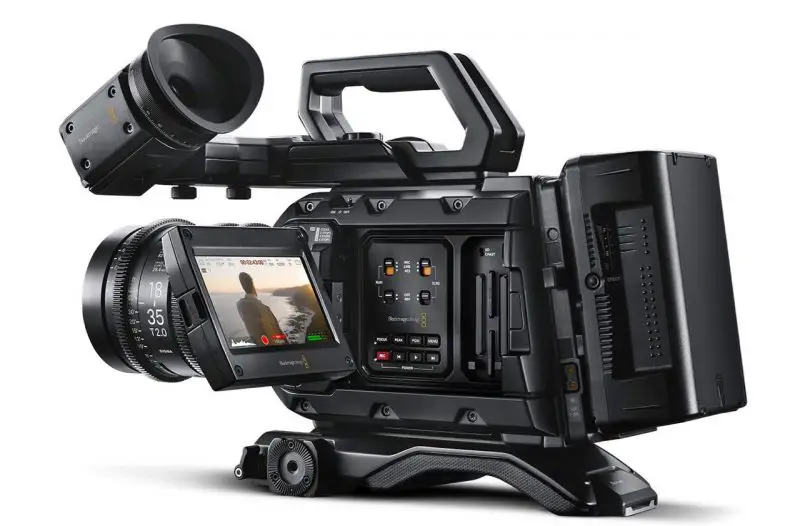 Order links:
Claim your copy of DAVINCI RESOLVE - SIMPLIFIED COURSE with 50% off! Get Instant Access!