Tamron recently unveiled the world's first ultra-telephoto all-in-one zoom lens for the APS-C format. With a focal length range of 18-400mm and 22.2x zoom, the new Tamron 18-400mm appeals to both nature and wildlife photographers as well as event shooters.
While the focal length may be "the perfect" zoom range for some, there will be plenty in the opposite camp that would be rather quick to point out the lens' shortcomings when it comes to video.
Yes, this is a photographic lens designed primarily to be used with Canon or Nikon DSLR's; the new Tamron 18-400mm is definitely not a purpose built lens for video, it is also "slow" considering the f3.5-6.3 variable max aperture, however on the plus side – you get a massive zoom range, compact size (for its class) and a really affordable price of $650.
I am sure that if they had built a video version with an f2.8 constant aperture, the lens would be gigantic in size and probably cost upwards of $20K, not to mention you'd need a serious rod support for it. However, this isn't the case with the 18-400mm f3.5-6.3 Di II VC HLD pictured below.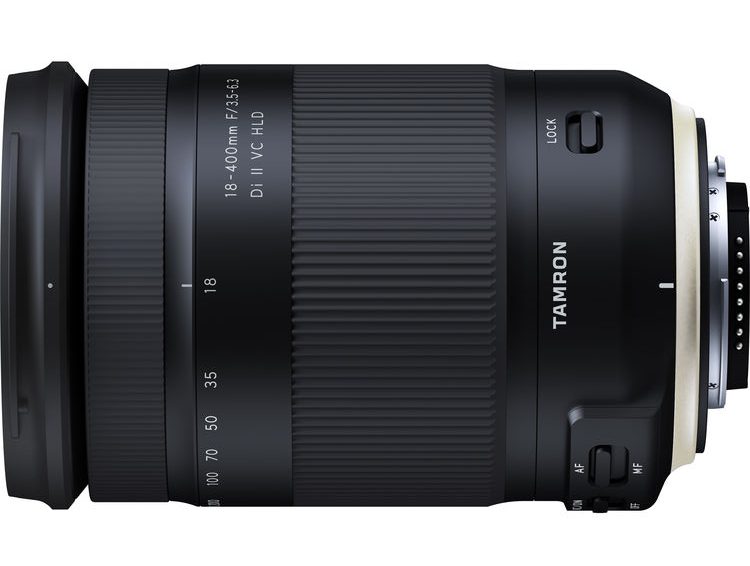 The moisture-resistant construction is said to protect from the elements, while the latest optical design includes elements such as LD (Low Dispersion) glass and aspherical lens.
Issues such as chromatic aberration and distortion are controlled throughout the entire zoom range, resulting in sharp, superior images—whether you're shooting at wide-angle or telephoto. The lens also features a maximum magnification ratio of 1:2.9, making it perfect for tele-macro photography.
Tamron's exclusive HLD (High/Low torque-modulated Drive) saves power while providing superior drive. It focuses accurately and quietly while adjusting the motor's rotation from low to high speeds, enabling smooth autofocusing. HLD let us design a space-saving AF module, for a sleeker barrel and reduced overall lens size.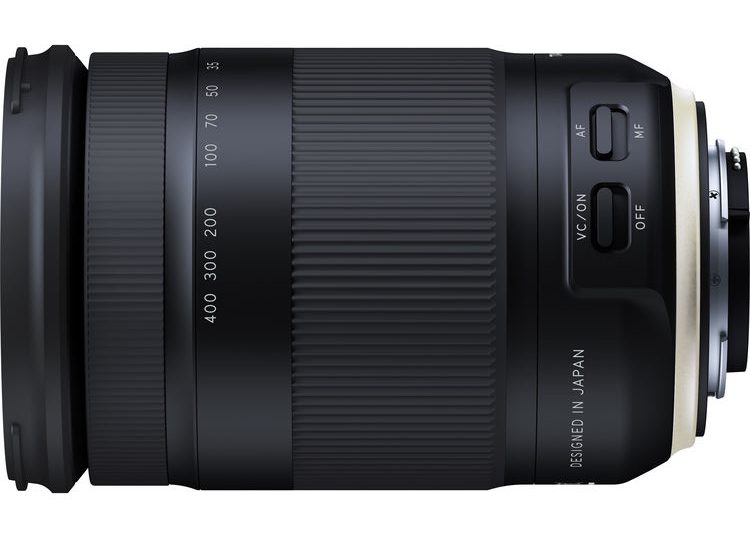 Tamron's VC (Vibration Compensation) technology stabilizes the image in the viewfinder, so you can frame your subject and shoot a sharp image even at ultra-telephoto ranges and in poorly lit conditions.
The electromagnetic diaphragm system, which has been a standard feature for Canon-mount lenses, is now employed in Nikon-mount lenses. This provides more precise diaphragm and aperture control since the diaphragm blades are driven and controlled by a motor through electronic pulse signals.
Tamron 18-400mm F/3.5-6.3 Specifications
Model
B028
Focal Length
18-400mm
Maximum Aperture
F/3.5-6.3
Angle of View (diagonal)
75°33′ – 4°
(for APS-C format)
Optical Construction
16 elements in 11 groups
Minimum Object Distance*
0.45m (17.7 in)
Maximum Magnification Ratio
1:2.9
Filter Size
72mm
Maximum Diameter
79mm
Length**
123.9mm (4.9 in) Canon
121.4mm (4.8 in) Nikon
Weight
710g (25 oz) Canon
705g (24.9 oz) Nikon
Aperture Blades
7 (circular diaphragm)
Minimum Aperture
F/22-40
Image Stabilization Performance
2.5 Stops (CIPA Standards Compliant)
For Canon: EOS-80D is used / For Nikon: D7200 is used
Standard Accessories
Flower-shaped lens hood, Lens caps
Compatible Mounts
Canon, Nikon
Wildlife photography is a tough game, and it requires some serious gear, work ethic and (most of all) patience to get the job done right, so having a not so expensive option for a mega-zoom is highly beneficial for those of you who wouldn't mind carrying less lenses in your lens bag.
As for video – I am sure that if you can get around the general work-arounds and annoyances of using stills zoom lenses (which we all do to a degree – my go to zoom lenses are the Sigma 18-35mm f1.8 and the Canon EF 24-105mm f4) you can find a way to enjoy this lens especially if you do any sort of nature videos or events work (except for maybe weddings, as for those you need fast zooms).
For sample images and more information on this lens head over to Tamron's website here.
The new Tamron 18-400mm is priced at $650 and can be pre-ordered from B&H here in either Canon mount or Nikon mount. Availability is expected towards the end of July.
Disclaimer: As an Amazon Associate partner and participant in B&H and Adorama Affiliate programmes, we earn a small comission from each purchase made through the affiliate links listed above at no additional cost to you.
Claim your copy of DAVINCI RESOLVE - SIMPLIFIED COURSE with 50% off! Get Instant Access!