RED Digital Cinema aim to revolutionise the smartphone capture device consumer market by introducing the "world's first holographic media machine in your pocket." Hyped for months by RED founder Jim Jannard, the new RED Hydrogen One appears to be the first piece of a larger "Hydrogen" system and the next big project for J.J. – a futuristic image capture and playback device that promises to be much more than your average smartphone, since users will not be required to use additional hardware such as AR/VR glasses to view 3D and VR content.
This is huge step for RED as they move into upscale consumer territory having risen to the top of the high-end digital cinema camera game for in the past decade.
Is the RED Hydrogen One the future of smartphones? At least, the future of very expensive ones – as the Hydrogen One will be available, according to RED, in two versions (at least initially) – an Aluminium version at $1,195 US, and a Titanium version priced at $1,595. At the moment it is has not been revealed what the difference between the two versions would be.
From the limited launch info sheet released by RED, we learn that the Hydrogen One will run Android OS and is a standalone, full-featured, unlocked multi-band smartphone "that just happens to add a few additional features that shatter the mold of conventional thinking".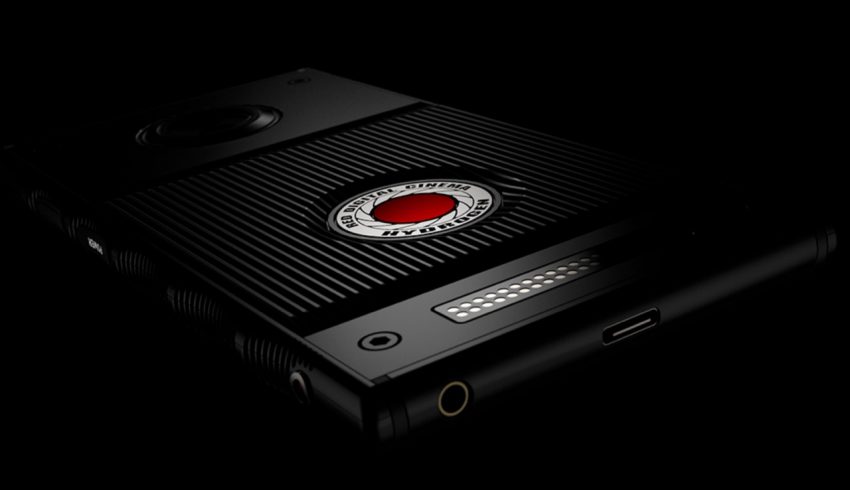 In true RED fashion, we then read – Wearable displays not spoken here!
If there is one thing that I can't stand about current VR technology – is the cringy glasses/phone holder thing you have to strap to your head. For someone that wears glasses, this is far from comfortable and I have never been able to adjust the proper diopter on these torture devices at any of the trade shows I've tried to "demo" a VR/360 product. Not having to worry about an additional accessory is a huge step in the right direction in my opinion, as it so liberating to not have to remember to carry around a damn headset.
The RED Hydrogen One will have a 5.7" Professional Hydrogen Holographic Display, which features some serious "Terminator-esque" nanotechnology that will apparently be able to seamlessly switch between traditional 2D content, holographic multi-view content, 3D content and interactive games with both landscape and portrait modes supported.
RED HYDROGEN ONE Highlights
Runs Android OS
USB-C port
Expandable Micro SD
Immersive 5.1 Audio experience
View all traditional 2D content normally at full-screen resolution
View holographic RED Hydrogen 4-view content (H4V)
View stereo 3D content
View 2D/3D VR, AR and MR
Price:

$1,195 Aluminium
$1,595 Titanium

Expected – Q1 2018
Audiophiles should be pretty chuffed to find out that embedded in the OS is a proprietary H3O algorithm that converts stereo into expansive, multidimensional audio, which according to RED is like "5.1 on your headphones".
As mentioned before, the amply named Hydrogen One, is the first part of a new multi-dimensional media system. The HYDROGEN SYSTEM incorporates a new, high-speed data bus to enable a comprehensive, ever-expanding modular component system, which will include future attachments for shooting higher quality motion and still images as well as HYDROGEN format holographic images.
And here is where it gets really interesting:
The RED Hydrogen One will not only be the control center for the HYDROGEN system, it will also integrate somehow with the RED Scarlet, Epic and Weapon as a user interface and monitor.
Orders placed at launch today will ship from RED founder and self-made billionaire Jim Jannard's personal first production batch. RED also state in their launch materials that after this initial release they will NOT be able to fill all orders on time due to display production limitations and will NOT guarantee these prices at the time of release.
I think the question of whether it will shoot some form of 4K video is irrelevant, as knowing how far RED love to push resolution and image capture it will probably be 6K or 8K.
To be one of the first to get the new RED device head over to the order page here.
Claim your copy of DAVINCI RESOLVE 16 - SIMPLIFIED COURSE with 50% off! Get Instant Access!