Premiere pro sound equipment maker Sound Devices unveiled their new MixPre Series of audio recorders back in April this year during NAB 2017, and now the company are releasing a new firmware update v1.11 for the MixPre-3 and MixPre-6 recorders. The MixPre series feature an integrated USB audio interface, designed specifically for indie video production, especially those shooting with compact DSLRs or mirrorless cameras such as the Sony a7s II or the Panasonic GH5.
The lightweight and compact 3-input/5-track MixPre-3 and 6-input/8-track Sound Devices Mix-Pre 6 also boast USB audio streaming, slick touchscreen along with the Sound Devices' proprietary new high-performance Kashmir preamps. The Sound Devices MixPre-6 features a -130dBV noise floor, analog limiters, and new 32-bit A-to-D converters.
The Mix Pre series are not only high quality pro audio recorders, but can also be used as audio mixers, and also USB audio interface for podcasting and musicians for example.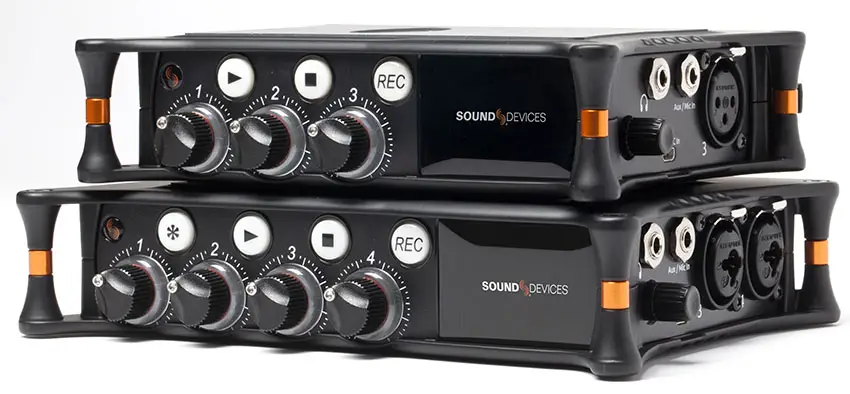 Firmware v1.11 details include:
New Features:
When playing back a file, the file's remaining time is now shown in the Status Bar.
Changes:
The File List Number is now editable from 1 to 9999.
The Current Project name is now displayed in the Menu>Project header.
The Headphone output is briefly muted when Aux In Mode is changed to prevent loud audible pops.
Various system improvements and enhancements.
Bugs Fixed:
In some custom setups, ISO Tracks were recorded low level when Tracks L and R were disarmed.
File corruption when power was depleted mid-recording.
Some custom mode settings were not retained after a power cycle;

For instance, 40 Hz Low Cut Filter setting was set to 80Hz after a power cycle.

After a power cycle, channel gain was not set correctly until the channel knob was slightly adjusted.
Channel 5 and 6 did not correctly show limiter activity when Input Source was set to Aux In.
Clip indicator showed twice for one clipping event.
Changing headphone gain while in the Solo/Mute screen caused incorrect monitoring and routing of signals to the headphone output.
Gain and pan controls were not greyed out on channel 2 when channels 1 and 2 were linked as a stereo or MS pair. (MixPre-3 Only)
Engaging record with a full SD card inserted created small files.
Incorrect message was displayed when attempting to record with a locked SD Card inserted. Now, 'SD Card is Locked' is reported.
Camera Meters (C1, C2) did not display signal activity in Custom Mode with Advanced Headphone Settings.
Camera and USB Meters didn't show any activity during playback.
USB Audio Routing was incorrect while playing back.
The Open Project Menu list was displayed incorrectly when rapidly scrolling through it.
Audio Delay could have been incorrect after changing sample rate.
A recording's first sample could have been incorrect after changing sample rate.
Improved stability of HDMI Timecode.
USB Keyboard shortcut Ctrl + Z did not perform Undo.
USB Keyboard shortcut F2 did not enter the File List.
The Record/L&R Gain setting incorrectly altered the L&R track playback levels.

The setting should only affect the L&R record levels, not the L&R playback levels.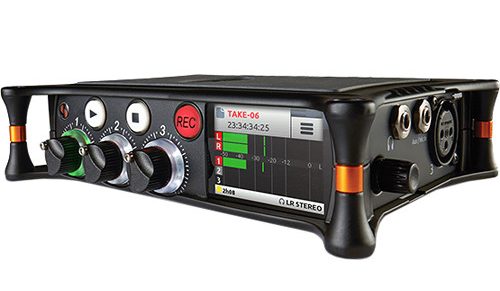 Sound Devices MixPre-3 Features
Kashmir Microphone Preamps
3 x XLR inputs
USB Audio-Recording Interface
Small Stature Fits Most Environments
Navigation with Basic and Advanced Modes
Ring LED Metering per Channel
Built-In 1/4″-20 Mount for Videographers
Feed Timecode via HDMI & 1/8″ Inputs
Uses AA or Sony L-Mount Li-Ion Batteries
MX-4AA Battery Sled (No Batteries)
2 x USB Type-A to 1 x USB Type-C Y-Cable
Price: $649 at B&H
Having used their older Mix-Pre D pre-amp, I am more leaning towards the more compact MixPre-3 in particular (as I don't see myself needing to record more than three mics at the same time), as it is more suited to the type of work I do. These will get me much better audio quality than the internal audio on the Canon 5D Mark IV even if coming off the Sennheiser AVX MKE2 mic, the internal DSLR pre-amps just don't cut it when compared to high-end audio recorders and pre-amps.
To download firmware v1.11 head over to Sound Devices.
Disclaimer: As an Amazon Associate partner and participant in B&H and Adorama Affiliate programmes, we earn a small comission from each purchase made through the affiliate links listed above at no additional cost to you.
Claim your copy of DAVINCI RESOLVE - SIMPLIFIED COURSE with 50% off! Get Instant Access!