Summer is coming to an end, or in my case here in the UK, it never actually started, nevertheless earlier today Panasonic officially announced the details of the much-awaited Firmware 2.0 update for the Panasonic GH5. The firmware update will add a 400Mbps 10bit 4:2:2 All-Intra codec option, a new Anamorphic mode, improved AF in video mode and a lot more. Firmware 2.0 is set to be officially released at the end of September, which isn't exactly Summer as it was initially promised during the GH5 launch in the Spring, but I'd be willing to let that slide considering the massive list of new features GH5 shooters would be getting for free in three to four weeks time.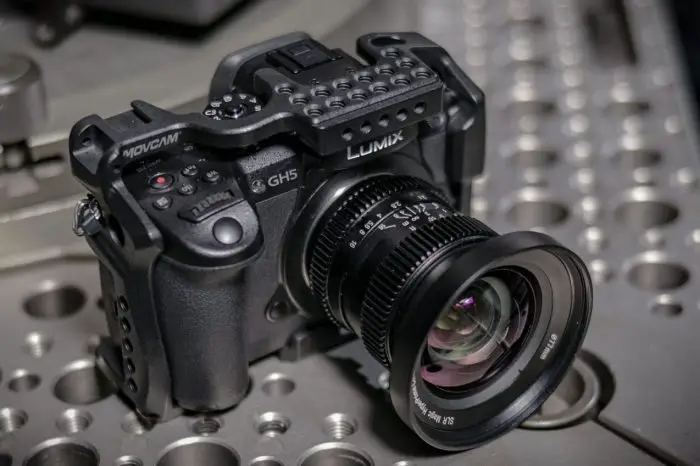 Summary of New Features in Firmware 2.0
Stills:
Tethered shooting via Lumix Tether software
Improved handling for 4K Photo and 6K Photo
New wireless features
Improved AF in low contrast scenes
Video:
4K HDR video recording – HLG / Hybrid Log Gamma
Improved AF in video recording
All-Intra recording mode
6K and 400mbps 4K anamorphic shooting
Improved in-body stabilisation
Other Improvements & Bug Fixes
A rating function using an Fn button is available in Playback Zoom and Multi Playback
The following functions can be assigned to Fn buttons:

[Constant Preview]
[6K/4K PHOTO Bulk Saving]
[Min. Shtr Speed]
[RAW Processing]
[Rec/Playback Switch]
[Destination Slot]
[Mic Level Adj.]

The DISP.Button can be locked
In Relay Rec, there were cases where the video file number was not able to be reset
In Relay Rec, there were cases where the video file number was reset after formatting the SD Memory Card
In Backup Rec, there were cases where the file number was not reset even after applying resetting
The image quality when applying the following settings is improved:

Extended low ISO, [i.Dynamic] (Intelligent D-range Control) and Highlight Shadow.
Tethering via Lumix Tether Software
Allows photographers to check composition on the big screen and control camera functions remotely via a new tethered shooting mode. Using the new Lumix Tether software users can connect the GH5 to a PC via USB and record stills, video and 4K/6K Photo sequences.
The software allows control of all the main features of the camera, including exposure, focus, white balance, flash control, file formats and more. With the camera connected to the computer we can preview our images, make adjustments and inspect the results from a distance. The images can be saved to the camera's memory card or downloaded directly to the computer as they are recorded.
4K/6K Photo and Improved Auto Focus System
Better processing has reduced the time we have to wait between one 4K/6K Photo burst and the next, and now the AF point can be shifted while a 4K/6K Photo sequence is being recorded. 6K Photo can also now be used in loop recording mode.
The Panasonic GH5's AF system is improved in performance and handling for both still and video shooters. An important change comes in the camera's ability to work in low contrast areas, as this helps in both still and video work. Autofocus tracking is also improved in video modes, and when using the AF Tracking feature we can now place the tracking box on the screen before the subject has arrived.
Also now the AF point can be moved during Burst mode if the subject is traveling across the frame. If you want to keep an eye on what is being focused on there is now an option to keep the AF display on when multi-area modes (auto or custom) are in use.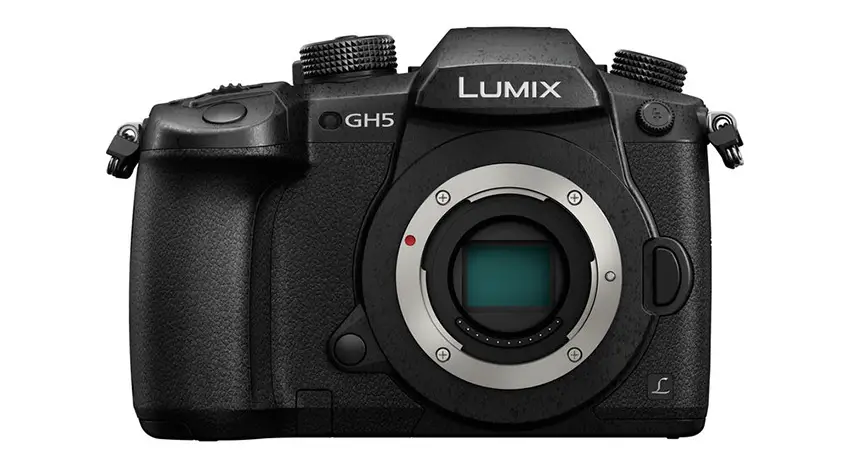 All-Intra and 400Mbps 10bit 4:2:2
The new firmware adds 400Mbps data rates and 4:2:2 10-bit colour as well as ALL-Intra compression to the camera's 4K and Cinema 4K video formats. This improves the range of tones and colours that can be recorded, while the compression works on each individual frame rather than on groups of several frames at a time. Those who shoot in Full HD will benefit from an additional 200Mbps mode, also with the enhanced colour and compression characteristics.
In-Camera HDR recording (HLG)
Similar to what Sony did with their FS5 and Z150 pro camcorders, Panasonic is also adding Hybrid Log Gamma to the Panasonic GH5 for quick HDR delivery for either the web or HDR capable TVs. The Gh5 is of course a "hybrid" mirrorless camera and not a camcorder (officially), making it the first mirrorless camera to be able to record in HLG.
New "Full Size" Anamorphic Mode
Firmware Version 2.0 enhances the DC-GH5's ability to record anamorphic content with new 6K resolution settings, as well as giving 4K anamorphic formats the extra bit rates and colour depth introduced to normal video shooting modes.
Anamorphic shooting is assisted by a new de-squeeze display mode that compensates for the squeezing effect of the lens to show what the letterbox-shaped footage will look like after stretching in post-processing. Guide line options allow users to preview the area that will be used as well, with guides selectable for 1:1, 16:9, 2.35:1 and 2.39:1 formats.
A new in-body stabilisation mode is available that's designed for use with anamorphic lenses and adapters, and users have a choice of 1.33x and 2x settings to match the characteristics of the lens in use.
Using almost the full sensor the anamorphic mode allows lenses to squeeze wide views into a 4992 x 3744-pixel frame (full sized stills are 5148 x 3888 pixels) which can then be stretched to the 2.39:1 format and 8948 x 3744 pixel dimensions. Stills from the de-squeezed footage contain 33.5 megapixels.
Other New Features and Improvements:
Bluetooth plays a much bigger role in the wireless communications between the GH5 and your smartphone with Version 2.0 firmware. Previously Bluetooth could be used to connect the camera and phone, while WiFi took over for the hard work. With the new firmware the camera can be controlled via Bluetooth, so users can access the shutter release remotely. Bluetooth also allows for a shutter lock to be activated for Bulb exposures or burst sequences, and video recording can be started/stopped in the same way.
Improved In Body Image Stabilization
Firmware 2.0 adds [I.S. Lock(video)], which is said to greatly compensate for handshake when the viewing angle is fixed. A new handshake correction mode is added, which provides optimum correction when using 2.0x and 1.33x anamorphic lens.
Correction of white balance setting
When the K (Kelvin) value was changed after adjusting the colour temperature with 2-axis white balance compensation, the setting was reset. This bug has been fixed.
Improved usability of Time Lapse Shot
The time to finish shooting and the number of recordable pictures are displayed on the stand-by screen.
Improved usability of Power Save LVF
Power Save LVF can now be used in all stand-by display options.
Firmware 2.0 for the Panasonic GH5 will be available for download sometime towards the end of September.
Disclaimer: As an Amazon Associate partner and participant in B&H and Adorama Affiliate programmes, we earn a small comission from each purchase made through the affiliate links listed above at no additional cost to you.
Claim your copy of DAVINCI RESOLVE - SIMPLIFIED COURSE with 50% off! Get Instant Access!