Angenieux is a legendary name in the cine lens game, known for their high quality cinema zoom lenses, and they will be bringing a few new lenses to IBC 2017 in Amsterdam. You may recall, last year Angenieux announced the Type EZ series lenses, and this year they are bringing their brand new monster zoom – the Angenieux Optimo Ultra 12x FF/VV, the successor to the movie industry standard Optimo 24-290mm (and 28-340) cinema zoom.
The new Optimo Ultra 12x lens features a totally new optical & mechanical design compared to its predecessor, while of course, still offering superb optical performance and image quality with no ramping, and minimal breathing; the new Ultra 12x also features an improved mechanical stability and serviceability.
Aimed at the high-end feature film and episodic drama market, the Angenieux Optimo Ultra 12x can cover full-frame and Vista Vision sensors when paired with the Angenieux IRO technology (which stands for Interchangeable Rear Optics); more precisely, the lens can be configured to cover 3 different formats: S35 (Ø31.1mm image circle), U35 (Ø34.6mm image circle) and FF/VV(Ø46.3mm image circle).
This lens will feel right at home when paired to the new Sony VENICE 6K FF camera that was announced yesterday.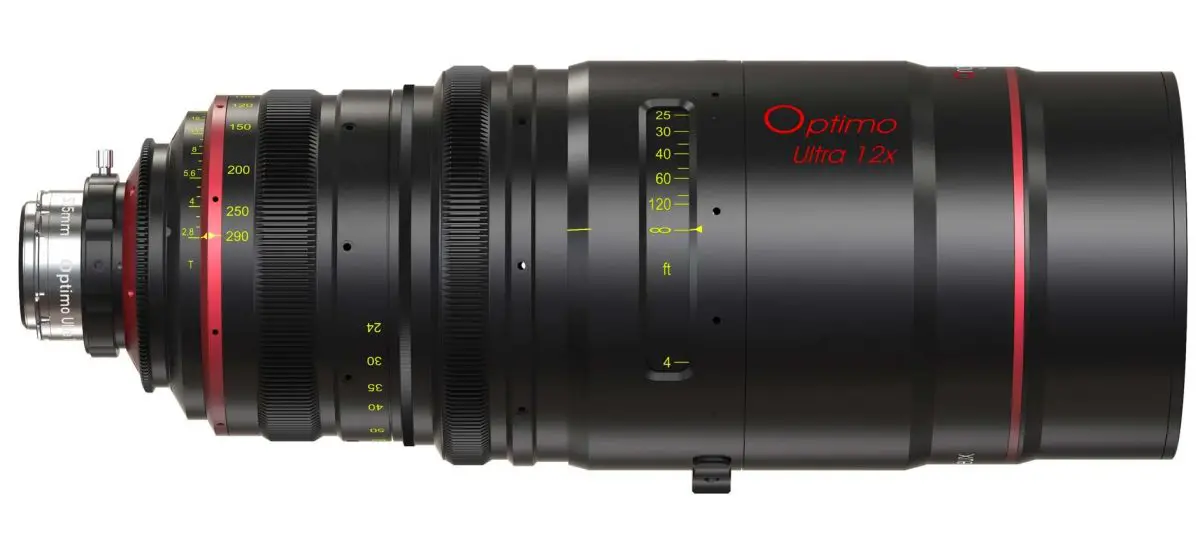 Angenieux Optimo Ultra 12x Highlights
Completely new optical design to enable Full Frame Coverage
Well controlled optical performances at each focal length and focus distance by having a good balance between contrast and resolution –appealing cinematic look
Superb image quality from open aperture, considered as "variable primes"
Low distortion
No ramping, minimal breathing, very fast for 12x zoom ratios
Efficient use of aspherical elements to minimize color fringing
Very short MOD 1.22m/4'1'' in S35 – 1.24m/4'1'' in Ultra S35 –  lower or equal to 1.5m /5' in FF/VV
Specifications:
Zoom Ratio: 12x
Focal Length: 36-435mm
Aperture: T4.2
Close Focus: 1.52m / 5ft
Internal Focus: Yes
Image Circle Coverage: 46.3mm
Weight (approx): 12.75kg / 28.1lbs
Length: 523mm / 20.6in
Front Diameter: 162mm

The Optimo Ultra 12x which comes with the standard PL mount lens, has a sub-mount system in order to be equipped with various mount options. Optically, users will appreciate its superb image quality along the full focal length range, minimal breathing and low distortion and its very close focus.
Mechanically, the lens features precise and ergonomic focus ring with ability to swap easily the focus scale ring from meters to feet. It is designed for extreme shooting conditions with a better sealed optical area than on its predecessor reducing dust inhale, and can be used in a temperature range from  -20°C to +40°C (-5°F to + 105°F).
Ultra 12x – two packages available:
Angenieux will also showcase their new Optimo Style 48-130mm T3 that those of you who visited NAB 2017 this year may have seen.
The Optimo Style 48-130 T3 is the third lightweight compact zoom lens in the Angénieux Optimo Style series. It is the ideal companion to the Optimo Style 16-40 T2.8 and 30-76 T2.8, the two other lightweight compact zooms of the range, and the 10x Optimo Style 25-250 T3.5. It weighs only 4.3lb/1.95kg and has a Close Focus at 3'1"/0.94m.
With its unique zoom range it is the perfect lens for close-ups, portraits, or tight shots either handheld or on Steadicam, sticks, remote heads, gimbals, or rigs.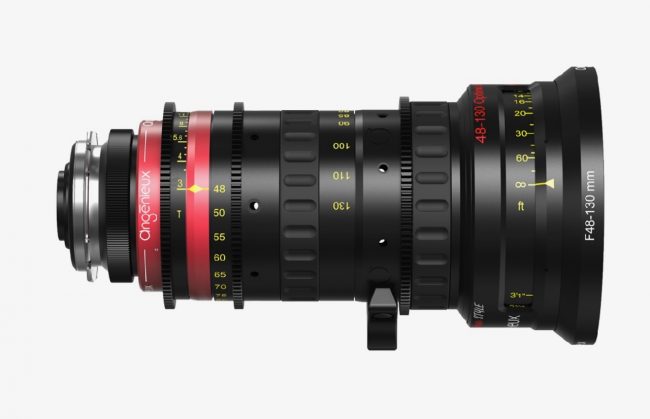 Optimo Style 48-130mm T3 Features
2.7x zoom range
Constant aperture T3 throughout the entire range
Enhanced image circle to Ultra S35 up to 34.6mm
Fully covers RED 8K Helium sensor
Compact and very light (1.95kg / 4.3lbs)
Ideal for handheld, Steadicam, compact gimbals, remote heads, drones.
Superb image quality with minimal aberration
Color reproduction matches the highly acclaimed Optimo lens series
Extremely well controlled distortion
Internal focus, minimal breathing
Precise and ergonomic focus ring with scale rotation of 320 degrees with over 20 precise focus witness marks
Compatible Angénieux Servo Unit (integrated motors for FTZ remote control through industry standard control systems)
Compatible with Optimo 1.4x and 2x extenders ( 67-182mm at T4.2 with 1.4x, 96-260mm at T6 with 2x)
Precise and rugged travelling of the zoom and focus groups using Angeneiux classic rod mechanical guiding system
Suited for extreme production environment ( temperature range from -20°C to +45°C)
Available in PL mount – can be changed to Panavision PV, Canon EF mounts
The way the whole high-end cinema acquisition market has gone Full-Frame/Vista Vision and beyond opens a lot of opportunities for lens makers and it only makes sense for established players like Angenieux to jump on the band wagon. Hope to see more like these but made for mortals. There is no price yet on the Optimo Ultra 12x and given the fact that the 24-290 costs $74K, don't expect the new lens to cost less.
Claim your copy of DAVINCI RESOLVE - SIMPLIFIED COURSE with 50% off! Get Instant Access!