As the market leader in easy-to-fly drones and aerial photography systems, DJI just made another huge splash in the industry with the official announcement of the brand new Zenmuse X7 for the DJI Inspire 2 drone aiming to redefine aerial imaging technology once again. With its 14 stops of dynamic range and stunning low-light performance, the Zenmuse X7 is touted as the world's first Super 35 sensor camera for aerial cinematography and for a reason.
The device is capable of capturing an impressive 6K CinemaDNG RAW or 5.2K Apple ProRes videos at up to 30fps alongside 3.9K CinemaDNG RAW or 2.7K ProRes files at up to 59.94fps providing uncompromising image quality with cinematic shallow depth of field and low image noise. In addition to its enticing video capabilities, the Zenmuse X7 also shoots 24MP still images, which can be captured in various photo modes, including individual or bursts.
Furthermore, the X7 comes equipped with a dedicated lens mount system with an ultra-short flange focal distance called DL-Mount. DJI also announced four prime lenses (16, 24, 35, 50 mm) specifically designed for the mounting system with a maximum aperture of F/2.8 and made of carbon fiber.
What's more, the 16mm lens features a built-in four stages ND filter that can be controlled remotely with the DJI app. The other lenses have a filter thread that can accommodate the existing DJI ND filters to manually reduce the amount of light coming into the camera's sensor.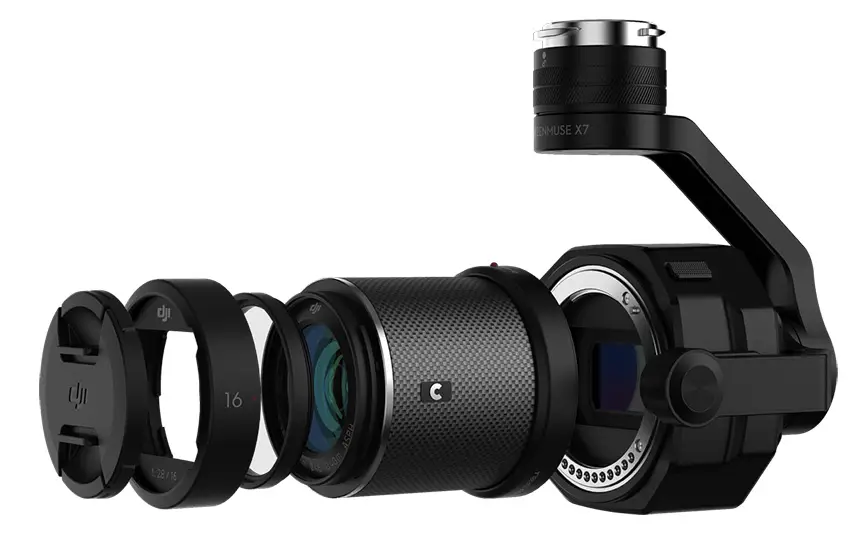 It's also worth mentioning that the DJI's flagship aerial camera works in conjunction with the proprietary DJI Cinema Color System (DCCS) that features a new D-Log Curve and D-Gamut RGB color space providing more creative freedom in post by further extending the dynamic range and preserving more color information for quick and easy post-processing.
DJI Zenmuse X7 Camera Specifications
Super 35 Sensor with 23.5mm x 12.5mm effective sensor size
6K CinemaDNG RAW 12-bit, or 5.2K Apple ProRes up to 30fps
3.9K CinemaDNG RAW or 2.7K Apple ProRes up to 59.94fps
14 Stops of Dynamic Range
DJI DL-Mount optimized for prime lenses
Prime lenses in 16mm, 24mm, 35mm, 50mm, carbon fiber construction
Maximum aperture of F/2.8
Dedicated ND 4 stages filter in the 16mm lens
Mechanical shutter in the 24mm, 35mm, 50mm lenses
New D-Log Curve and D-Gamut RGB profiles
Both microSD and DJI CINESSD cards support
Up to 23 minutes flying time when mounted onto the DJI Inspire 2
Price: $2,699
Availability: November 2017
The Zenmuse X7 camera should hit the market in early November with a retail price of $2,699. The 16 mm, 24 mm and 35 mm lenses, on the other hand, will be available for $1,299 each, and the 50 mm for $1,199 whereas the Zenmuse X7 prime lens combo including all four lenses will set you back $4,299. For more details and technical specifications, head over to DJI's official website here.
[source: DJI]
B&H Pre-Order Link:
DJI Zenmuse X7 Camera and 3-Axis Gimbal
Claim your copy of DAVINCI RESOLVE 16 - SIMPLIFIED COURSE with 50% off! Get Instant Access!