In the realm of non-linear video editing programs, there are two applications that usually come to mind in an instance – Adobe Premiere Pro and Apple's Final Cut Pro X. Adobe's editing program has been long-loved by the video editing community mainly due to its fantastic features and broad functionality alongside the provided integration with other programs in the Creative Cloud Suite. As for Apple's application, many studios and professionals have been known to maximise the feature set included in the original version of the NLE. Despite the slight backlash with the X version of Final Cut, a whole slew of content creators still rely on the program for working on multiple video projects.
Of course, both platforms have their strengths and weaknesses, which makes the decision even more confusing and overwhelming. To put things into perspective, aspiring video editor Justin Odisho outlines some essential reasons why you may want to choose one program over the other while focusing on two different aspects – capability and continuity vs. optimization.
According to Adobe's marketing strategy with Premiere Pro, you should be getting more than what you expect to pay for. To gain access to the latest version of Premiere Pro CC, you need to subscribe to Adobe's Creative Cloud, which includes a vast array of applications that range from photo editing, effects compositing, or even script writing. This means that you're essentially expanding your creative capabilities since you're given all the necessary tools to create your film from start to finish.
Also, because the applications are all made by a single company, the user interface, tools, and file formats are simplified and straightforward to use. In essence, due to the Creative Cloud, you will notice a certain continuity between the applications, making editing much faster since you don't need to continually import/export from one app to the other. Meanwhile, in Final Cut, you'd need to export files regularly when it comes to round-tripping between different apps.
For instance, if you're editing in Premiere but need to add an effect or two within the program, you can send your video for compositing in After Effects. Now, whatever changes you make to the video in After Effects, they will show up instantly in Premiere. That way the minutes saved quickly add up over time, especially if you are using CC apps extensively on a daily basis.
On the other hand, the most significant advantage of Final Cut Pro X is the performance optimization associated with the application's ecosystem. Unfortunately, it runs on Macs exclusively, which may be a downside since the hardware is not always up-to-spec. While this limitation can be seen as a disadvantage, the exclusivity of the program is also Apple's greatest asset.
Since Apple assembles the hardware and designs the software from scratch, Final Cut Pro X is optimized by Apple's software engineers to maximise the power of the hardware, relying on technologies such as Intel Quick Sync. Additionally, Final Cut Pro X is designed in a way that it can save a decent amount of the battery power of your laptop, whereas the GPU-intensive Premiere Pro tends to deplete the available power resources significantly faster.
This efficiency allows the program to run more smoothly, saving time along the way due to the optimized exports and pre-renders. In fact, Final Cut Pro X has been known to carry out exports in a faster manner compared to Adobe Premiere Pro on a Mac. Furthermore, this optimization allows users to seamlessly edit full 4K footage even on entry-level MacBooks that utilize Intel's less powerful Core-M mobile processors.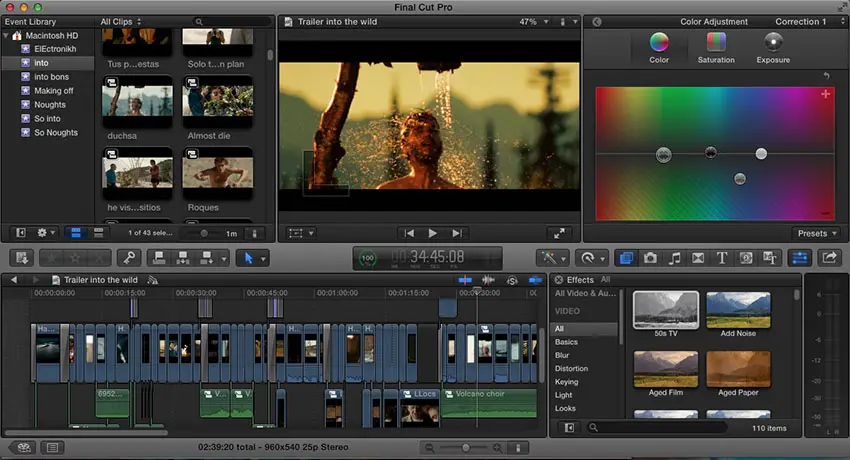 Ultimately, both programs are equally capable in terms of video editing, hence why there's such a vigorous debate in regards to which platform is better. It's important to realize, though, that the foregoing question should be more focused on which program can fulfill your particular needs on a project-to-project basis rather than which one is better in general.
As Justin concludes, if you're someone who's constantly bouncing between applications in your production workflow, the tightly-knit integration between the Adobe Creative Cloud may be your best bet. On the other hand, if you prefer the robust MacOS ecosystem, flexible timeline performance and reduced render times, Final Cut Pro X may be all you'll ever need as an editor.
[source: Justin Odisho]
Claim your copy of DAVINCI RESOLVE - SIMPLIFIED COURSE with 50% off! Get Instant Access!